It may be four years on from when Kanye West interrupted Taylor Swift's acceptance speech at the MTV Video Music Awards, but it looks like the country singer won't be forgiving the hip-hop star any time soon.
The 23-year-old We Are Never Ever Getting Back Together singer, who won Best Female Video at the 2009 VMAs, poked fun at West by sending her musician pal Ed Sheeran a personalised jar of homemade jam.
A snap posted by Sheeran on his Instagram site shows the jar of jam with a handwritten label by Swift, reading: "Yo Ed - I'm really happy 4 you and I'm gonna let u finish but this is the best JAM OF ALL TIME -T."
Swift's comment was almost a replica of West's controversial rant in 2009, where he made comments about his friend Beyoncé losing out on the gong for her Single Ladies video.
At the time, West said: "Yo, Taylor, I'm really happy for you, and I'm going to let you finish, but Beyonce had one of the best videos of all time. One of the best videos of all time!"
The MTV Video Music Awards 2013 will take place on Sunday August 25 in Brooklyn, New York.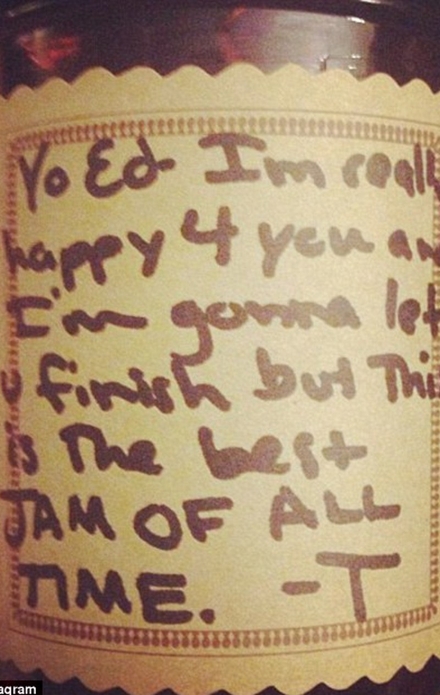 Taylor Swift coudn't help but make a jibe at Kanye West