In a new series of Great Irish Journeys, 6.30pm, RTÉ One Gráinne Seoige learns of a different dimension to the Irish Famine by looking at the tragedy from the perspective of the ruling elite. Also, the Men's Final is live on Wimbledon Beo on TG4 at 2.00pm. Finally, The Muslim Premier League is an interesting piece of reportage, to be seen 12.20pm BBC One today.
Great Irish Journeys: Gráinne Seoige
6.30pm RTÉ One

This new four-part documetary series about famous Irish journeys and the impact they have had on the island and its people. Gráinne Seoige follows in the footsteps of Thomas Carlyle and Charles Gavan Duffy. Evelyn O'Rourke traces the march from West Cork to Leitrim in the depths of winter in one of the last great stories of Gaelic Ireland. Also, Dáithi O'Sé looks at the story of the Great Military Road, and John Creedon retraces Michael Collins' final 24 hours and his journey into West Cork on the day he was shot dead. Carlyle, Duffy and the Great Famine is the matter of the first programme.
In July 1849 Scottish writer and staunch Unionist Thomas Carlyle came to Ireland at the invitation of his friend, nationalist Charles Gavan Duffy. Together this unlikely couple spent a month touring Ireland. In this documentary Gráinne Seoige follows in their footsteps and using Carlyle's book as a guide, sets out to see what can be learnt about the famine by looking at the tragedy from the perspective of the ruling elite. Picture shows Gráinne in County Mayo with Michael Wade, Manager of Delphi Lodge.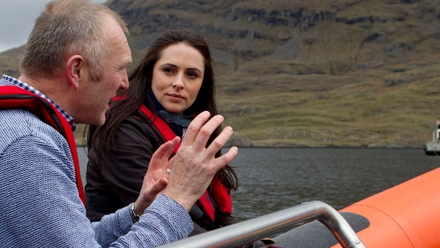 Wimbledon Beo: Men's Final
2.00pm TG4; 12.50pm BBC One
Mac Dara Mac Donncha and Brian Tyers introduce live coverage on TG 4 of the eagerly-awaited men's final from the All England Club. One-hundred-and-twenty-eight men took to the hallowed Wimbledon grass with hopes of becoming 2013 men's singles champion but that dream is still alive for just two players. Twelve months ago Andy Murray became the first Britain for 76 years to make the Wimbledon men's final. However Roger Federer who ultimately went on to secure his record-equalling seventh title at SW19, seeing off Murray in four sets. Whose turn will it be this year? Sue Barker does the honours on BBC One.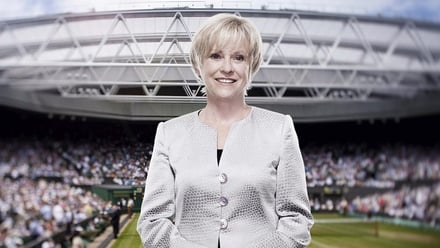 The Muslim Premier League
12.20pm BBC One
Twenty years ago there were no Muslims in the Premier League. Now there are nearly forty, enough for three football teams. To mark the start of Ramadan, this programme explores what impact Muslim players are having on the English game. Narrated by Colin Murray, the interviewees include football stars Demba Ba and Abou Diaby. How has a profession, with a reputation for nightclub brawls, boozing and excess, dealt with teetotal players who value prayer and fasting? Managers and football commentators including Arsene Wenger, Sam Allardyce and Henry Winter explain how clubs have adapted to accommodate a diversity of faiths. And fans share what they really think of fasting, including what inspired 40,000 Newcastle supporters to start singing about Ramadan. The programme follows Ali al Habsi as Wigan Athletic triumphs in the FA Cup, and discovers why a goal scored by Wigan is celebrated across the Middle East.