RTÉ Ten have teamed up with Eason to offer one lucky person the chance to meet best-selling author Dan Brown at exclusive event!
World renowned author Dan Brown (The Da Vinci Code, Angels & Demons) is set to visit Eason, O'Connell Street, Dublin for an exclusive one off event on Monday May 20 to promote the launch of his hotly anticipated novel Inferno, released worldwide on May 14.
RTÉ Ten and Eason are giving one lucky fan the chance to meet the man himself at the intimate event where the winner will receive a signed copy of Inferno and have the chance to chat with Dan about his latest book.

The exclusive event is one of only three he will be doing worldwide.
Inferno features the return of much loved character Robert Langdon and is set in the heart of Europe, where Langdon is drawn into a harrowing world centred on one of history's most enduring and mysterious literary masterpieces.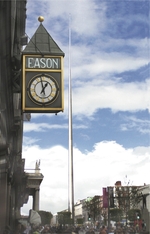 Inferno will be available in hardback from all Eason stores nationwide and online from easons.com, from Tuesday May 14, priced at €14.99
For your chance to win, simply send your answer to the following question, along with your name, address and a contact phone number to tencompetitions@rte.ie, please put Dan Brown in the subject box.
What is the name of Dan Brown's latest book?
a) Firestarter
b) To Hell and Back
c) Inferno
This competition opens at 9am on Monday May 13 and closes at 1pm on Thursday May 16. Editor's decision is final. For a full list of RTÉ competition rules please click here.
Follow Eason on Facebook – Facebook.com/EasonsIreland and Twitter @easons