The final bids are in for RTÉ 2fm's Rick O'Shea and Cormac Battle's Easter egg masterpieces in aid of the Jack and Jill Foundation's Big Egg Hunt.
Over 100 fibre glass eggs were secreted around Dublin ahead of a big charity Egg Hunt and a number of them were decorated by well-known faces such as Guggi, Felim Egan and Rasher, Joe Duffy, Fashion Designer John Rocha, The Strypes and the 2fm presenters.
Their colourful, original hand-painted eggs attracted a lot of attention with DoneDeal agreeing to donate ten percent of all ads placed in April to The Jack & Jill Foundation (plus Console and the Heart Children Foundation) and Battle's egg was sponsored by Paddy Power for €3,000.
However neither of those generous, charity supporting companies get to go home with the egg instead they go to the highest bidder. The winning bidder for O'Shea's egg is Golden Irish Eggs in Castleblayney with a winning bid of €1,800.
The lucky person to go home with Battle's Mr. Bump is Tom Murphy's Garage in Farranfore thanks to their winning bid of €1,900.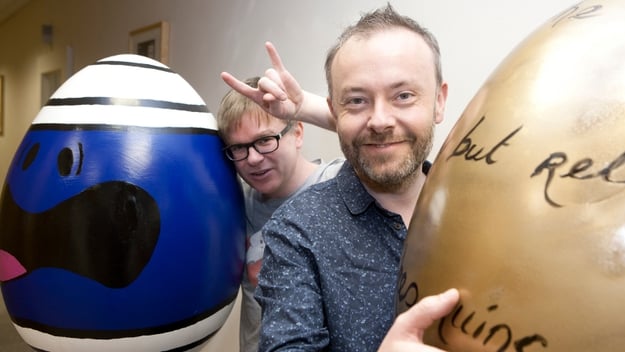 Cormac Battle's Mr. Bump and Rick O'Shea's egg are going to good homes for The Jack & Jill Foundation
Speaking to RTÉ TEN, O'Shea said: "To be honest we've both been blown away by the fact that anyone wanted to bid on our eggs.
"We're not artists, we're chancers, frankly. That, combined, they've made so much money for such a worthy cause is brilliant for all concerned."
Battle added: "I am no artist so the fact that my Mr Bump egg has raised so much money is a total shock to me.
"But hand on heart, the biggest thrill is that the current bidders will be giving it to the Cardiac unit in Crumlin's Children's hospital which means an awful lot to me"
For more information about the Jack and Jill Children's Foundation and The Big Egg Hunt 2013 visit www.thebigegghunt.ie

Tune into Rick O'Shea in the Afternoon on 2fm, weekdays from 2pm. http://www.rte.ie/2fm/rick-oshea-in-the-afternoon/