Suffolk-born singer songwriter Alan Bonner has just released his second album. Alan Corr caught up with the flame-haired musician to talk folk and taking the DIY route
For Alan Bonner, the timing couldn't be better. With the wildfire success of Ed Sheeran and Mumford and Sons, the mood is right once again for sensitive singer songwriters with a more organic approach to their art.
Suffolk-born Bonner has just released Balladeer, a second album which may just chime with these down-at-heel times. It's emotional stuff on which the intense twenty-something sings about love and life (and whiskey bottles in the lonely parks) across sparse songs arranged on cello, accordion, piano and guitar. And yes, that is a ukulele on Lighthouse Song.

After leaving his small village for London at 18, Bonner has spent the past few years writing, recording and playing at venues across the UK and Europe. Since graduating from the Brighton Institute of Modern Music in 2007, Bonner has supported acts such as Fyfe Dangerfeild and David Ford and has made a few sorties across to Ireland where he's played with a Irish acts. He mentions Bowie, Dylan and Rufus Wainwright as influences.
And before you ask, he's no relation to Packie.

You're not taking any chances with being misunderstood with the title of your second album, Balladeer . . .

"Well I just thought it's what I've always done – I write ballads so that is the name of the album and it's also a catchy and short name after the title of my first album which was quite wordy."

So is it a good time to be a one-man band with a set of sensitive songs?

"I think so and it is great to see that kind of music coming around again. My first album was a lot more glam than this one but I have been doing acoustic folky stuff for a long time."

Like a lot of new artists in the digital age, you're very active online. What are the pros and cons of DIY music?

"Well I haven't made it yet if that's what you mean! It's a tough one because whereas being able to do stuff on your own is great there is only so far you can get without backing. I've put out two albums on my own, done tours but I've also held down a full-time job. There is no manager or label behind me as such so that is missing."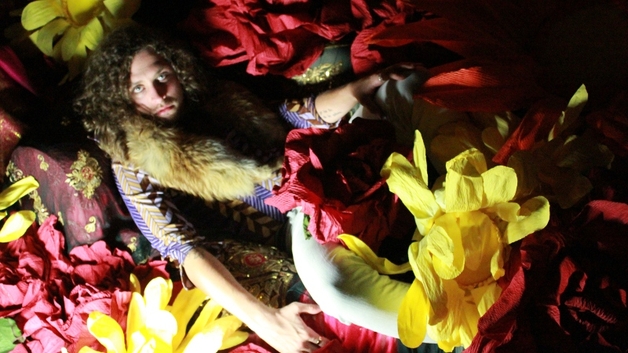 Bonner gets flowered up
You work full time as a drug counsellor? How does that inspire your songs?
"Well it can do but not so obviously. I don't think it's really worked its way into what I do. I meet a lot of very interesting people in my line of work and some of the stories they have to tell are really very interesting. I think that those experiences will work their way into my songs over time."
Some of the songs on Balladeer can be quite painful listening . . .
"Well I guess some of the new songs were written when I was going through a bad time. After the last album I had some things happen that did lead to a little bit of a breakdown, I was not great for a while so that is reflected in the songs. I think song-writing is a form of therapy for me but any time I feel happy and elated and I write a song it just turns out completely cheesy!"

Are there any Irish singer songwriters on your radar?

"I'm a big fan of Glen Hansard. He's been making great albums for years with the Frames and his new solo album is great too. I also love Lisa Hannigan and there's another singer from Dublin called I am Niamh who I met in college and who I toured with last year. We played Dublin and Cork but sadly we didn't make it to Galway. I'd love to play The Roisin Dubh!"
For more on Alan Bonner check out his website and his soundcloud page.

Balladeer is out now