Legendary rocker Slash has revealed how and why his good mate and neighbour Charlie Sheen introduced him on stage at his Dublin gig last Sunday night.
Speaking to Paddy McKenna on tomorrow's edition of 2fm show Weekenders, Slash said: "I got a text saying 'I'm coming to Dublin I'll see you there' and I thought 'he's got to be kidding'.
"I was at dinner last night in Marco Pierre's place and I got another text saying 'I'm Here!'
"Charlie came all the way out here for this one gig! But he came in on his private jet, he wouldn't come in on commercial! He and I are neighbours and good friends."
The former Guns n' Roses' guitarist also talked about his movie debut. He's just finished the soundtrack for Nothing Left to Fear, the first film to be produced by his company, Slasher Films.

He told McKenna: "I left when they were at the dubbing stage, putting in the audio so we're almost set to go. It's very exciting.

"It's a bitchin' movie. I know it's really hard to imagine Slash doing a movie. I worked side by side with a composer doing the sound design.

"Me and Myles [Kennedy lead singer of Slash's band The Conspirators] wrote the title song. The production company is called Slasher Films but this movie is the antithesis of that genre. It's not about horror.

"It's more focused on genuinely scary, creepy characters and stories, rather than seeing someone splayed open. I wanted to do what turned me on to horror films which hit your imagination and made it uncomfortable to go to bed!"
Next up for the 47-year-old, who is the father of two boys, London and Cash, is some time off: "I've got a couple months off. There's touring work and then there's domestic work which is ten times more arduous because you're a dad, you're a husband, you are dealing with the domestic sh*t that goes on everyday and recording and writing and stuff.

"I sleep very little, just three hours a night."
Listen in to the full interview on 2fm's Weekenders with Paddy McKenna and Ruth Scott this Saturday from 2pm to 5pm, 90-92fm, live from the Aviva Stadium for the Ireland/France RBS Six Nations match.
Listen back to the show on the RTÉ Radio player here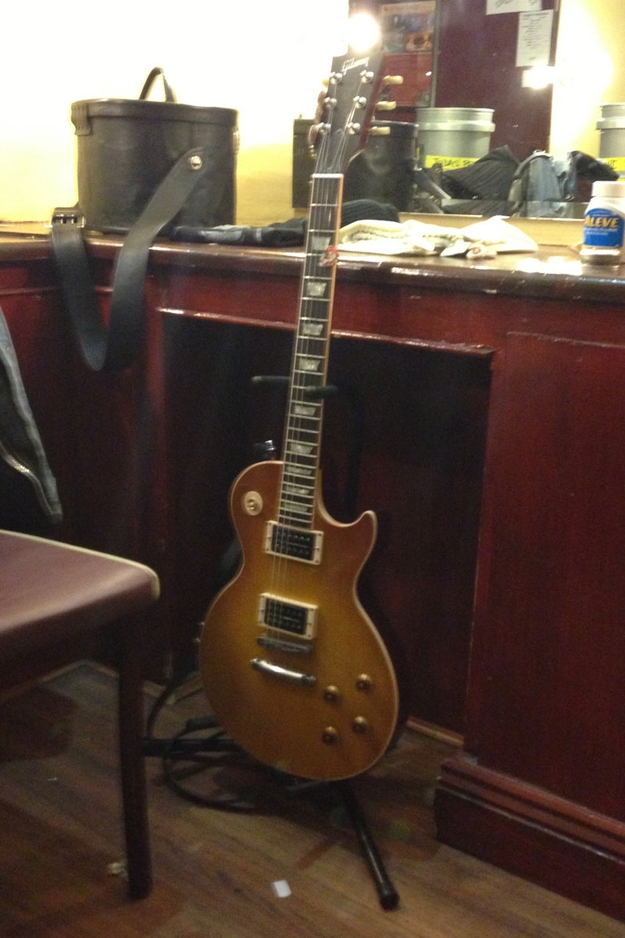 Slash's signature Les Paul. Spot his top hat box in the corner