Win! An overnight stay and your recipe on the Radisson Blu Royal Hotel menu for St. Patrick's Day!
Do you have delicious Irish recipe that you wish you could see on the menu of one of Dublin's top restaurants? Well RTÉ Food and the Radisson Blu Hotel Royal Hotel are giving you the chance to make this wish come true.
This St. Patrick's Day, the Radisson Blu Royal Hotel is turning their Sure Bar 'Green' for the day. The bar will be lit with green lights, there will be great live Irish entertainment throughout the day and Sure will be serving some delicious Irish-themed cocktails…along with pints of the black stuff of course! Located on Golden Lane in the city centre, the Radisson Blu Royal Hotel is the perfect stop off for food or drinks after the parade this St. Patrick's Day.

To celebrate, we are offering you the chance to win an overnight break for two people, including dinner in V'nV restaurant in the beautiful Radisson Blu Royal Hotel in Dublin city centre. The Radisson Blu Royal Hotel love to use great Irish ingredients and source from Irish producers where possible, so all we are asking you to do to win the great prize is to submit a recipe you have created yourself which showcases delicious Irish ingredients.
Guidelines:
- Not all of the ingredients in the recipe need to be Irish, but the main ingredient should be Irish, and the rest of the ingredients used in this dish should serve to showcase the Irish ingredients used.
- Keep the recipe short and simple – great ingredients shouldn't be messed with too much!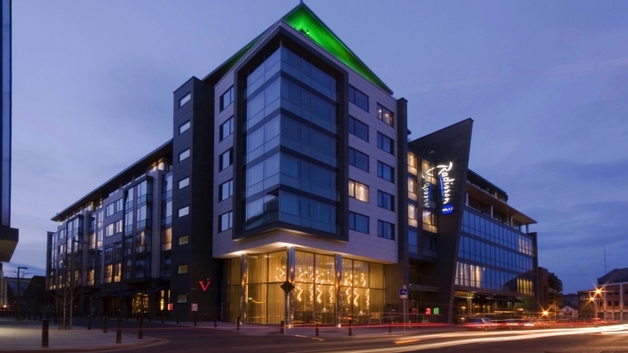 Not only will the lucky winner get an overnight break in the hotel, they will also have their recipe used as a dish on the menu in Sure Bar on St. Patrick's Day, and will receive a framed version of this menu to proudly display in their house!
Please send your entries to food.online@rte.ie with Irish Recipe Comp in the subject line. Competition closes at 3pm on Sunday March 10. The winner will be selected by the head chef at the Raddison Blu Hotel Royal Hotel and RTÉ Food. All decisions are final. For a full list of RTÉ competition rules please click here.