Jude Law has spoken about his Side Effects co-star Rooney Mara, saying that "she's an extraordinary actress to work with".
Director Steven Soderbergh's psychological thriller focuses on a woman who is prescribed anti-depressants by her psychiatrist, with tragic consequences.
Speaking with Breakfast with Hector reporter Louise Heraghty on RTÉ 2fm's, he said that Mara is: " . . . an extraordinary actress to work with, she's a lot of fun and very professional but in front of the camera really engaging and sort of special in that she doesn't reveal an awful lot."
"She always leaves a certain amount unrevealed and I think it lures the audience in and it certainly lures me in as her psychiatrist [in the film].
"There's an aloofness about her, it's not cold, it's sort of confident."
Heraghty also asked Law about his well-groomed character, Dr Jonathan Banks: "Putting together a wardrobe is an enjoyable and key part to getting a character right.
"The fact that he's a Brit working in New York is key to who he is, there's a certain ambition and smugness to him and so the wardrobe had to reflect that."
Law's love of film is no secret; he was a TV movie reviewer on BBC's Breakfast Time aged 11. "I've always loved the process I love the idea of losing myself in a great story and I also love the food at cinemas!"
Speaking about his next movie, Dom Hemingway, he said: "It's about a total loser, a guy who is a useless criminal, a terrible drunk, a car wreck but completely irresistible and hilarious.
"I had a very enjoyable summer preparing for it - eating cheeseburgers and drinking beer."
Listen in to the full interview with Heraghty and Law tomorrow morning on Breakfast with Hector from 7 to 9am on RTÉ 2fm. If you miss the show listen back here www.rte.ie/radioplayer
You can also check out Harry Guerin's interview with the actor on RTÉ TEN.
Side Effects opens in Irish cinemas this Friday, March 8.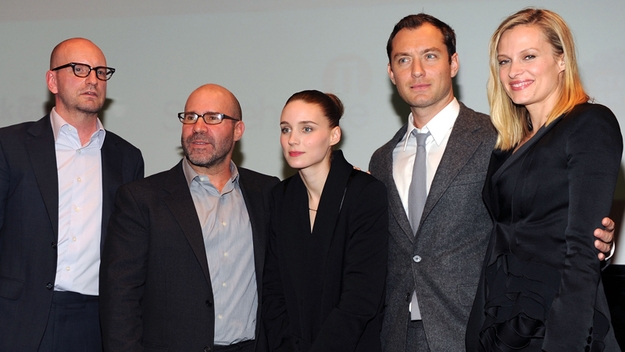 Side Effects director Steven Soderbergh, writer Scott Z Burns and stars Rooney Mara, Jude Law and Vinessa Shaw