An Irish Army Private made his fiancée's day when he won an all-expenses-paid wedding in the K Club with RTÉ Radio 1's Mooney and the RTÉ Guide.

Speaking to RTÉ TEN, Mooney reporter Brenda Donohue said: "We had hundreds of entries to the K Club wedding competition on the Mooney show. But Colin Kerrigan's just jumped out: it was honest and heartfelt and we all love a man in uniform!

"Colin is a Private with the Irish Army and is based in The Curragh. First I surprised him at work and then we travelled to Edenderry, Co Offaly where he had the pleasure of telling his fiancée Linda Davy that they had won a dream wedding in the five-star K Club in Straffan in Co Kildare."

She added: "Surprising Colin and Linda with this fantastic prize was a wonderful feeling. Just seeing how much it meant to them and how much in love they are was such a buzz.

"Wishing them best of luck in the future, and I have the hat on standby."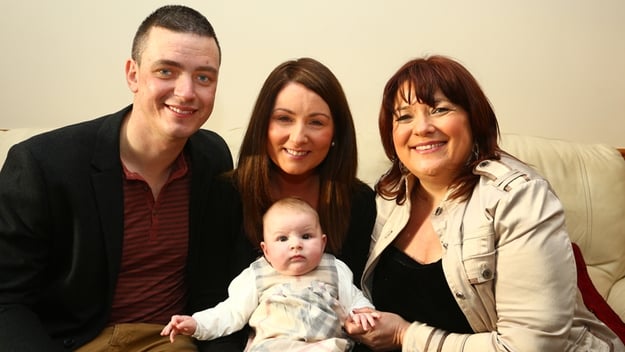 Colin Kerrigan, Linda Davy, their baby Milly and Mooney reporter Brenda Donohue
The couple live in Edenderry, Co Offaly with their four-month-old daughter, Milly, and Linda's parents, as they save for their wedding and their own home.

Listen in to hear the full story on Mooney between 3.30pm and 4pm today, Friday February 15, on RTÉ Radio 1, 88 to 90fm, and online here.
Mooney is on RTÉ Radio 1 weekdays from 3pm to 4.30pm - click here for more details.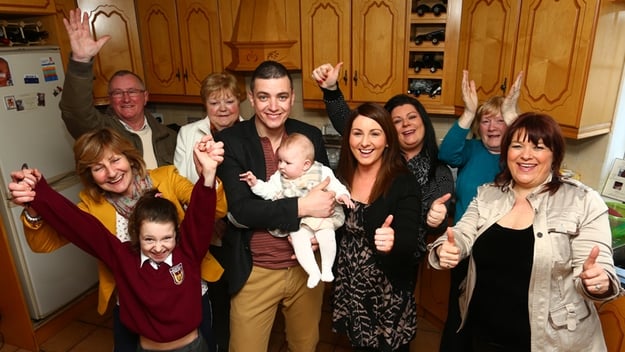 Brenda went to Colin and Linda's Edenderry home to break the good news to their family