Irish director Lenny Abrahamson, who picked up the Best Director gong for What Richard Did at last weekend's IFTAs spoke to RTÉ TEN about the challenges of shooting his latest film Frank.
The film was shot in New Mexico and Bray, Co Wicklow and stars Michael Fassbender, Maggie Gyllenhaal and Domhnall Gleeson.
Abrahamson explained how shooting was going and the challenges he faced on set, saying: "We are one week away from wrapping it, so everybody's really tired but there's a really good feeling about the shoot. The shoot has been hard but it's also been fun and I think what we're doing has a chance to be really good. It's like I said about What Richard Did, you don't know until it's done, but it's very strange, quite bizarre, funny, sad, all sorts of things, and the cast are really fabulous.
"We're shooting a lot of complicated things, we don't have a huge long schedule because we shot in two countries. We're in the middle of woods and forests, in this weather, in Wicklow, battling snow and mud and all sorts of stuff.
"There's a lot of music in the film and we're filming all the music live. So there's no playback, all the voices are real, all the instruments are being played in the room, so it's an incredible challenge."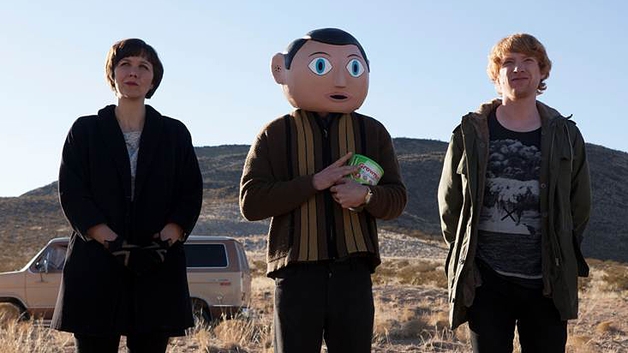 A still from Frank L-R Maggie Gyllenhaal, Michael Fassbender and Domhnall Gleeson