RTÉ 2fm's Ruth Scott is biking from Chicago to New Orleans to raise money for Irish Dogs for the Disabled. There's only one problem, she doesn't know how to ride a motorbike!

Speaking to RTÉ TEN, the presenter of 2fm's Weekenders said: "I got a call from David Bradley in Irish Dogs for the Disabled about a possible biking trip from Chicago to New Orleans in September this year.

"To be honest, I wasn't very familiar with the charity - David explained they train dogs to assist physically disabled children and adults to carry out normal day-to-day tasks that I take for granted.

"Things like opening a door or helping a child with severe walking disabilities to walk with greater ease are a couple of things that they do. This in turn means that people have more independence and can be more involved in day to day life.

"How amazing it would be to be helped by a beautiful dog to have greater independence. What a simply wonderful thing to happen. Sign me up!

"Then I realised that I had forgotten one crucial thing . . . I don't know how to ride a motorbike! Apparently I need to be able to ride one of these things!"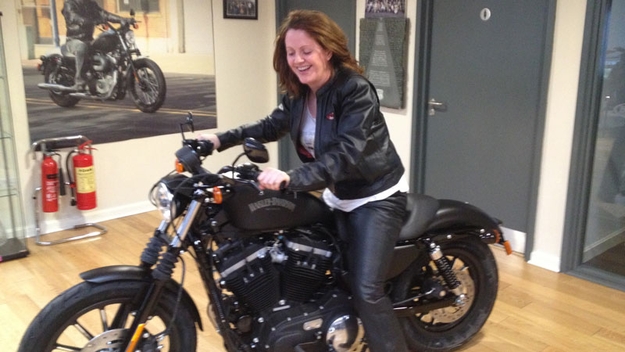 Ruth becomes familiar with her new BFF ahead of her bike ride for Irish Dogs for the Disabled
She added: "I got kitted up with all the protective clothing and helmet. It's about as comfortable as wearing every stitch of clothes that you own, all layered on top of each other. Remember that scene with Joey in Friends?!

"Wearing the helmet feels like I'm sticking my head in a microwave. A small microwave! How and ever, safety first! I passed my driver theory test and am awaiting my motorbike learner permit in the post.

"If this windy and rainy weather would pass a bit quicker I could actually get on a bike and turn the key! Tony Toner is my fabulous driving instructor or at least will be when the weather clears a bit. He's already been preparing me for the scary part of being on a moving bike on my own.

"Think Tom Cruise on the bike in Top Gun. Think Ewan McGregor and Charlie Boorman going around the world on motorbikes. Then imagine me as Driving Miss Daisy. Slow and steady!"

Listen in to Ruth Scott and Paddy McKenna on 2fm's Weekenders 2pm to 5pm Saturdays and Sundays. Click here to listen back to previous shows www.rte.ie/radioplayer