U2 frontman Bono burst into a few verses of Neil Diamond's Beautiful Noise at the launch of a new novel set in the world of Dublin's 1980s pirate radio stations last night.
He made a brief speech to mark the release of the novel, also called Beautiful Noise, which was written by Dublin author Helen Seymour, a friend of the singer since her work with his wife Ali Hewson on the Stop Sellafield campaign ten years ago. He then burst into a couple of verses of Diamond's classic with the crowd joining in.
Seymour's book tells the story of three young Dubliners who set up their own pirate radio station in the eighties and take on RTÉ and the government.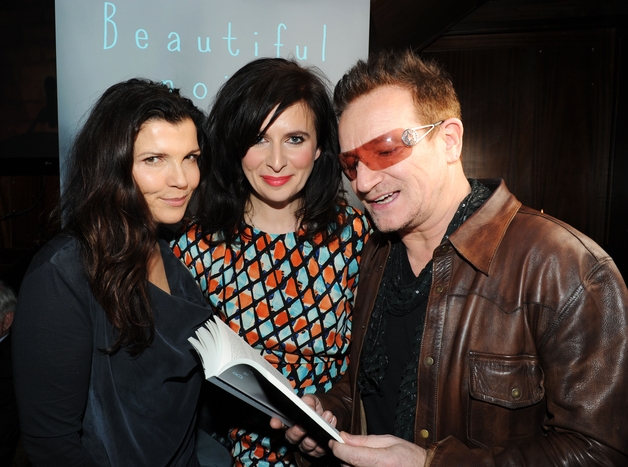 Ali Hewson, author Helen Seymour and Bono at the launch of Beautiful Noise last night in Dublin
Speaking at the launch, the author explained that the novel was very much inspired by her teenage years gowing up in Dublin and her later career working on the 2fm account at an advertising agency.
"When I was a teenager I was sent to my room to study and I would go up an down the radio dial out of sheer boredom listening to pirate radio stations," she said.
"I was fascinated by it and years later I began work in an ad agency and we landed the 2fm account. I ended up spending ten years with them working on their behalf."
Helen isn't Bono's only author mate. The I Threw a Brick Through a Window singer has also been a keen supporter of the literary efforts of his old friend Amanda Brunker.