Biffy Clyro were nearly derailed by the demon drink during the recording of their new album Opposites. Alan Corr talks to lead singer Simon Neil about the darker side of success, doing a double, and bagpipes

Was 2010 the year Biffy Clyro finally sold out? The Scottish trio had paid their dues playing less than commercial rock on their first three albums and they'd already made the jump to the upper tier with their fifth, Only Revolutions. But the sight of X Factor winner Matt Cardle casually butchering their breakout hit, Many of Horror, in 2010 may have sent a chill through their growing fan base.

Ok, not quite as egregious as Ronan Keating's vulgar mistreatment of Fairytale of New York or the crimes committed against Leonard Cohen's Hallelujah, but watching a mere fame show contestant turning Biffy to blubby may have irked.

Biffy Clyro, however, are nothing if not realists. Front man Simon Neil knows how the music game works better than most. He's lead Biffy through seventeen years of steady growth to their current status as a respected stadium act with substance so he isn't in the least bit fazed by being X Factored.

In fact, it would take a lot to faze 32-year-old Neil. Especially after the trials his band went through during the making of their new album Opposites. All bands like a drink (except Coldplay; they like broccoli) but it took drummer Ben Johnston, twin brother of bassist James, collapsing during a blackout in the studio in LA to convince him to hit the skins and not the bottle.

Ben cut his ear on the way down to the floor. It was hardly a Keith Moon moment but it was a sign that it could have been far worse. Biffy spent five months recording Opposites in LA and if it didn't quite save their lives, it certainly saved their livers.
"It did yes," Neil says. "I think, like most Celtic people, we love a drink. We were really lucky - I think if we were making this album in Scotland or anywhere that wasn't California then it would have been so hard to avoid the demon drink. If we had recorded this album in a similar way we'd recorded previous albums we would have gone off the tracks and made a shit record or not even finished it.

"We have got into a real bad lifestyle when we were recording our previous records and somehow they've come out alright but it's easy to forget what life is and numb yourself all the time. Fortunately we steered clear of that."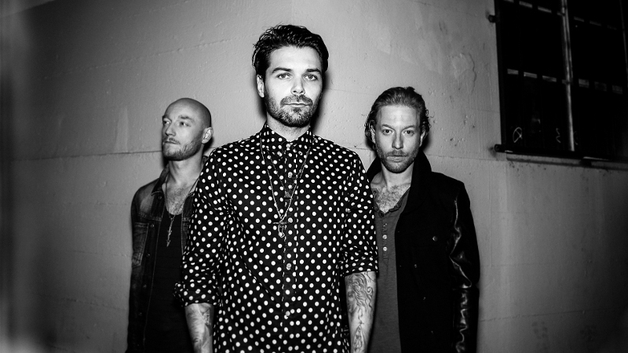 "Opposties is a journey you want to go on. Not a journey you're forced to go on."

You'll often hear "the nicest man in rock" tag attached to many musicians but Neil seems to be the nicest man in rock not because he's now perched on the sunlit uplands of success but because he's a genuinely good and deep-thinking bloke. When he takes my call, he's sitting in an airport departures longue with the rest of Biffy waiting to take a flight to Zurich. "If you think you're cold, it's f***ing freezing in Switzerland!" he laughs.

You've also been hearing this for a while now - Opposites looks set to turn the Ayrshire trio into one of the biggest rock acts in the world. This is Biffy's sixth album and it's a double set with a title for each "side" – "The Sand at the Core of Our Bones" and "The Land at the End of Our Toes".
It has a song called Victory Over The Sun but it also has a song called Woo Woo. Doing a double is somewhat of a rite of passage for bands of Biffy's old school provenance – a sign of deep seriousness or an alarming symptom of bloated hubris. Doing a double is also quite a risk in an era of instant downloaded gratification and right-click concentration spans.

Opposites is long and complex in places but you can forget tales of topological oceans – this is Biffy. Modern Magic Formula careens along with spiralling fury and punky spleen; Sounds Like Balloons flirts with math rock; the title track is a very touching song; and Accident Without Emergency is probably Opposites' finest moment. It pours on timpani and windswept drama aplenty but also remains very tight and lean. And, as ever, Neil's lyrics are more Cobain than cosmic cobblers.
Watch the video for Black Chandelier here.
However, Biffy do unashamedly indulge the proggier end of heavy melodic rock. And we're not just talking about that trippy cover, which was again designed by Storm Thorgerson of Pink Floyd, Muse and er, Cranberries note.

"I think because our records are progressively connecting with more people it gave us the confidence to really go overboard in a prog manner and not be scared of ludicrous ideas," says Neil. "If it's a single album you can't achieve too much or a song can offset the balance and f*** an album up but I think with a double album you have a freedom and a permission. It is our prog side coming out but having said that, some of the music on it is our least proggy. We tried to get that balance – it's a journey you want to go on. Not a journey you're forced to go on."

That can only mean one thing – bagpipes! And there they are, wailing like a scalded cat on a November night, on Stinging Bell. Now, if fellow Scots Big Country always made their guitars sound like bagpipes, then Biffy clearly had to go one better and get a set of multi-pronged tartan terrors into the studio to blow and blow the house down. But did Simon attempt to play them himself?

"Hahahah. No! I probably wouldn't be standing here now if I did," he laughs. "I would have injured myself. All Scotsmen should be allowed play bagpipes but it seriously takes about eight years to master them. I wasn't that brave. I would love to be able to but I was really proud to get our national instrument on the record. We wanted uilleann pipes as well, the national pipes of Ireland, too.
"It was just one of those ideas – let's try this. It sounds like it will work. As ridiculous as it is, in my opinion it does work and the song suits it and needs it. It's a funny one because everybody we told that we were getting bagpipes on they rolled their eyes and said riiiight."

They deserve all the Spinal Tap moments they can get because that flight to Zurich is one of many that Biffy will be boarding over the next two years as they take Opposites to both hemispheres. Back home in Ayrshire, Neil lives with his wife who works as an English teacher. That and his former life as a film student may explain Biffy's cinematic narratives and the sense of gathering grandeur that electrifies some of their better songs.

Home life keeps all of the band grounded bit it was the knowledge that so many of their favourite acts had pissed it away after early success also focused Biffy's minds during the making of Opposites. "Hugely. It was horrible to think that we could become one of those clichéd bands where either drink or drugs tore them apart," Neil says. "I think that you really need to make an effort. If we weren't family first, if I hadn't known the boys since I was seven years old I think things might have fallen apart but I think because we're friends and family first, the most important thing was to see that Ben was feeling better and healthy and that he was there for myself and James.

"The music matters and in a way Ben's issues ended up being the best thing that's ever happened to us because we've come out the other end rejuvenated and knowing what it takes when you do have to sit down and talk to each other when things are getting on top of you. I'm really glad we almost hit that low point so we could come out of the other side better."

So are we.

Opposites is out now. Biffy Clyro play the o2 Dublin on March 28
Alan Corr