Ross O'Carroll-Kelly writer Paul Howard has said that his new show, Anglo: The Musical, currently in the Olympia is "the story of our times".
Click here to read the full interview
Speaking to RTÉ TEN, Howard said: "I think Anglo the story of the bank's rise and fall and mirroring the rise of the Irish economy, it's the story of our times.
"It's probably the biggest event that's happened in Ireland's history since Independence, I just felt as a satirist I want to write about it, what else would you want to write about as a satirist?
"If Jonathan Swift was alive today he would be writing about Anglo Irish Bank because it is the only show in town."
Howard has incorporated an American style of puppetry not often seen on the Irish stage. "It's inspired by Avenue Q, [which] I saw on Broadway four or five years ago and I absolutely loved it.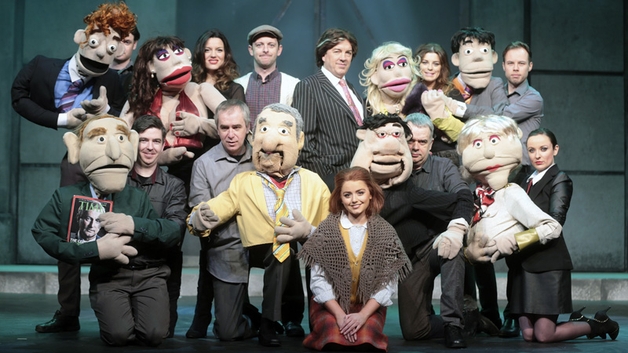 "When I heard beforehand it was a puppet show, I really didn't know how it was going to work because I was aware that you see the puppeteer at all times with the puppet and I really was quite dubious about whether my eye would be drawn away from the puppet to the puppeteer but I was really surprised that didn't happen, that you do focus on the puppet the entire time you're watching it.
"People seem to love them, there's an Angela Merkel puppet, there's a Brian Cowen puppet, there's a Bertie Ahern and an Enda Kenny and people just go with them, the really seem to love them and respond really well.
"That was it really, I loved Avenue Q so when the producers Darren Smith, Johnny Morrison and Donal Shiels came to me with the idea and asked me would I be interested in writing the script for it and some songs, I just leapt at it.
"I suppose, with the Ross O'Carroll-Kelly books I'd been writing about the rise and fall of the Irish economy from a social point of view so I was familiar with that ground. When they mentioned a musical puppet show with big laughs and big songs, they just had me."
Anglo: The Musical is on stage in the Olympia until February 2; click here for further information on the show.