Django Unchained director Quentin Tarantino has said he is looking forward to the round of events that come with his Oscar nomination which was announced yesterday. RTÉ 2fm's Dave Fanning spoke to director in an exclusive Irish interview ahead of the release of Django Unchained just after his Oscar nod was announced.
In response to a question about how intensely busy life was about to get for him he said "Not so much. One, I don't know how much of that I'm going to be doing because when you're at home there's all kinds of parties you can go to. By the way, that's not the worst way to spend your life!

"If you're talking about going to parties with academy members or Bafta members, you're actually talking about a group of really interesting people, you get an opportunity to be in the same room as them and have a good time.

"That's not necessarily the case this time because I'm doing my worldwide press on the film right now, that's all something going off in my peripheral vision while I'm going around doing my press selling my movie."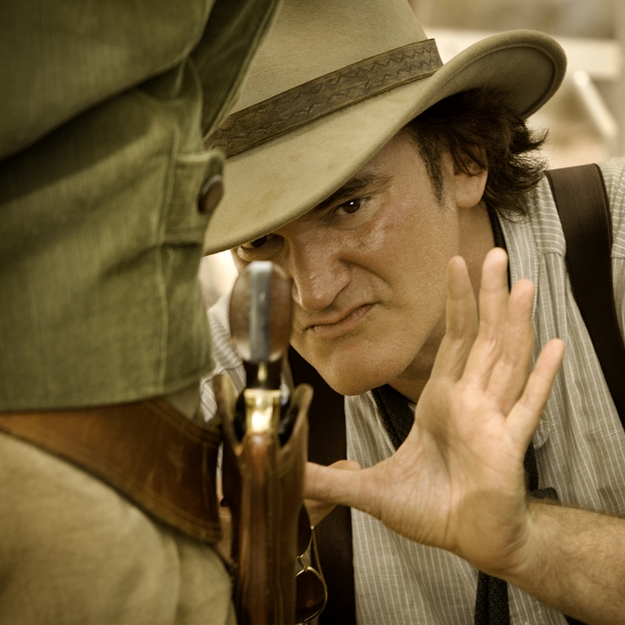 Tarantino on set of Django Unchained

Fanning asked Tarantino about the idea he has spoken about previously that the best way morals are portrayed on screen is through Westerns:"It just so happens that Westerns reflect the decades that they were made more than any other sub genres do.

"You can make trendy movies about the given time; during the flower child era you can make a flower child movie, you can make a campus radical movie but Westerns, without trying to, reflect their decades better than most other films. I'm not saying that's the best way to do it, I'm just saying it just so happens that that's the case."

Asked if he always wanted to make a Spaghetti Western he said "Yeah, I've always wanted to do a Western. There's Western elements in a lot of my movies, in particular there's Spaghetti Western elements. They're in Pulp Fiction, I've always actually thought of Pulp Fiction as a Rock'n'Roll Spaghetti Western.

"That's why I used the surf music so prominently in the film because I always thought of it as, I didn't understand what they had to do with surfing, to me it always sounds like Rock'n'Roll Morricone [Ennio, Oscar winning composer]. And Kill Bill has those qualities, especially Kill Bill 2. Inglorious Basterds positively has. This was my chance to put my hat in the ring and do one proper."
Django Unchained was nominated for five Oscars; Best Picture, Actor In a Supporting Role (Christoph Waltz), Cinematography, Sound Editing and Writing (Original Screenplay).
Listen in to the full interview on the Dave Fanning Show on 2fm tomorrow morning, Saturday January 12, between 10am and 12pm.