Spoiler alert! It's a sad week in Carrigstown as we learn of Rita Doyle's death. The family are reunited to say their farewells, but the next two weeks are also filled with fireworks and fights. The cast reveal to RTÉ Ten.
Fair City wouldn't be Fair City without the Doyle clan, and throughout its 23 years, there's always been a member of the family living in Carrigstown. This week the Doyles are reunited once again to say goodbye to their beloved Rita (Jean Costello), wife of Bela (Jim Bartley), mother to Yvonne (Ciara O'Callaghan), Darren (Niall O'Shea), Louise (Leah Egan), Jimmy (David Mitchell), Suzanne (Sarah Flood) and the deceased Helen, and grandmother to Ruth, Rachel and the latest Doyle addition, Suzanne's daughter Hannah.
Check out our interview with the Doyle family by clicking on the link in the box on the left.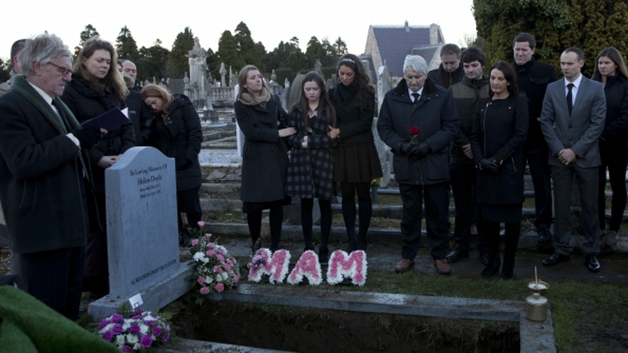 The cast – minus David Mitchell, who is not returning for Rita's funeral – gathered together this week in McCoys to pay tribute to Jean and reminisce their time together as an onscreen family.
In true soap form, things are not straight forward, and there are many spats between the siblings as they try to determine who will look after Bela, what happed in the moments before Rita died and this is all before they even hear what is written in her will.
Speaking about filming the emotional scenes, which will be screened over the next two weeks, Sarah Flood admitted that there were real tears shed as they gathered around Rita's coffin. "Some of the scenes were extremely emotional – they are some the most emotional scenes we have ever had to do." she told RTÉ Ten.
"It's been very hard saying goodbye. The public will really miss her [Rita] as well as she has been the Irish mammy."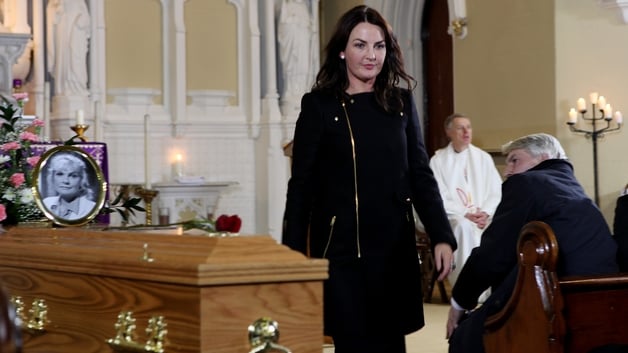 And while there are plenty of sad moment's the drama is also ramped up to full throttle as the Doyle children come to blows, revealed Ciara O'Callaghan.
"When the Doyle family come together there is always going to be fireworks and there definitely is that and a whole lot more."
"There are lots of recriminations and emotions shown. It's a case of where there's a will there is a war," says Jim Bartley who played Rita's on-screen husband for over 20 years. "The bitterness that erupts over the next few weeks is amazing; there are some great observations of the situation by the writers."
Leah Egan is joining the cast to play Louise Doyle who has been living in Australia for the past number of years. Suzanne went to stay with Louise when she was in a car accident early last year and they both return this week, along with Louise's fiancé and Suzanne new baby daughter, Hannah.
Leah told RTÉ Ten that she had no time to be nervous about joining one of Ireland's top-rated shows.
"It was a baptism of fire, as there was no easing into it," she says. "Everyone has been really supportive and to be one of the Doyles has been great fun.
Niall O'Shea also returned to reprise his role as Darren and he says that while there may be bickering going on among the Doyle clan, that, like many other Irish families, if any outsider tries to cross them, they will always have each other's back.
He said: "They may be a very dysfunctional family, but if anyone crosses them, they will close ranks and defend each other."
Jean Costello joined her soap family one last time officially in McCoys and spoke about how she will miss her "pals" from her days on the show.
She said: "I feel proud to have been part of the show for 23 years. I might be back, but not as Rita, I could be her sister!"
Jean herself has battled with several health conditions of late, suffering two strokes and fighting cancer. While she may be leaving Fair City, she said she would like to do some more acting.
"I'd love to do theatre again. I'll miss the money from Fair City though. It was 23 years on a good week's wages."
Fair City, RTÉ One, Tuesday, Wednesday & Thursday