Matt Cardle released his second album late last year, he's also released a new single and he's announced an acoustic tour - could the X Factor's 2010 winner become the first solo male artist to do well out of Cowell's karaoke cabaret? Alan Corr talks to him about his new album, One Direction, and singing with Robbie Keane

It happens like this – you win a TV talent show with a massive nationwide audience, you sign a deal with a cunning pop puppeteer who has over 31 No 1 hit singles to his name, and then you launch yourself into the upper ionosphere of pop immortality.

However, Matt Cardle was never going to do a Leona Lewis and he wasn't, of course, One Direction, the boy band who have amazingly gone on to global success after coming third to the victorious Cardle on the X Factor two years ago. Not that things are looking too rosy for Ms Lewis these days - her last album limped out to largely bored public while Rebecca Ferguson, easily the best thing ever to come out of X Factor, continues to cleverly play the long game.

So 29-year-old Cardle was never going to be a teen dream pop sensation. Neither was he going to be the new face of credible and you'd have to look very closely to tell him apart from the most recent X Factor winner, James Arthur. But underneath Cardle's affable front there is a straight-talking and realistic bloke who clearly kicked and bucked when he was being fitted with a Cowell-approved straitjacket.

Cardle's second album The Fire went top 10 in the UK and Ireland on its release last October (it's since sold over 270,000 copies) and he's sold out many of the dates on his current UK tour. He's done all this after leaving Syco, Simon Cowell's record label as battery holding pen. That's no mean feat but after reportedly signing Cardle to a two-million quid deal after his X Factor victory, did Cowell drop him or did he leave?

"From where I saw it, it was a difference in direction," Cardle says. "Syco and Sony wanted me to do another version of my first album and I didn't. They weren't fitting themselves to what we were going to do and where we were moving and then the option period came up and they decided not to take it . . .
"Ok it wasn't quite as simple as that – they wanted us to do something we didn't want to do basically. They said, we want you to do another album so go away and write and we said no, we're bringing out another album in October. It was the greatest thing that ever happened to me. If I had not left I would have been swallowed up by the machine."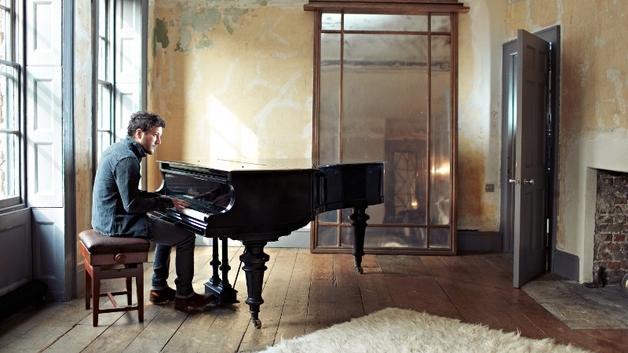 "I've always written my music, I play my guitar, I can stand over my work and say it's mine."
Cardle is now signed to a new label, So Recordings (home to The Chevin and Joshua Radin), and it's a state of independence that must keep those hellish visions of Joe McElderry, Leon Jackson and Steve Brookstein at bay.
"Not really to be honest," he says. "I can safely say I've always written my music, I play my guitar, I can stand over my work and say it's mine. That's something that sets me apart from those guys but I still have a lot of respect for them. Joe has an incredible voice and I'm not sure if Leon Jackson is trying to do music anymore. I will never stop being a musician and writing music."
Cardle was never under any illusions about X Factor. He wisely signed a 50/50 deal with Syco and he knows that Simon Cowell has long realised that the real money is in TV and not music. "Absolutely yeah. He has taken over the planet with One Direction. I don't feel bad about some of the things that happened on the show.

"Simon had an idea way, way before the show to put that band together and to make it work and it does work and yeah, the amount he makes with TV compared to someone who's sold a quarter of a million records is . . . you know what I mean? Why would you bother selling double platinum? So what you went double platinum, big whoop! I have a lot of respect for Simon Cowell. I think he's a great guy and he's a very, very, very good businessman and I really respect that.

"I mean there were a few moments throughout the X Factor where you could tell he was keeping an eye on the five boys. Right from boot camp you could tell he was looking after them and right from the audition stages . . . some of the auditions were quite questionable . . . "

Questionable? "I won't go into them but there was one of the eh . . . um, I just think at certain points it wasn't just pot luck that these five boys came together and that they got put through on the show. Before they started auditioning people, Simon was like `I want five guys for a band' and that became clear. It wasn't like hang on, those guys didn't get through but they could be a band! Look at the guys in One Direction! They're all great-looking guys. They've covered every base."

Which is something Cardle wants to do too. He played all the instruments on The Fire, from drums to guitar, to piano and bass, and even the violin. There are echoes of nineties astral rockers The Verve on some songs and there are other acts who Cardle loves which might surprise some people. "Yeah. I'm influenced by everything and anything I listen to. My favourite band is Rage Against The Machine, I love Bush, I love Pearl Jam. Lately I've been listening to Peter Gabriel and Kate Bush, and Massive Attack. It's just an eclectic taste."

The Fire was recorded in LA last year and it wasn't all work; a meeting with Robbie Keane led to a hangover song writing session that produced one of the tracks on the album.
"I've met Robbie quite a lot since The X Factor," Cardle says. "I met him at his training ground when I was on the show and we got on quite well. I was walking around the ground and he shouted out my name and I thought bloody hell! We hooked up again in LA and he's a really, really nice guy. He's got a brilliant voice. He does Mustang Sally in the bar we went to in LA."

Cardle seems content and happy that he's making headway slowly. He could be in this for the long game and no, he doesn't hate One Direction, the poppets who came third in 2010 but who now have the kind of success that he can only dream of.

"I was having words put in my mouth the other day. I was being interviewed by a tabloid and I didn't even mention them but when the interview ran it said I didn't want to be `puppets' like JLS and One Direction," Cardle sighs. "I got an absolute barrage of abuse from One Direction and JLS fans. I didn't even f***ing say it. The truth of the matter is I'm super, super proud of One Direction.

"We all went on that show with the same dream to be successful and the fact that they've done so much is brilliant. I've good mates with them. We spent nearly a year together. We're still mates and they're really nice guys."
Watch Matt's new single Anyone Else
Matt Cardle's new single Anyone Else is out now. He plays an acoustic show in Whelans, Dublin on April 24
Alan Corr