RTÉ Radio One's The Book on One will broadcast a previously unheard recording of Irish writer, Mary Lavin's reading of her short story Happiness.
On 7 October 1979, Lavin and the poet Elizabeth Bishop were scheduled to read together in the Sanders Theatre in front of a live audience in Harvard University.
When Elizabeth Bishop died unexpectedly the day before, the event became a tribute to the poet, during which Lavin read her short story Happiness.
After the event, Lavin was given a copy of the recording on a cassette tape, that she later gave to her daughter Elizabeth.
Speaking to RTÉ TEN, Lavin's son-in-law, Elizabeth's former husband, journalist Diarmuid Peavoy said: "Anyone planning to tune in to The Book on One this week is in for a treat. They will share laughter and poignant moments with a live audience at Harvard University, as they listen to the wonderful story-telling style of Mary Lavin in her own inimitable voice recorded more than 34 years ago."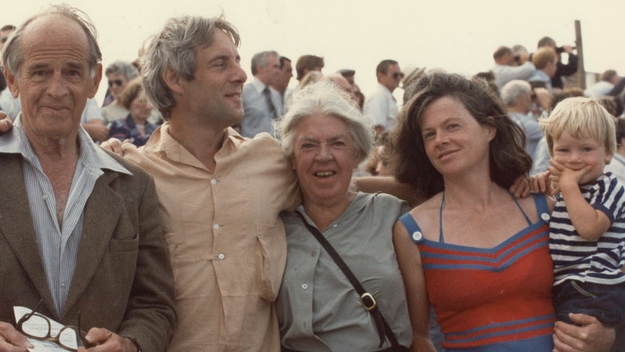 Mary's second husband Mick Scott, Diarmuid Peavoy, Mary Lavin, daughter Elizabeth and grandson Tadhg
He added: "They will also get to share what I and other family members enjoyed so often sitting around the dinner table in Bective, Co Meath, as we listened to Mary telling us stories from her own day-to-day life.
"They were habitually dramatized for effect and often told for the umpteenth time, but such was Mary's quality as a storyteller that the enjoyment of hearing these stories never diminished.
"Moreover, listeners will also be hearing one of Mary's most popular stories. It is also a family favourite with her three daughters who feature under different names in this semi-autobiographical story, which is told through their eyes.
"It captures their mother's personality, their experience of her long widowhood, her mother (their maternal grandmother) and of the Jesuit priest friend who became Mary Lavin's second husband [Mick Scott].
"Elements of the family home at the Abbey Farm in Bective, Co Meath, also feature, as do references to the girls' travels on the European continent with their widowed mother. Daffodils have a prominent part to play in the story. Every springtime, the driveways to their farmhouse and to the adjacent Bective House were lined with a glorious profusion of daffodils and narcissi.
"Daffodils also appear on the cover the Happiness collection of Mary's stories, both in the original edition and in the recent reprint.
"Mary Lavin's three daughters would all find truth in the opening words to the story: 'Mother had a lot to say'. This does not mean she was always talking, but that we children felt the wells she drew upon were deep, deep, deep. Her theme was happiness: what it was, what it was not..."
"The story Happiness is a fictionalised portrait of a mother, seen through the eyes of her three daughters. I know that listeners will be enthralled by it. This is its first ever broadcast."
Tune into The Book on One on RTÉ Radio 1 from tomorrow, Tuesday January 1 to Friday 4 at 11.10pm, when the unabridged reading of the story will run over four nights.