Murder, family feuds, money woes, broken hearts - it must be Christmas in Emmerdale. Warning! Spoiler Alert!
Christmas Eve and the Dales are full of drama as Cameron's hostage lies in the van, bound and gagged while he visits Chas. There's tension between them and he appeals to her to give their relationship another go, but Chas makes it clear they can't be together. Back in the van the terrified villager spots a rusty piece of metal and tries to break free from the ropes, but Cameron arrives back before they can break free. Convincing Cameron to untie the ropes, the villager spots a chance and makes a run for it. Hpwever Cameron chases through the woods in hot pursuit and grapples them to the floor, dragging his semi-conscious victim back to the van, he ominously gets inside and slams the door steeling himself for what he has to do next.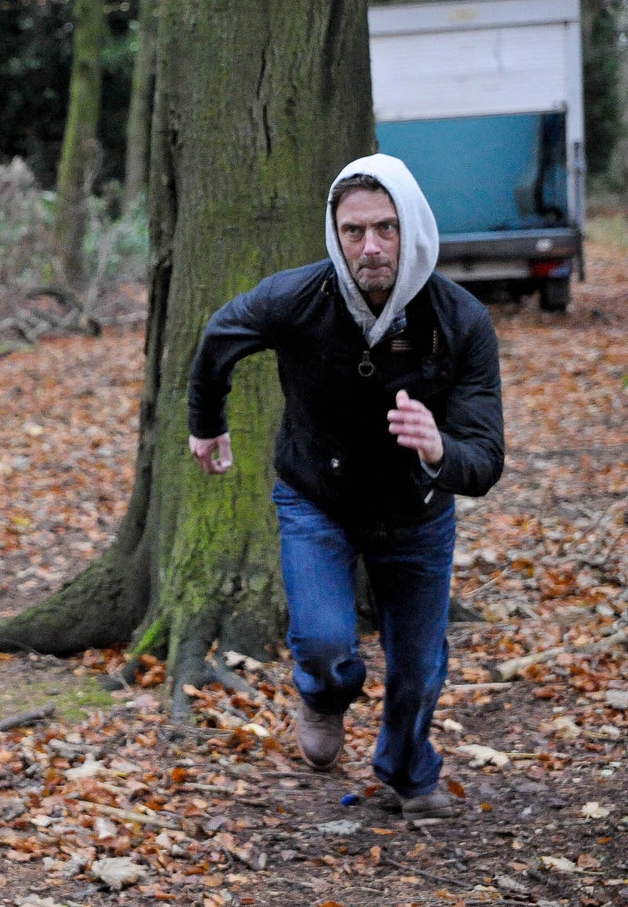 Cameron chases after his next victim, but who is he about to kill?
On Christmas morning a startled Cameron wakes up in the B&B and remembers he's living a nightmare as his victim's body lies in the van on Main Street. He sneaks down and heads to the woods, where he begins digging a hole for the body. With tears in his eyes he digs into the earth, and, right on cue, the snow begins to fall. He throws the body in, appalled at himself and yet relieved when the body is finally covered.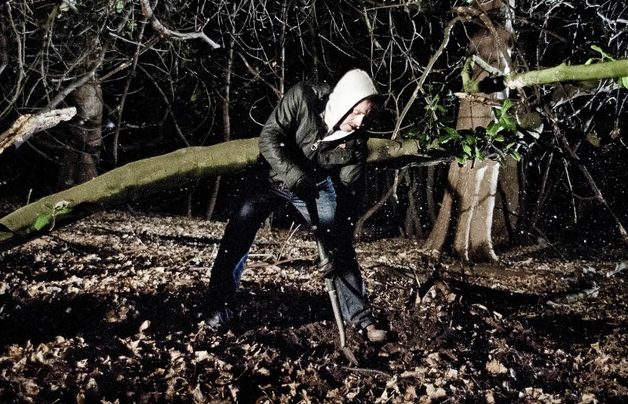 Cameron digs a grave for his mystery victim... someone is about to have a very bleak Christmas
Back at the B & B, Cameron tries to scrub away his guilt in the shower. Later, Chas tells Cameron she loves him and he's all she wants, if he'll still have her. They kiss, tears glistening in Cameron's eyes... but something tells us it's not going to be a fairytale ending for C&C.
Meanwhile Alicia allows herself a moment of hope as Jacob rides his new bike and David smiles over at her. She eyes her wrapped present from David with anticipation but her dreams are shattered when she gives him an expensive watch and only gets a pen and pencil set in return rather than the bracelet she found yesterday. Later, they go to the pub where David's delighted to see Priya but Alicia's baffled as to why he wants to go to the pub and her heart breaks when she sees Priya wearing the bracelet.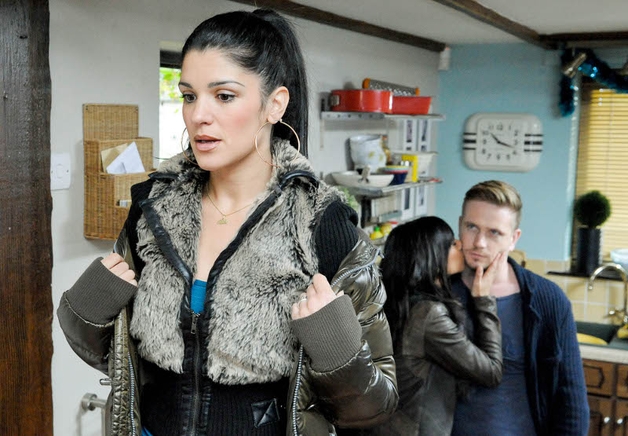 Broken-hearted Alicia must be feeling the cold with all those layers
Alicia heads outside for some air and when David follows she covers her disappointment as he promises they'll make this a proper family Christmas. She tries to keep up appearances and smile through her pain when Jacob asks for a puppy but overreacts at his nagging and storms out. In the church, Alicia can't bear seeing David looking at Priya any longer and asks how long it's been going on. She storms outside into the snow and David follows. He's relieved, when a heartbroken Alicia says she's sorry he didn't feel he could tell her before and he should be with Priya - they should let everyone know they're breaking up and the marriage was a mistake but she wants to tell Jacob in her own time.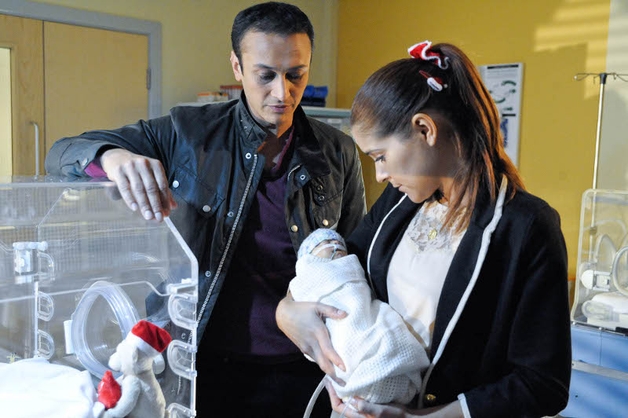 Jai meets his son, but it could be for the last time
Jai feels the absence of his son as he shares a glance with Rachel before she heads to the hospital. He covers to Charity that he's going to Declan's for a drink as Katie's down. Rachel leads Jai in to see Archie at the hospital when he turns up and she's delighted, but nervous, as the doctor tells her she can hold him. Jai's over the moon to be with his son.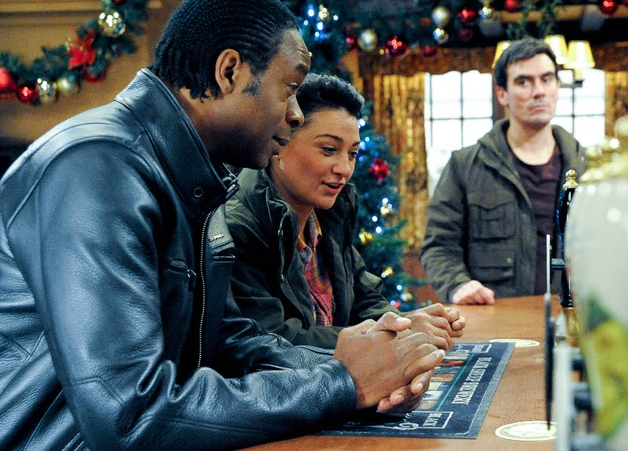 Cain casts a watchful eye over Dom and Moira
Cain is irked when Moira flirts with Dom in the pub, hearing her say she's open to offers on New Year's Eve as she has no plans. Zak thinks he's only got himself to blame. Outside the Woolpack, Cain tells Moira it won't work, trying to make him jealous, as she arranges to meet Dom tomorrow night. She's annoyed as she tells him he's nothing to her and they both try to pretend they're not bothered. Somehow we don't think it will be Dom Moira will be kissing at midnight!