A cover of an Elton John classic sung by an array of Irish artists in aid of a little Claregalway girl with a rare form of cancer has topped the official Irish single chart.

Tiny Dancer – A Song for Lily Mae was recorded by singers including Paddy Casey and Mary Black along with a 300-strong choir to raise money and awareness for 4-year-old Lily Mae Morrison who has Stage 4 Neuroblastoma, a rare and extremely aggressive childhood cancer of the nervous system.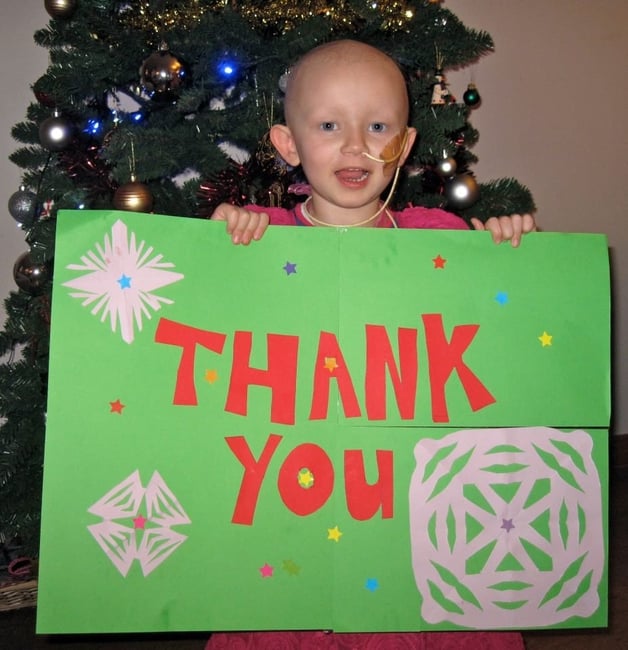 Lily Mae says thanks!
The single hit No 1 on the iTunes chart last week and Elton John has tweeted and posed a message of support for Lily Mae and the song on his official website.

The organisers are now trying to keep the song at No 1 for Christmas.
For more information on how you can keep Tiny Dancer: A Song for Lily Mae at the top check out the facebook page here:
Watch the performance here:
You can read the full single and album chart rundown here:
Top 20 singles

1 (this week) TINY DANCER - A SONG FOR LILY-MAE VARIOUS (COLLECTIVE MGMT)

1 (last week) 2 BENEATH YOUR BEAUTIFUL LABRINTH FEAT. EMELI SANDÉ (SYCO MUSIC)

7 3 DIAMONDS RIHANNA (DEF JAM)

2 4 LITTLE THINGS ONE DIRECTION (SYCO MUSIC)

3 5 TROUBLEMAKER OLLY MURS FEAT. FLO RIDA (EPIC)

5 6 CANDY ROBBIE WILLIAMS (ISLAND)

9 7 HO HEY LUMINEERS (DECCA)

12 8 LOCKED OUT OF HEAVEN BRUNO MARS (ATLANTIC)

6 9 GANGNAM STYLE PSY (ISLAND)

11 10 GIVE ME LOVE ED SHEERAN (ASYLUM)

8 11 DON'T YOU WORRY CHILD SWEDISH HOUSE MAFIA FT. JOHN MARTIN (VIRGIN)

17 12 HALL OF FAME SCRIPT FEAT. WILL.I.AM (RCA)

18 13 WINTER SONG SARA BAREILLES & INGRID MICHAELSON (EPIC)

10 14 A THOUSAND YEARS CHRISTINA PERRI (ATLANTIC)

13 15 SKYFALL ADELE (XL RECORDINGS)

14 16 SWEET NOTHING CALVIN HARRIS FEAT. FLORENCE WELCH (COLUMBIA)

4 17 SOMETHING NEW GIRLS ALOUD (POLYDOR)

29 18 GIRL ON FIRE ALICIA KEYS FEAT. NICKI MINAJ (RCA)

16 19 VA VA VOOM NICKI MINAJ (CASH MONEY)

46 20 FAIRYTALE OF NEW YORK POGUES FEAT. KIRSTY MACCOLL (WARNER BROS)

Top 20 albums

1 1 TAKE ME HOME ONE DIRECTION (SYCO MUSIC)

2 2 UNAPOLOGETIC RIHANNA (DEF JAM)

3 RIGHT PLACE, RIGHT TIME OLLY MURS (EPIC)

14 4 CHRISTMAS MICHAEL BUBLÉ (REPRISE)

3 5 DNA LITTLE MIX (SYCO MUSIC)

11 6 + ED SHEERAN (ASYLUM)

5 7 OUR VERSION OF EVENTS EMELI SANDÉ (VIRGIN)

9 8 UP ALL NIGHT ONE DIRECTION (SYCO MUSIC)

17 9 #3 SCRIPT (RCA)

6 10 MERRY CHRISTMAS, BABY ROD STEWART (VERVE)

8 11 RED TAYLOR SWIFT (BIG MACHINE)
12 12 BABEL MUMFORD & SONS (ISLAND)

16 13 TAKE THE CROWN ROBBIE WILLIAMS (ISLAND)

13 14 GRRR! ROLLING STONES (ABKCO)

4 15 CELEBRATION DAY LED ZEPPELIN (ATLANTIC)

15 16 MAGIC OF THE MOVIES ANDRE RIEU (DECCA)

17 TEN GIRLS ALOUD (POLYDOR)

18 50 YEARS DUBLINERS (IML)

19 THE VERY BEST OF NEIL DIAMOND (COLUMBIA)

19 20 STANDING OVATION SUSAN BOYLE (SYCO MUSIC)