It's been a long road for Coronation Street's Nick and Leanne, and the pair are seemingly about to get their happy ending, but actor Ben Price has said "it's going to be turbulent".
Warning: spoiler alert!
Speaking to Digital Spy, Price, who plays Nick, said that the pair genuinely love each other, but life gets in the way and circumstances are against them.
"Nick's feelings are also a bit mixed up," he explained. "Nick loves Leanne (Jane Danson), but he also hates Peter (Leanne's ex, played by Chris Gascoyne)! That means that he wants something that used to be Peter's, so it's partly an ownership thing for Nick. He likes to feel that he's top dog and that he's the winner."
Earlier this month, news broke that Nick and Leanne were set to become engaged and embark upon wedding plans after her divorce from Peter was finalised.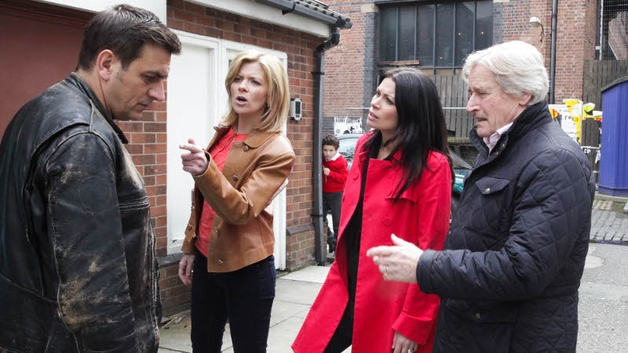 Leanne has a handful dealing with ex-husband Peter, his son Simon and his girlfriend Carla
Scheming Eva Price (Catherine Tyldesley), Leanne's half-sister, is still heartbroken over losing Nick to her estranged sibling and is set to cause ructions in Nick's relationship.
"Nick has definitely moved on and he sees Eva as a mate," Price said. "When Eva is giving him 'advice', Nick takes her at face value and it's only later that he sees things a bit differently."
With plans of marriage and Leanne as a mother figure to Peter's son, Simon, Price said that what keeps his character on the cobbles is his family, along with the prospect of starting his own.
"That's what Nick wants, but it's not going to happen - it's Coronation Street!" he said.
"It's going to be turbulent. The show is about characters pushing for the ideal, and then everything falls around you like a house of cards. That's what makes things exciting, and it should be interesting to see how far Nick will go to make this relationship work."
Price concluded by teasing: "Hopefully in the next few months, you'll see a slightly more ruthless and harder side to Nick. That's my thinking - these things go in cycles!"