Rebecca Ferguson came to fame on The X Factor in 2010, finishing in second place after the show's winner Matt Cardle.
Since then, the soul singer has gone on to release her debut album Heaven, which was both commercially and critically acclaimed.
She spoke to RTÉ TEN about life after The X Factor, juggling a busy career with having a young family and her ambitions for 2013.
The deluxe edition of your debut album Heaven is now out - how did that come about and what's new?
I've just added two songs that should have made the original album, and one of them ended up making the US, and so we put it on the UK album. And the other one Good Days Bad Days was just one that I really loved and wanted to be on the first album but it was just overlooked a little bit. So I added that and I added the live version of I'll Take Care and the Downton Abbey song. It's just a few extra tracks really for fans and for people who haven't bought my record before.

You're recording your second album next year, are you looking forward to getting into the studio?
Yeah I can't wait, I'm ready now. I mean I'm going to take January and February off, maybe go back in the studio end of February, beginning of March and then just start writing. So I'm looking forward to it.

Are you hoping to change your sound or are you going to stick with what you've done before?
I'll just see what happens naturally. I don't go in with a plan; I literally go in and see what happens. I just want to make sure that it's better, I always think that you should come back stronger and better than your first album, because lots of people release an amazing first album but the second isn't always as good, and I want to make sure that if I can, I can bring out a better album than the first.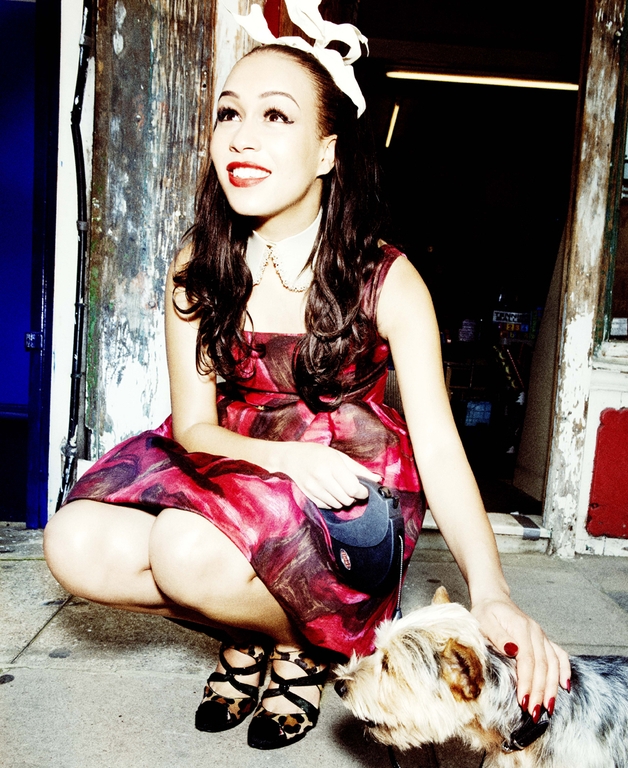 Where do you get the inspiration for your lyrics?
Mainly just life, experiences, relationships. Sometimes it's people around me, people that I meet, things that I see. I'm inspired by lots of things, but mainly life experience.

Apart from writing your album, what will be your ambitions for next year?
I'm setting up some beauty shops, just a personal ambition, nothing to do with music, something that I really fancy doing. So I'm setting them up, I'm also writing children's books at the minute, I'm halfway through so I'm focusing on lots of different avenues really. So I have lots of things to keep me busy!

Do you see your career as being more than just in the music industry?
Professionally I think you should never limit yourself, I've been given an amazing opportunity where I can do lots of things that I want to do. You know a beauty shop's one of them, writing children's books is one of them, so I just want to do it if I can or just try.

You've got two young children, how do you find juggling a varied career with having a young family?
I think it's hard if you don't balance it right. I'm in a good place now and I'm managing to balance it right and I think you just have to make sure that they're the priority which they are in my life. As long as they're the priority, everything works out properly.
You came to came to fame in 2010 on The X Factor, when you came second in the competition. You've gone on to have great success in the industry; do you almost think it was a blessing in disguise not winning the show?
For me personally, I think not winning gave me more time to write and focus on what I wanted to do. I think for that way it was a blessing for me, but not for everyone. Little Mix are doing really good, they won the show, and Leona Lewis has gone on to do great things. I think for some people it's great when they win but for me personally it was better because I wanted to write my album and do it the way I wanted to do it. I think you get more time when you don't win it.

What do you think has been the best thing the show has brought to your life?
I've got to meet so many amazing people, I think the experiences I've had and the great people that I've gotten to meet that I wouldn't have met if I hadn't been on The X Factor, so that's been amazing. And being able to just support my family really and be in a position where I can help people, and in a better financial position than I was before which is nice to be able to look after my family.

Did you find it a struggle going from an unknown to the kind of fame that being on the show brings?
I think the first year's hard, I think people would be lying if they say it wasn't because it's a transition. You're just getting used to being known by the public and people recognising you and people looking at you in a different way. I think now I'm kind of used to it, I've got to the point where I'm not as affected by what the press say, they're the things that people stumble on when they first come to fame. You have to learn to take everything with a pinch of salt.

You're an inspiration for contestant's competing on the X Factor, what would be your tips to those taking part in the show this time round?
It would be to enjoy it, to really enjoy it. I think sometimes it's easy to get distracted by things going on on the outside and the press, and everything seems ten times worse when you're on there, but I think just go on there and enjoy it and do the best that you can do. Remember you're in a competition as well, and remember that if you want it you've really got to work hard for it.

Do you have any favourites on the show this year?
I really like Jahmene I like watching him grow, I like that he's not completely confident, that he's growing. And I like his story as well , he's got a brilliant story behind his voice and his personality and I'd really like to see him do well.
Read more about Rebecca's fashion and beauty must-have on the RTÉ Fashion site here.
Rebecca Ferguson's debut album Heaven – the deluxe edition - is out now.
Sarah McIntyre