It was hungry work being Fab back in the sixties and long-forgotten footage of The Beatles filmed during the filming of their Magical Mystery Tour proves it.

The TV film, broadcast to a largely bemused audience on Stephen's Day 1967, features the group making a pit stop at Smedley's chip shop in Roman Road, Taunton, Somerset and now new footage of John, Paul, George and Ringo having a cod and chips can be seen online.

The behind-the-scenes shots have been compiled by makers of a new Arena documentary on the film to be shown on BBC 2 this Saturday night.

The scenes, which had ended up on the cutting room floor, were discovered as the Arena team worked on their programme which ties in with the release of a re-mastered version of Magical Mystery Tour.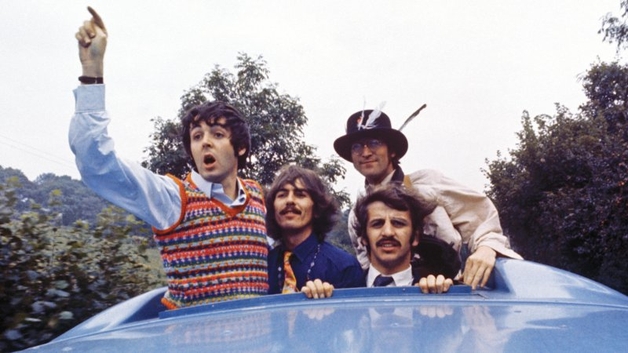 "Ere, is that a chippy?"
The lost footage can be seen online at thespace.org, which has a new section called The Arena Hotel devoted to archive material from the BBC's long-running arts series. It will include clips from 600 films.
Magical Mystery Tour has not been seen on British TV since 1979 and it will be screened on BBC 2 following a new Arena film entitled The Beatles' Magical Mystery Tour Revisited.

"Few people have seen Magical Mystery Tour in its entirety and the material in the chip shop has never been shown anywhere," says Arena editor Anthony Wall.

"They're happily sharing a simple meal with the other passengers on the coach as the astonished residents of Taunton gather outside, and at the same time creating an extraordinarily avant garde film, which of course would soon be broadcast by the BBC to a dumbstruck nation."