Coronation Street's Natalie Gumede has revealed that her character, Kirsty Soames, is set to have a dramatic delivery of her baby. Warning: Spoiler Alert!
The actress spoke to All About Soap about the delivery, which will happen in the most unexpected of places - The Rovers.
After weeks of bad blood between Tina (Michelle Keegan) and Kirsty, following Tina's discovery of Tyrone's bruises, Kirsty continues to try to get back at her young rival.
In scenes in the Rovers, Tina finds out she may become homeless thanks to Kirsty.
"Tina just goes mad and Kirsty continues to go at her, while playing innocent to the rest of the pub," Gumede said.
"Tina grabs Kirsty and there's a scuffle - it's not a proper fight, but Kirsty falls back onto a table. Tina just wants to make Kirsty listen, because she keeps walking away from her and laughing."
After the scuffle, Kirsty discovers she has gone into labour and her baby is on the way.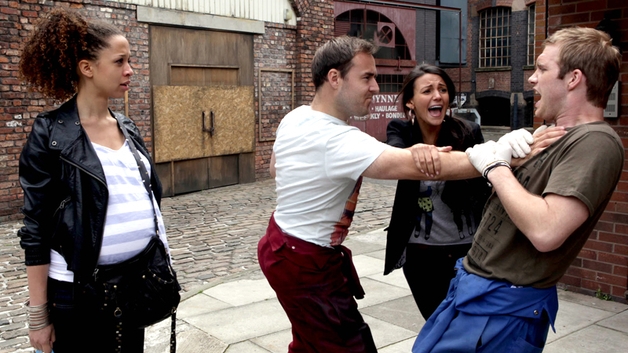 It all came to blows between the two parties earlier on in the week on the cobbles
Viewers recently saw a showdown when Tina and Tommy (Chris Fountain) confronted Kirsty about her abuse of Tyrone (Alan Halsall), while Kirsty claimed that Tina was trying to take Tyrone away from her.
Speaking about the delivery itself, Gumede said: "Kirsty's a very strong character and she's a tough cookie, while Marcus [played by Charlie Condou, who assists as midwife] is great. Tyrone turns up as well, which helps immensely."
Even though mother and baby, a girl which Kirsty names Ruby, are doing well and unharmed, Tina emerges as the villain.
"From the outside, it looks like she's attacked a pregnant lady. But Kirsty won't be happy until she knows where Tyrone is every minute of the day," Gumede added.
The scenes will air in September.