Style icon and fashion designer Victoria Beckham visited Brown Thomas' flagship store on Grafton Street today to promote her two womenswear collections, Victoria Beckham and Victoria, Victoria Beckham.

It may have been the fashion designers' first visit to Dublin to promote her fashion lines, but Victoria looked right at home as she eloquently answered the questions posed to her by RTÉ presenter Claire Byrne.
Speaking about her visit to Dublin she said: "It's really important. I like to meet the ladies that are buying my dresses. I love women. I want to empower women. I want to give them what they want. You get feedback and I want that. It's just great to meet everyone. Brown Thomas has embraced my collection from the start.
"It's so nice to come back. Myself and David really, really love Dublin. That's why we got married here. It's a really lovely day."
When asked what she made of Irish women's wardrobe choices she was quick to explain that we are right on trend saying: "Irish women are very fashion forward and love fashion. They understand fashion and they're very chic."
Victoria explained that her inspiration comes from her everyday experiences, and of course, her family.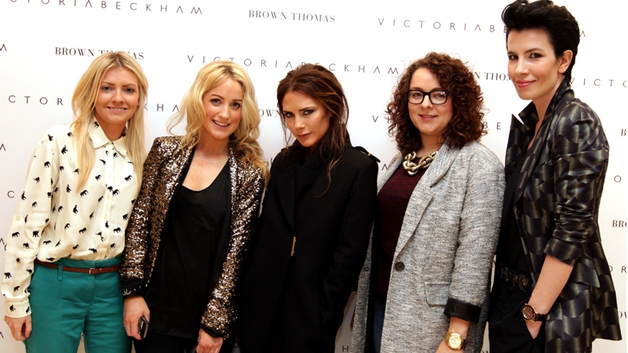 Victoria Beckham (centre) pictured (L-R) with RTÉ TEN's Laura Delaney and journalists Andrea Byrne, Rosemary McCabe and Annemarie O'Connor
She said: "I like to be respectful to my image and brand, but each season there will be a very strong fashion message. Last year there was strong military influence. There was also a baseball influence which came from Romeo running into the kitchen one day in his baseball shirt. Even the beanie hat that David wears inspired me. There is definitely an element of my life that goes into what I do."