Danny O'Donoghue is our man in the hot seat on The Voice UK. As the live rounds hot up, Alan Corr talks to him about dealing with his newfound fame, his fellow coaches, and how television stardom has changed his life

Danny O'Donoghue wants that big red chair. He's been sitting on it for the last month and his butt will be on it for another while yet to come so it's no wonder he'd like to take it home with him when The Voice UK finishes. "Yes, I've told the producers I want it," says O'Donoghue. "I'd like to take it back to my place and set up as a kind of throne."

Before you get any notions that Dublin lad O'Donoghue is getting delusions of Cowell-like grandeur he is, of course, joking. However, he's not joking when he says The Voice UK has changed his life. The Script front man may have hit No 1 twice with his band, headlined stadiums, and shifted an uncommon amount of records, but let's face it, while he's a rising star in Ireland, over in the UK D O'D is an relatively unknown quantity.

That's slowly changing. Since he joined The Voice UK as a coach alongside veteran Tom Jones, loud and proud Jesse J, and uber producerwill.i.am, D O'D's fame has risen to such dizzying heights that even babies know who he is. "Baby's who can talk – they shout "telly! Man from the telly" when they see me," laughs O'Donoghue. "Since the show started I'm relatively housebound because there are not many places I can go anymore."

Actor and comedian James Corden may have to stop referring to him as "Danny I don't know who" and then there are the 300 marriage proposals O'Donoghue has received over the past few weeks. "Listen. It's crazy," he says. "The Script have never been that kind of band, we've never put our faces on the cover of our albums but when you see the power of television! People have tweeted me to say they had a dream the night before that they were on The Voice or the next tweet is `marry me, marry me!' It's really surreal."

The boy from Ballinteer in south county Dublin is sitting pretty in London with his girlfriend of four years, 28-year-old Lithuanian model Irma Mali when he takes my call. O'Donoghue is a fast and big talker, giddy at the success of The Voice UK and, lest we forget, the knock on effect it's had on his band, The Scriptl.

However, by rights he should be in a stinker of a mood. The night before we talk, O'Donoghue was in Old Trafford watching his team Man U take a beating from Man City. "I was there with Ian Brown actually," he says. "Him and his two sons were there and we were all in the blue end as welll, ah man!"

There's plenty of other things to be more cheerful about. He's reportedly picking up £120,000 for his work on The Voice UK and since the show began, five of The Script's singles have re-entered the UK charts and their two albums are selling 6000 a week. You won't hear any complaints from bandmates Glen Power and Mark Sheehan so.

Boyband pretty O'Donoghue wasn't the first choice to join the panel of coaches on The Voice UK. Will Young was originally approached about taking the fourth hot seat but a panicky BBC, who've spent £22 million on The Voice UK over the next two years, decided on the Script frontman as they "wanted to go more rock" and perhaps attract a younger audience. With typical sangfroid the snubbed Young shrugged his shoulders and tweeted, "That was a shame. I got given it and then I didn't again. They took it away. I'm not sure why but that's the reality – it's a cruel world. Life goes on – I'm still alive and breathing."

Whatever about being more "rock" O'Donoghue does provide a lot of contrast to his fellow judges."We are all different. When I heard that I got the job I genuinely thought this is amazing! It's me and these megastars," he says. "There are three big stars in the studio and me. When we first all met in that room I thought it was like a skit from The Simpsons. It was me, Jesse J, Tom Jones and will.i.am, you couldn't get four more different people. The BBC didn't say don't mess it up. I just thought it was incredible foresight by them to give us the rope to go and hang ourselves. It could have been a car crash!"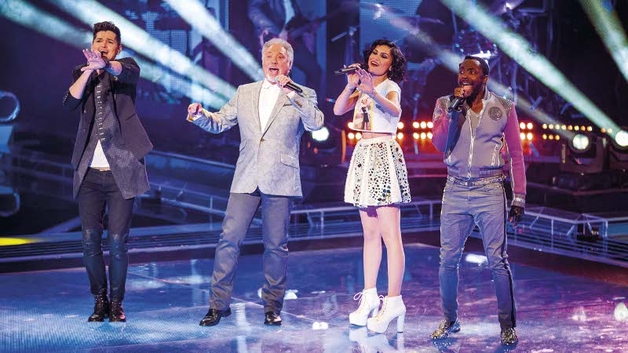 The gang's all here: Danny, Tom Jones, Jesse J, will.i.am
The likelihood of a televisual car crash has increased now that The Voice UK has entered the live rounds. "There's no Danny curse button!" O'Donoghue laughs. "I get warned every show – `please no cursing, we know you're Irish and it's part of your literature but please don't curse.' So what I do is get it all out straight away – effing and blindin' in the morning time and then when the show goes live, I'm fine. I am very aware though. It's like being in church or talking to your mother in law, you're very aware that you might slip up at any second so therefore you don't.

"The first live show was a big thing. People can say what they want but they have to understand that I'm not a tv presenter, I'm a musician and it doesn't come naturally to me. I'm sitting there and say, Tom's talking and my heart is going thump, thump, thump knowing that I'm next. When it's pre-recorded at least they can cut out my slip ups. Put anybody in that chair, anyone . . . Even Tom gets nervous. You're sitting there thinking, I'm about to crush some 20 year old's dreams live on television. It's gut wrenching."

It's no wonder the coaches have grown close over the past few weeks. There's been nights down at the bar with Tom Jones, long talks with Jesse J, and given O'Donoghue's background as a studio engineer in LA, a growing kinship with will.i.am. "He's a genius. You don't get to work with the people he's worked with. He name drops a lot of people on the show sure but there's loads more he doesn't. It only comes out on the show that songs we've all grown up loving were produced and written by him. He says himself that he's not a talented singer but he still gets up and sings."

Jones and O'Donoghue have also toasted their Celtic heritage. "We tend to be the ones who are the last ones standing," he says. "He'd be telling me stories all night about Elvis. He says (adapts pretty good Welsh accent), `never trust an Irishman'. I say, the Irish were only Welsh who couldn't swim, Tom."

He may only be 31 but O'Donoghue's been around the music industry all his life. His late father was a session player in the sixties and seventies and regularly played with the likes of Roy Orbison when he was in town. His brothers were both in moderately successful bands in the nineties and when Danny entered the music industry it was as a member of boyband Mytown. When they flopped, he went to America and worked as an engineer for the likes of Boyz II Men, TLC, Justin Timberlake.

Everything has changed since then. "Exactly. Any musician would be a fool to think that there will be a golden era when the likes of the NME are gonna start selling again," he says. "They're not. They're dwindling down like every publication. We are living at a time where nobody knows what's really going on. They start to see things trending on the internet, record labels pick up on that and then bring it to the tv, people see it on tv and transfer it onto the internet.
"None of us coaches had to do this show, we wanted to this show and it's simply because of the stranglehold other talent shows would have had on music. I don't get into a battle with shows like BGT or X Factor. I'm really proud that we've created a muso show for musos."

Is your girlfriend Irma a fan? "She's sitting beside me now . . . " Put her on so! "No!" Ask her what she thinks of the show. "She says it's fun." As a model, does she advise you about your hair and what you should wear? "Ha! No but as every good woman should, she definitely points me in the right direction if I'm having fashion disaster. I tend to be a bit experimental. I'm still rocking the mullet for god sake!"

The Script had a meeting about their third album a few weeks ago and there's talk of a September release. "I think we're two songs away from being finished," O'Donoghue says, his excitement nearly frothing over. "I have to say we've really rinsed each other out when it's come to writing this album. We really wanted to make an astonishing album and I feel we've really after coming up with the goods. It's sounding really, really smoking. Of course I'm gonna say that though!"

But will he say who's going to win The Voice? "C'est moi! You're talking to him hahaha. In fairness, it really is too close to call, it really is. What I am learning is the stats – the people who vote in on the show, the demographics and what age group they are. This is all information that can help with your decision about who best to put forward. I think all four of us feel that we have a winner in our pack, it just depends on the day they show up.
"If they sing good, if they don't but what I will say is that I've got absolute genuine artists and songwriters who are all fantastic. If you can sing 2000 notes in a song it doesn't mean it's a great song. Most of mine will just get up there and, bang!!"

On just give him that throne!
Alan Corr