Britney Spears has tweeted a picture of her with the new US X Factor judging panel – Simon Cowell, LA Reid and fellow newcomer Demi Lovato.
After months of torturous negotiations and contract talks Spears and Lovato have been confirmed as the duo filling the vacant spots on the panel. The group came together for the first time yesterday.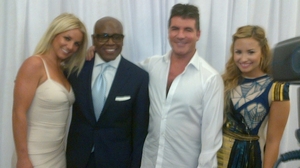 The new US X Factor judging panel: Britney Spears, LA Reid, Simon Cowell, Demi Lovato Picture Credit: Twitter
The two pop stars replace former judges Paula Abdul and Nicole Scherzinger, who, along with host Steve Jones, were fired by Cowell following the conclusion of the singing competition's first season.
Speaking at a Fox event in New York Britney said: "I'm a huge fan of the show and now I get to be a part of the action."
"I'm absolutely delighted Britney and Demi are joining us," Cowell said. "Britney remains one of the biggest stars in the world; she's talented, fascinating - and I believe she knows exactly how to spot the X factor."
He added: "Demi's had an amazing career in music, TV and film for someone her age. She's young, confident and enthusiastic. I think it's really important that she speaks to our younger audience."