German supermodel, Heidi Klum, has spoken about the breakdown of her marriage to musician Seal and cosmetic surgery.
After the shock announcement that the German model and her husband of seven years where to split earlier this year, Heidi Klum has kept relatively silent about their separation.
However the mother-of-four graces the cover of the latest issue of Allure magazine and gives an insight into how her world has been turned upside down since she called time on her marriage.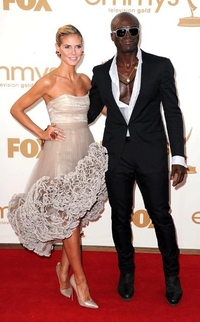 She revealed: "You know, I wouldn't change anything. If I had to go back in time and say, 'I should have changed this or that...' No. I don't resent anything that ever happened. Things just turn out the way they turn out... I'm still in the eye of the storm now, and it's all a little bit crazy. But sometimes you have to be apart in order to figure it out."

Klum also addressed the rumours that she has had plastic surgery.
She said: "Ask me again when I'm 65, but... I'm proud to be able to say, in this day and age, I haven't done anything. Everyone has a view of what's pretty and what's not pretty, and [surgery] just doesn't look pretty to me."