Far beyond the charmed worlds of Westlife and Jedward, Ireland's renaissance of quality music continues to flourish. And the shortlist for this year's Meteor Choice Music Prize proves it once again

Among the online comments about the shortlist for the Meteor Choice Music Award for Best Irish Album of 2011 was this zinger on RTÉ Ten: 'Didn't Westlife, Mary Byrne and Jedward all release albums last year? They all sold way more than any of the above list. Music snobbery is alive and well in these awards.'

It really does make you wonder. Maybe our disgruntled poster was being ironic but that's inverse snobbery for you. Thankfully, most punters and pundits are wildly enthusiastic about this year's shortlist, which ranges from the spooky disco of Patrick Kelleher to the lo-fi indie funk of Tieranniesaur. However, when some people see the success of talent show product as a sign of Irish music's vitality, it's enough to make you despair.

Good luck to Westlife (quite literally in their case), Mary Byrne and Jedward but The Choice, now in its seventh year, is about much more than chart positions and TV exposure. With The Meteor Awards and The Hot Press Awards seemingly on hold, this is the award that really acknowledges and rewards Irish musicians for their work. As well the glory of victory, the winning act will receive €10,000 (thanks to IMRO and IRMA) and hopefully a much-needed rise in sales.

Over 200 albums were released by Irish artists in 2011 and naturally some people have wondered at the omission of The Minutes, Bipolar Empire, Land Lovers and Jinx Lennon from the shortlist. But them's the breaks when it comes to asking a judging panel made up of opinionated and passionate music hacks, DJs and music industry types to name their Irish albums of the year.

Interestingly, Bell X1 are nominated for the third time and it's for their best album yet, Bloodless Coup. However, given the Choice's track record for favouring the leftfield and the esoteric, it will be cruelly unlikely they'll get the prize. That goes for Pugwash too. Jape also finds himself nommed for the second time, And So I Watch You From Afar are looking good to win, as is Lisa Hannigan and Cashier No 9, who released the intriguing To The Death of Fun last year.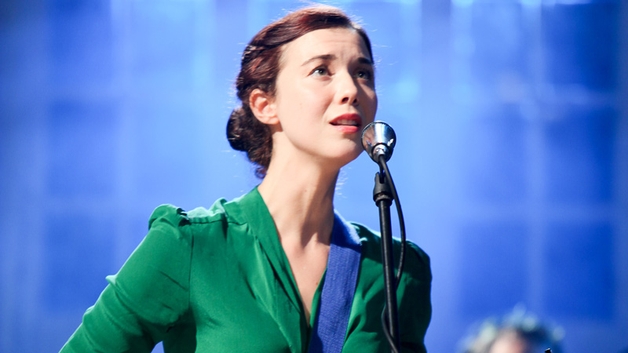 Lisa Hannigan nominated for The Choice Music Award for her album Passenger
It's also worth noting that nearly all the acts on the list have thrived without the meddling hands of the major labels. Once again, The Choice is a triumph for independent imprints like The Richter Collective, Popical Island and Delphi Records. Although hats off the EMI Ireland for being one of the very few indigenous majors to actually sign and foster great acts like The Japanese Popstars and Pugwash.

The overall winning album of the year will be selected by the judging panel at the Meteor Choice Music Prize live show at The Olympia Theatre on March 8. Take your pick from a list which shows just how healthy the Irish music scene is right now. For my money, Dublin duo We Cut Corners' debut Today I Realised I Could Go Home Backwards was the real Choice cut of 2011 and they should win the gong.
Alan Corr

Here's the full list of nominees:

Gangs – And So I Watch You From Afar

Bloodless Coup – Bell X1

To The Death of Fun – Cashier No 9

Passenger – Lisa Hannigan

Controlling Your Allegiance – The Japanese Popstars

Ocean of Frequency – Jape

Golden Syrup – Patrick Kelleher & His Cold Dead Hands

The Olympus Sound – Pugwash

Tieranniesaur – Tieranniesaur

Today I Realised I Could Go Home Backwards – We Cut Corners