There is no middle ground in my shoe world: I own runners that I run in, I have flip flops that I live in during the summer and I have heels, high, high heels. There is one particular 'Sex and the City' episode where Charlotte says, "I have the most terrible fear of heights" and Carrie answers, "Well I do not . . . you've seen my shoes". This I can relate to.
It's the end of my first day in New York and I've walked so much in my four-inch heels that I want to cry. My feet actually feel like they're bleeding. But what would Carrie Bradshaw do at this moment? Yes, ladies she would embrace the pain. So, as I gather up my bags and hobble out of the cab, who do I nearly knock down on the sidewalk only Sarah Jessica Parker? Yes, SJP, in the flesh. I'm in shock, not at the fact of seeing her, but that she's, gasp . . . wearing flats! I feel so cheated. She stops (or rather I accost her) for a natter and a photo demand, which she happily obliges.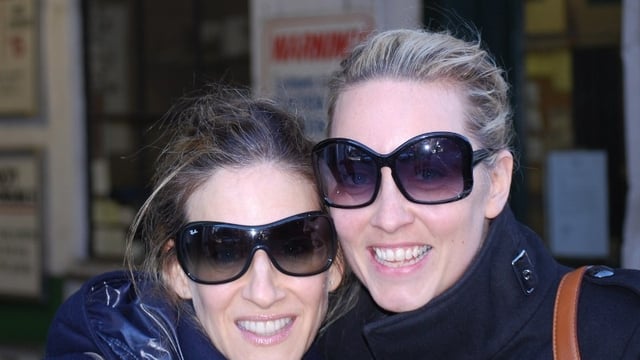 Kathryn meets her style icon, Sarah Jessica Parker on the streets of New York
I toy with the idea of asking her into the hotel for a Cosmo but then realise she actually has a life and one which probably doesn't include acting out a 'Sex and the City' fantasy for a rather pained looking Irish giraffe.
Next day, I take a cab to the Garment District to purchase my first ever pair of flat boots. Comfortable? Yes. Do my legs now resemble tree trunks? Yes, but this is all in preparation for my shopping tour on foot with the über-stylish Pamela Perisi, known in the fashion game as the 'Elegant Tightwad'. I'm in New York on a budget and I've been assured that this is the gal to know when you are shopping for bargains, and let's face it, who isn't these days? For $44, you get four hours of access to designer showrooms that are not open to the public.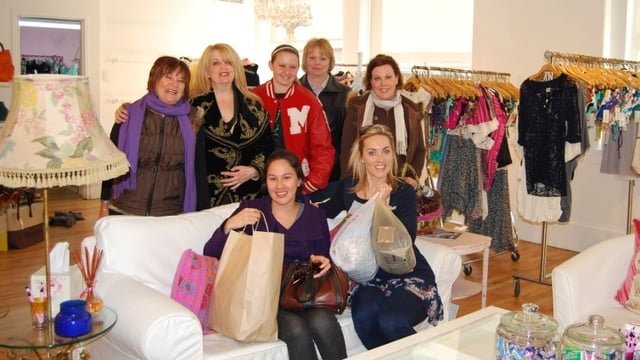 Kathryn grabs a bargain on the Elegant Tightwad tour
You pay wholesale prices, usually between 60% and 70% off the normal retail price. The showrooms are small, so straight away you see if the stuff they are selling is up your street or not. It took until the third showroom to find a style of clothing I really liked, so do be patient.
Real finds: a full length red cashmere coat as seen on Oprah, retailing in Bloomingdales for $1,200 on the rack for $300; unusual cocktail dresses á la Karen Millen or Reiss, three of which I pick up for $29 each. At the end of the tour, Pam also supplies you with a list of sales on around the city for the next five days. From there, I take off downtown and stroll comfortably, though not nearly as sexily, through the East Village and over to Chelsea. I'm a thrift store junkie and nowhere (apart from Paris maybe) does thrift and vintage better than New York.
Here are my top 3 picks:
Cure Thrift Shop, 111 East 12th Street Bright space, neat and well organised. Great for shoes. Benefits the Diabetes Research Institute. www.curethriftshop.com
Housing Works, 143 West 17th Street Great clothes and even better furniture/soft furnishings. They have 12 stores all over downtown and Brooklyn. All money goes toward helping New Yorkers living with HIV and Aids. www.housingworks.org
Enz's, 125 2nd Ave Like our own Imelda May, get '50s inspired in here. Rockabilly pencil and swing skirts and the funkiest of jewellery by Tarina Tarantino. www.enzsnyc.com
Eating out
Another way to save a dime is to make your trip to the Big Apple coincide with New York Restaurant Week (well two weeks, actually) from July 11 to 24. Make your reservation online and choose from over 200 of the city's top restaurants, where all fixed three-course lunches are $24 and all fixed three-course dinners are $35 during that period only. Two taking part that I tried out are the Spice Market and the Fig and Olive, both in the Meatpacking District. Highlights of the Spice Market: its dark, sexy atmosphere, the ginger mojitos, salmon tartar with soy ginger dressing and the lobster with lemon butter. In the Fig and Olive: the atmosphere is more up-market, perfect for a special occasion, taste the best olive oils from around the world, and tops for me, the Romaine and endive baby beet salad and the beef carpaccio with 18-year-old balsamic vinegar.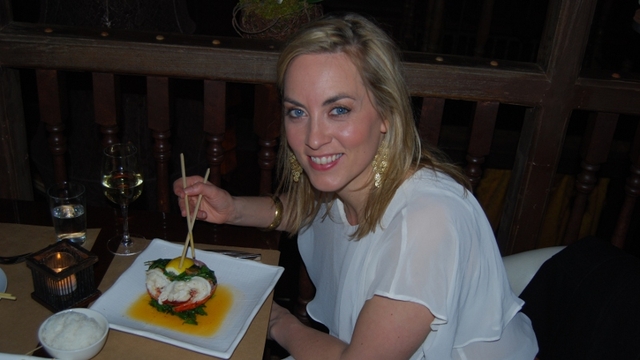 Enjoying some lobster at the Spicemarket
Accommodation
The Gild Hall Hotel (sister of the über-cool 60 Thompson hotel in Soho but much less pricey), just off Wall Street, is like a gentlemen's club of years gone by. Oversized, lived-in leather couches are set against white panelled walls that contrast perfectly with floor-to-ceiling dark wooden bookshelves.
Kathryn's top tip!
For first-timers and families in New York, take an hour to plan your few days in the Visitors Centre just off Time Square. Sponsored by Google Earth, this interactive experience means that you can tailor your own personal itinerary on huge screens, with all the information you need, then email it to your phone or take a print out . . . Not only will they tell you what attractions are free, the whole service is free!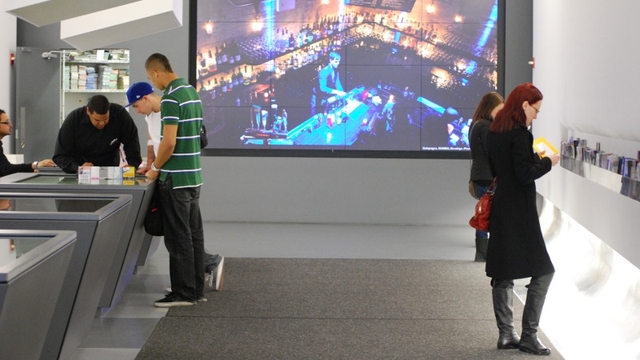 Tailor your personal New York experience at the state-of-the-art visitors centre.
Fact Box!

Aer Lingus For the best fares go to www.aerlingus.ie
Shopping tour www.theeleganttightwad.com
The Gild Hall Downtown www.thompsonhotels.com
The Porterhouse at Frances Tavern www.francestavern.com
Restaurants www.figandolive.com
www.spicemarket.com
For reservations during Restaurant Week go to www.nycgo.com/restaurantweek
For all general NYC information go to www.nycgo.com