A director who knew nothing about Irish dancing has captured its magic in her latest film. Sue Bourne talks to Harry Guerin about 'JIG'
"People like the Irish; they warm to them. They like the way they approach the world. You seem to embrace life with a sort of joy, and I think the dancing reflects that joy."
As we muddle through 2011 and rummage around for a bit of feelgood, it's a bit of a Sally Field Oscars moment hearing someone from another country saying nice things about us! And Scottish director Sue Bourne's goodwill towards Ireland runs the whole way through her feature-length documentary 'JIG' - a timely reminder of what we excel at and one that will do plenty to shine up our image in cinemas around the world.
Bourne's film tells the story of nine contestants and their preparations for the 2010 World Irish Dancing Championships ('The Worlds') in Glasgow. Some are Irish or have Irish roots, but others - a 10-year-old from Birmingham, a Sri Lankan-born teenager living in Holland, a thirtysomething from Moscow - have no family links whatsoever. After a series of acclaimed TV documentaries, 'JIG' marks Bourne's cinematic debut and she has done a fine job of explaining the lure of Irish dancing for her young subjects and showing the energy and dedication they bring to the stage. If Bourne had learnt threes and sevens from an early age herself the film would still be a fine debut: that she was a newcomer to wooden floors and wigs makes her achievements all the more admirable.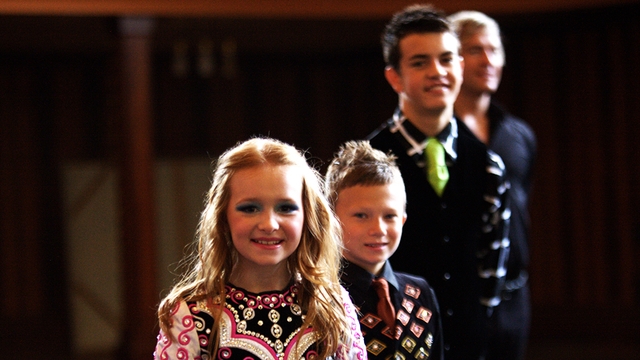 Some of the stars of 'JIG'
"You're talking to someone who got kicked out of ballet class at four," she laughs. "I don't go to dance shows either, so this is not my world. For me, what was interesting was the people - it's always the people with me. You also had this great music and wonderful dancing and a nail-biting competition.''
The story of 'JIG' began for Bourne in 2009 when a journalist and former Irish dancer based in Glasgow got in touch with an idea for a film: 'The Worlds' would be held in the city the following year. Editing another film at the time, Bourne sent her colleague, Ruth Reid, to the 2009 finals in Philadelphia to investigate. Then came the call back to Scotland. "Ruth said: 'Sue, there's a film here. It's fabulous! But we may never get in...'."
Scrambles for funding and searches for talent are hassles on many films, but before Bourne could get behind the lens she had to convince the members of Irish Dancing's governing body, An Coimisiún le Rincí Gaelacha (CLRG), that she should be the first director to be granted access to 'The Worlds'. Her 'audition' would see her pitch the movie in front of 80 committee members in Dublin.
"They were very wary of me," she recalls. "Luckily, they'd seen some of my films and I think that helped. I remember somebody put their hand up and said, 'So, will we be in control of this film?' And I said, 'Absolutely not. You have to trust me. You have to let me in and let me make the film I want to make without any interference. So I'm asking a lot of you, but I think you'll get a very, very good film that will do nothing but good for the Irish dance world'."
For having faith, the committee members have been rewarded with a movie that will kick-start an entirely new surge in recruits. Devoid of pushy parents and crass rivalries, 'JIG' instead offers touching moments, foot-tapping charm, an edge-of-the-seat finale and graciousness in victory - and defeat. Even if your knowledge is as limited as Bourne's was in 2009, the story and the people make the trip to the cinema worthwhile.
"I wanted to go to a broader public, not just the Irish dance public," says Bourne. "With most feature documentaries, I think, 'Well, I wouldn't go to the cinema to see that'. This is the first time I've come across a story that I thought, 'I would go to the cinema to see this'. It's a universal story; it's about family life, dedication, sacrifice, skill and this world that you don't know about. We couldn't believe our luck when we discovered no-one else had got in."
As with all her documentaries, Bourne has stayed in touch with the stars of 'JIG' and at the time of talking to the RTÉ Guide was planning her trip to Dublin to see them in action in 'The Worlds'. When she's asked what she learned about Irish culture from making the film, her answer is as heart-warming as anything we see up on the screen.
"I always liked the Irish," she concludes. "I like them even more now!"