With his latest film, 'The Way', opening nationwide this weekend, Michael Doherty catches up with legendary movie actor, Martin Sheen.
At a time when Hollywood is filled with cookie-cutter actors all schooled by the same marketing guru, what a pleasure it is to meet a true original such as Martin Sheen.
The son of a Tipperary Phelan and a Galician Estevez, the 71-year-old actor is a veteran of more than 100 movies (notably 'Badlands', 'Apocalypse Now' and 'Wall Street') and numerous award-winning television shows (notably 'Kennedy' and 'The West Wing'). Less well known is the fact that he has been arrested 67 times for his robust support for liberal political causes. Sober now for two decades, the actor struggled with alcohol addictions for many years and is therefore particularly well placed to lend support to his son, Charlie, currently experiencing high profile addiction troubles of his own (and therefore not a topic for today's interview).
Though his son's experiences must hang heavy, you wouldn't know it by his demeanour. Indeed a typical Martin Sheen moment occurs just prior to our interview in a Dublin hotel. A businessman suddenly emerges from a conference room on his mobile phone and visibly freezes when he spots the veteran actor. ''You won't believe who is standing opposite me,'' the man whispers down the phone to his wife. Where other actors might have walked by, Sheen walks over and quick as a flash picks up the phone and proceeds to hold a pleasant conversation with the man's wife. It's the reaction of an actor who has never been interested in playing the fame game.
''Film is an illusion,'' says Sheen, ''and fame is ephemeral. Faith and family are what endure''. A devout Roman Catholic soon to celebrate his golden wedding anniversary, Sheen combines both faith and family in his latest film, 'The Way'. Written and directed by his son, Emilio, the movie stars Martin Sheen as an American doctor whose son (played by Emilio) dies while walking along the Camino de Santiago in Spain. The father decides to complete the 780-kilometre pilgrimage as a way of honouring his dead son.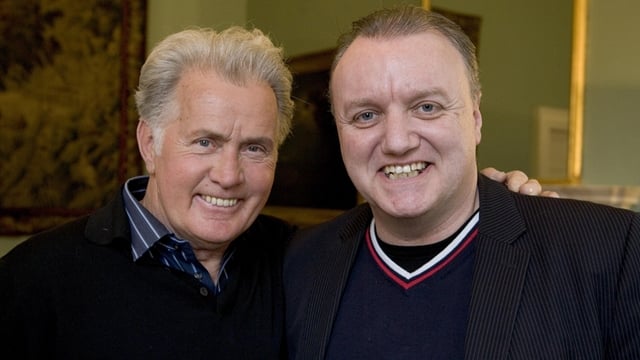 Martin Sheen with Michael Doherty
Michael Doherty: Although your son, Emilio, wrote and directed 'The Way', Martin, he told me that the project would not have come about without some nudging on your part. How gentle was that nudging and why were you so keen to get this story on screen?
Martin Sheen: I was just so taken by the Camino having driven there in 2003 with Emilio's son, Taylor, and I longed to go back and have the experience of that pilgrimage on foot. I was doing The West Wing at the time and I knew that I would only have a few weeks' off every summer, so my opportunities were limited. Meanwhile, Taylor had moved back to Spain and married there so Emilio lost a son to the Camino, so to speak, and gained a daughter in law! I just thought that there was something there that needed to be explored and Emilio had the writing and directing skills to do it.
But it started out as a very different story...
Yes, it started out as a story about two old guys on the Camino with a young boy who speaks the language and falls in love along the way, but we thought that scenario was limited and somewhat sentimental. After a couple of years working in earnest on it, Emilio made it a father/ son scenario and that's when things started to happen.
The father-son resonances are everywhere in this; not just with yourself and Emilio, but with Emilio's son having moved to Spain and with your own father, Francisco, having being such a proud Galego from that region.
That really helped the story along and it really helps the audience that Emilio and I are father and son and that we look quite alike. We weren't sure when the film started if it would work having Emilio appear at times along the way when the audience knows he has been killed. But it really had a resonance in that the son appears to be guiding his father along the way. It's a fascinating technique that works well because we tend to see the people we love in their prime, even after they're gone. I'm a product of the 60s and our hero, John Kennedy, was taken away in an instant but he will always remain this handsome, young, brilliant president leading us forward.
You are a very different person, Martin, to the character you portray in this film. He's a golf-playing Republican; you're a card-carrying social activist and liberal Democrat. Did you base him on the guys you encountered when you were that nine-year-old caddy at Dayton Golf Club?
You got that link, did you! Yes, that was a very formative time in my life. A young boy should not be exposed to older men in their play and their vulgarity and their racism, etc. They used some language, Whoa! I had brothers in the navy and they never came home with that language! Few of them knew my name. Some were kind but most were full of themselves because they had so much dough and felt so privileged having so many material things. It was an important lesson for me. I've nothing against anyone accumulating wealth and belonging to private clubs but I knew for me that it would be stifling. I've never wanted to belong to a club that the whole world couldn't belong to, and I never wanted to live anywhere where anyone else couldn't live; and I haven't, basically. From the age of 9 to 19, I caddied for the over-privileged and they taught me a lot about life. Thanks guys!
The movie had travelled around the world to various festivals and various audiences, Martin. Have you found that audiences in traditionally Catholic countries such as Ireland and Spain tend to empathise more with the subject matter?
The people who are struck by the movie are basically those who are willing to reflect on the big questions: who am I? Why am I here? It was particularly true in America, when we played it for young people who would never have considered pilgrimage. They were fascinated by the journey and wanted to know if you needed to be a Catholic or what was it you needed to make the journey. The first thing you need is a passport, I'd tell them; after that, you start walking! Audiences that have that facility to look within themselves and wonder if they could meet the Divine along the road; they are the ones getting the most out of 'The Way'. You'll find a community who are delving into the deepest part of their souls and exhibiting their brokenness. All of us are broken and this is a chance for us to meet the mystery within ourselves: who am I? Why am I here?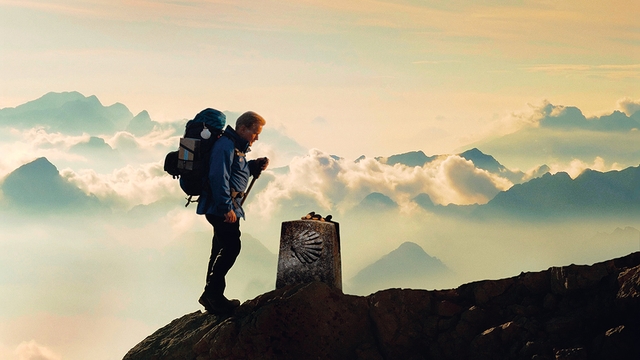 Martin Sheen in 'The Way'
Talk to me about your Phelan clan in Borrisokane...
It's funny. I've been coming to Ireland since 1973 and I've watched the new generation come up. They're a great bunch. I adore them. I'm a bit of a firecracker in their midst. They live very sedate lives until I come in their midst. But they're very tolerant of me even though there can be such a fuss when I'm around. They are very self-effacing and I just fall in right away with them. They are typical Tipp people: feisty and quick to point out your shortcomings with humour! What's the term you use here? They're great craic.
You recently shot Thaddeus O'Sullivan's film, 'Stella Days', in Tipp. That must have been interesting...
It was. Every time I come to Ireland my family ask me the question, 'how long are you home?' And it does feel like home. I'm an Irish citizen and I'm very proud of that. I went to Spain and visited my father's community for the first time in 1969. I slept in the bed in which he was born. In 1973 I came here to do the film Catholics and as soon as I drove into Borrisokane, I felt it was the same place.

That was post 'Badlands', so you were well on our way to becoming a star at that stage.
Yes, I had made Badlands but it hadn't yet been released over here. It was a big time for me but I remember a feeling of clan when I arrived, similar to the feelings I experienced in my father's house in Spain. It was all very similar; the faith, the family, the land, the weather, the hard-working farmers. They were the same Celtic people. No wonder my father and mother came together!
Do you recognise the Irishness and the Spanishness in your own family?
Emilio kind of jumped a generation. He has a vineyard and he has also started growing his own food. He has chickens and eggs and fruit trees. Like here in Ireland, he could feed himself over there on an acre of land. He got very interested in my father and in Spain. The film is dedicated to my father. He never told me he was doing that. He just loves Spain and the culture. And the Irish is very much there in all of my family. My son, Ramon, has kept in close touch with the Irish side of the family. He knows all of the relatives here. And he knows all my side of the family in Dayton, Ohio, too. He could be walking down the street with his brothers, Charlie and Emilio, and his sister, Renee, and some cousins could be passing on the other side and he would be the only one who would know them all. He's the one that waters the family tree!
At a time when more and more people are leading busy lives dominated by technology and there is less time for people to take a breather from the rat-race, is this movie particularly aposite?
It could be, especially in the States. It's only when we accept our powerlessness that we can begin the inner journey towards our own power and start responding to the things that are nurturing and human and bring joy and bring families together. That's when we connect to the sacred in some way. Whatever religion you believe in; it's about getting in touch with what's really important. You guys over here are dead broke now and people are hurting. People are beginning to gather more and connect more now. We spent all this time working and building up our property and look where we are now! We channelled alll of our energy and resources into that and look, here's this child now who is eight years old. Does he really know who we are? So families are starting to come together again.
You were actually filming here when the balloon went up...
Yes, I was here when it all came down and the IMF came in. It was a really depressing time. And then the snows came! But there's something here that is far better than all that. The Irish people and the Irish culture: it's so powerful and creative and human. That's why you guys are going to pull through.
Interview over and, rather than move on to the next journalist, Martin Sheen again does the unexpected. He sits down and, with the tape recorder off, shares stories about his family while wanting to know about my own family, showing particular interest in my father's heart problems (the actor had his own bypass during the filming of 'Apocalypse Now') and my mother's Alzheimer's. And it's typical of the man that he wanted anything said to be kept off the record.
No wonder everybody wants Martin Sheen to be the next President.