Opinion: long before Conor McGregor swaggered into the limelight, boxer Daniel Mendoza was the toast of Dublin city
The word "notorious" has become synonymous of late with the boxer Conor McGregor. But in 1792, a celebrity boxer, arguably as great a showman as McGregor, captivated Dublin audiences with a compelling backstory and an ability to pull in the crowds.
Daniel Mendoza (1764-1836) was born to Jewish parents in the East End of London and turned to pugilism at the age of 16. In his early twenties, he opened a boxing academy in London, where he demonstrated a keen instinct for self-promotion by distributing printed portraits of himself to those who came to see his sparring exhibitions.
In 1788, Mendoza took part in a grudge match with the "gentleman boxer" Richard Humphreys, which whipped up a frenzy of public interest, sparked a war of words between the two men in the British press and prompted two, highly publicised, re-matches. This was also the period when Irish audiences became hungry for news of boxing; Irish newspapers like the Hibernian Journal, Freeman's Journal, and Belfast NewsLetter carried reports of English fights and the boxing scene, particularly when personalities were sparring.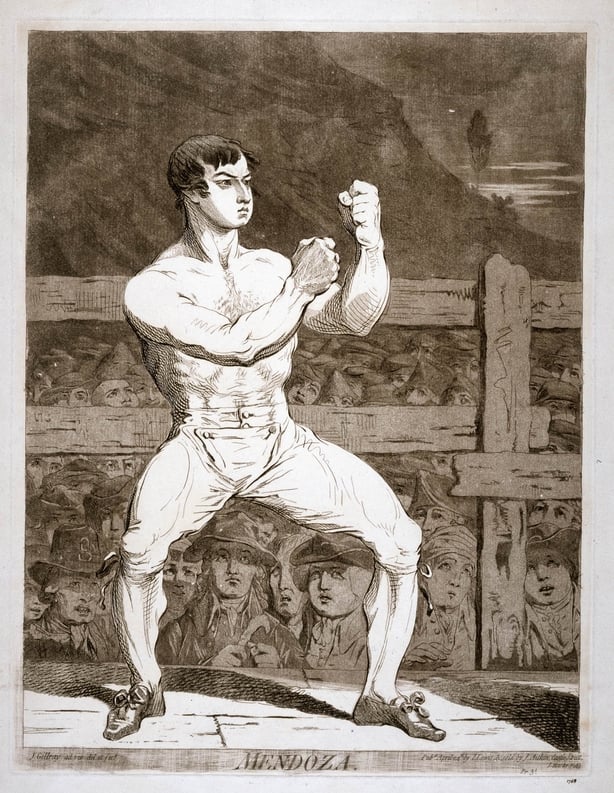 Centuries before the advent of social media, Mendoza's image and persona were widely known. His infamous bouts with Humphreys were recorded in popular prints, used to decorate ceramics and even re-imagined as political satire. In a print published in London in 1788, The Meeting of Parties, or Humphreys and Mendoza fighting for a crown, the British Prime Minister William Pitt and his arch-rival Charles James Fox double as the popular pugilists and thrash out their differences, egged on by supporters.
Publishers routinely commission celebrity autobiographies today, but there was an appetite for Mendoza's memoirs in the increasingly commercialised society of Georgian Britain. These were published in 1816 and described, from his perspective, the rapturous reception he received in Dublin in 1792. According to Mendoza (and with more than a shade of Paddywhackery), he was instantly recognised on his arrival in the city by an "honest Hibernian", who exclaimed "ah! By Jaysus, master Mendoza, to be sure, I am very glad to see your honour safe arrived in Ireland".
By his own account, he enjoyed "the satisfaction of experiencing the most flattering reception" during his engagement at a theatre on Peter Street. No doubt his reputation preceded him, though he did not allude to the fact that he had cut his appearance fee significantly to appear in Dublin and had actually lobbied for inclusion on the programme.
18th century showmen were also remarkably well-versed in the art of generating puff
The promoter who facilitated his appearance was Philip Astley, known as the founder of the modern circus, which celebrates its 250th anniversary this year. Evidently, he had an eye to economy when it came to fixing Mendoza's fee, and was practised in managing egos. In a notice published in the Belfast News-Letter in February 1792, Astley reproduced letters from Mendoza, revealing the boxer's willingness to appear for half the fee that he claimed to have commanded in London's West End. Astley's response was that he was inclined "to let nothing eclipse that might afford amusement" in Ireland.
Stars of various sorts are often to be spotted ringside at high-profile boxing bouts today, their presence adding to the razzmatazz. But 18th century showmen were also remarkably well-versed in the art of generating puff. Mendoza had performed for the Prince of Wales in Covent Garden, and, during his Dublin run, the Duke of Leinster was in the audience for one of the performances.
When Astley tried to substitute Mendoza with his own son and "some new entertainments" one evening, his decision almost brought the house down (or at least that is what Mendoza would have us believe). "Such was the uproar and tumult that prevailed in the amphitheatre that his Grace the Duke of Leinster, who was present, came behind the scenes and desired I might be permitted to appear on the stage and go through the usual performance, declaring at the same time, he was fully convinced that otherwise the house would be demolished".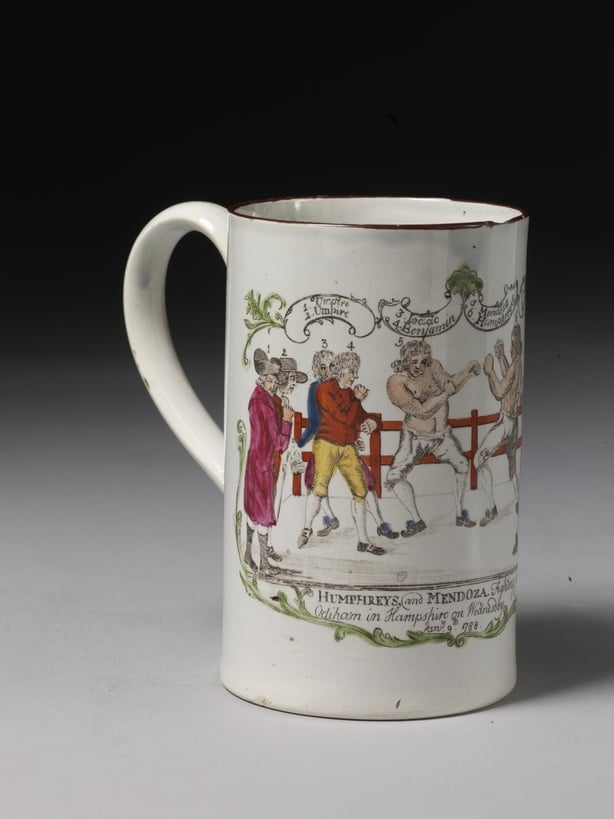 Mendoza's bravura and ability to court publicity certainly resonates with the modern cult of celebrity. In the controversial world of MMA, pay-per-view and live streaming of high-profile bouts are standard practice today. Yet Mendoza's Dublin tour was one of a panoply of shows that people in Ireland paid to view in a period before digital media could ever have been imagined. These included automata, circuses, exotic animals, human exhibits, panoramas, scientific exhibits and waxworks.
Many of these were, by all accounts, spectacular and the rhetoric of the advertising which accompanied them was often shamelessly hyperbolic. They were often facilitated by migrant craftsmen, sometimes re-packaged for regional audiences, and connected the experiences of Irish audiences to those in London or further afield, centuries before satellite television.
During Mendoza's lifetime, such was the currency of his reputation that his name cropped up in plays and songs were written about him. Fastforward over two centuries to August 2017 and you'll find a Kildare teacher, Mick Konstantin thrust into the spotlight with his tribute song to the Irish Mendoza "There's only one Conor McGregor". This netted Konstantin a golden ticket to the latter's much-hyped Money Fight in Las Vegas against one of the greatest boxers of all time, Floyd Mayweather. Small wonder that the documentary, Conor McGregor: Notorious, was a hit at the box office, when it was released a few months later.
---
The views expressed here are those of the author and do not represent or reflect the views of RTÉ
---