At 11.30am on January 7th 2015, two masked gunmen arrived at the offices of Charlie Hebdo in Paris, as the satirical publication's weekly editorial meeting was getting underway. The facts of what occurred next are well established.  An enfolding wave of emotion, solidarity and dissent took shape in the hours after Saïd and Chérif Kouachi attacked the newspaper's offices. 
It was expressed through political responses, gestures of solidarity from journalists and an explosion of social media expression linked to the hashtag #JeSuisCharlie. It intensified as the police officer Clarissa Jean-Philippe was murdered by Amedy Coulibaly in Montrouge on January 8th, a day before Coulibaly took hostages in a kosher supermarket in Porte de Vincennes, killing four people.
We need your consent to load this rte-player contentWe use rte-player to manage extra content that can set cookies on your device and collect data about your activity. Please review their details and accept them to load the content.Manage Preferences
From RTÉ Radio One's Morning Ireland, Richard Downes reports on the January 2015 marches in Paris following the Charlie Hebdo attacks

Unexpected events, particularly violent ones, produce periods of intensive action that force all political actors to offer explanatory accounts, provide evaluations of what responses are justified or required, and ultimately to "take a stand" on the issues the event seems to raise. Because disruptive and traumatic events generate an intensive emotional reaction, they also produce a symbolic response. Through media and public displays, people with often very different levels of media power and public access produce collectively shaped and contested expressions of "who we are'"after this moment and the possible significance of events for the social future.
Speaking in advance of the "Survivor's Issue' published on January 14th, the cartoonist Renald Luzier (Luz) – who was absent on the day of the attacks because he was running late – gave an interview to the magazine Les Inrockuptibles, where he reflected on this kind of symbolic response. "This current symbolic weight is everything Charlie has always worked against" he remarked, "…destroying symbols, knocking down taboos, setting fantasies straight". Luz's anxiety about overloading was driven by the rapid consecration of Charlie Hebdo as a symbol, which produced a second, overlapping wave of emotion, reaction and dissent, but one now suffused with political and cultural conflict. 

We need your consent to load this rte-player contentWe use rte-player to manage extra content that can set cookies on your device and collect data about your activity. Please review their details and accept them to load the content.Manage Preferences
From RTÉ's Prime Time, a report on the Charlie Hebdo shootings and a debate on Ireland's blasphemy law

To make matters more complex, this dynamic had divergent effects in different contexts. The availability of digital media platforms for widespread, real-time expression ensured that symbolic expression on social media became an integral part of the story. This is captured in how the viral hashtag #JeSuisCharlie was rapidly paired with #JeNeSuisPasCharlie ("I am not Charlie"). These invitations to identify were not just opposed to each other but, as they were taken up across the globe, the question "who is the "Charlie" being identified with?" constantly shifted. 
This is the question that Des Freedman, Gholam Khiabany, Aurélien Mondon and I set out to explore in our book After Charlie Hebdo: Terror, Racism, Free Speech. The focus is not Charlie Hebdo the publication, but "Charlie Hebdo" the political and communicative event. This differentiation allows us to explore the dense field of meaning-making that took place around Charlie Hebdo, and the ways in which it became a prism through which a knot of political tensions that have been gathering potency for some time were expressed. It also allows us to examine the centrality of digital media networks – including social media – to the intensive and uneven global response which ensued.
We need your consent to load this YouTube contentWe use YouTube to manage extra content that can set cookies on your device and collect data about your activity. Please review their details and accept them to load the content.Manage Preferences
A trailer for C'est Dur D'etre Aime Par Des Con (It's Tough Being Loved By Jerks), a 2008 film about Charlie Hebdo.
From Charlie Hebdo to "Charlie Hebdo"
Some of these lines of conflict can be briefly outlined. 
In France, the publication was hailed as symbolic of Republican values, values now held to be in need of forceful public defence. Yet "Charlie Hebdo" opened a space for an equally forceful - if far less institutionally powerful - criticism of the secular (laïc) obsession with Muslim lives, and the disparity between a rhetoric of equality and the realities of inequality and marginalisation, particularly in the multi-ethnic suburbs of big cities. 
Framed as "France's 9/11", the attacks posed questions internationally as to how to deal with the violence that has spilled across territories and boundaries since 9/11. The violence of the long war on terror has mutated, drawing together a complex mesh of state and non-state perpetrators. Given the instantaneous circulation of images through digital media, an expansive range of targets are often chosen for their spectacular or symbolic value. These questions were posed with even more urgency in the aftermath of the horrific attacks in Paris on November 13th, and in relation to the repressive and drawn-out state of emergency that was declared in their wake.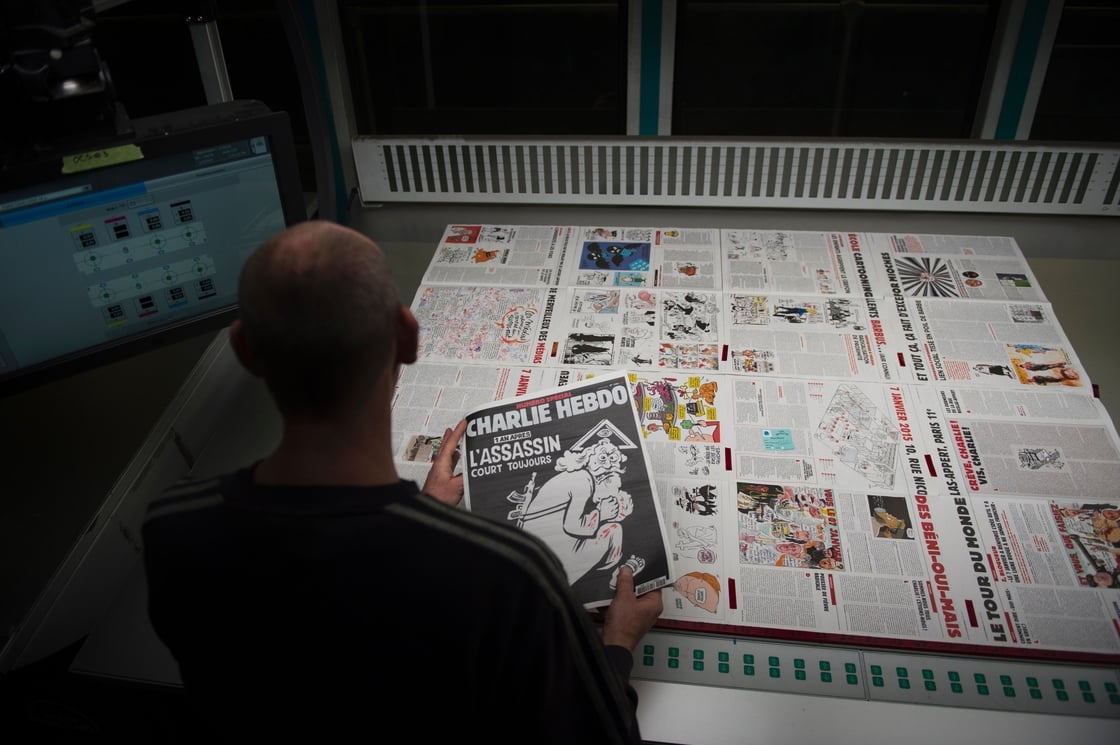 Transnationally recognised as a cause of solidarity, the extent of the political reaction and blanket media coverage prompted a real-time questioning of the differential value placed on human life. How do geopolitical power and media priorities condition the extent of the coverage granted to some instances of violence? 
The unevenly global space of social media thrummed with this question. Depending on one's evaluation, social media can be regarded as grossly insensitive or politically acute. Why then, in a world characterised by violence spilling across boundaries but in reality far more concentrated in some territories than others, was this attack regarded as so much more worthy of solidarity than multiple others? 

However, perhaps the most pronounced conflict in the aftermath, and one that chimes most with current ongoing debates in many societies, is what the attacks meant for freedom of speech.
Freedom of speech
According to Reporters without Borders, the Charlie Hebdo journalists were among 110 media workers murdered in 2015,  many while reporting or because of direct connections to their work. This increase in deliberate violence against journalists was also notable for being evenly spread between war zones and countries at peace. It came in a year when the same organisation's Press Freedom Index noted a widespread increase in "national security interests" being used as a pretext for interference with journalism and journalists. The deliberate, silencing attacks on Charlie Hebdo were certainly an assault on press freedom, and the freedom of speech of the targeted individuals. 

However, this attack on freedom of speech was also interpreted in a particularly divisive way, as an intrinsic cultural property of France, and Europe. Research by Florence Faucher and Laurie Boussaguet has demonstrated how the French government after the event was keenly aware of the need to fashion a stark message of why France was under "attack". A key dimension of this was the nation's particular attachment to freedom of speech. To quote François Hollande, "the Republic equals freedom of expression; the Republic equals culture, creation, it equals pluralism and democracy. That is what the assassins were targeting".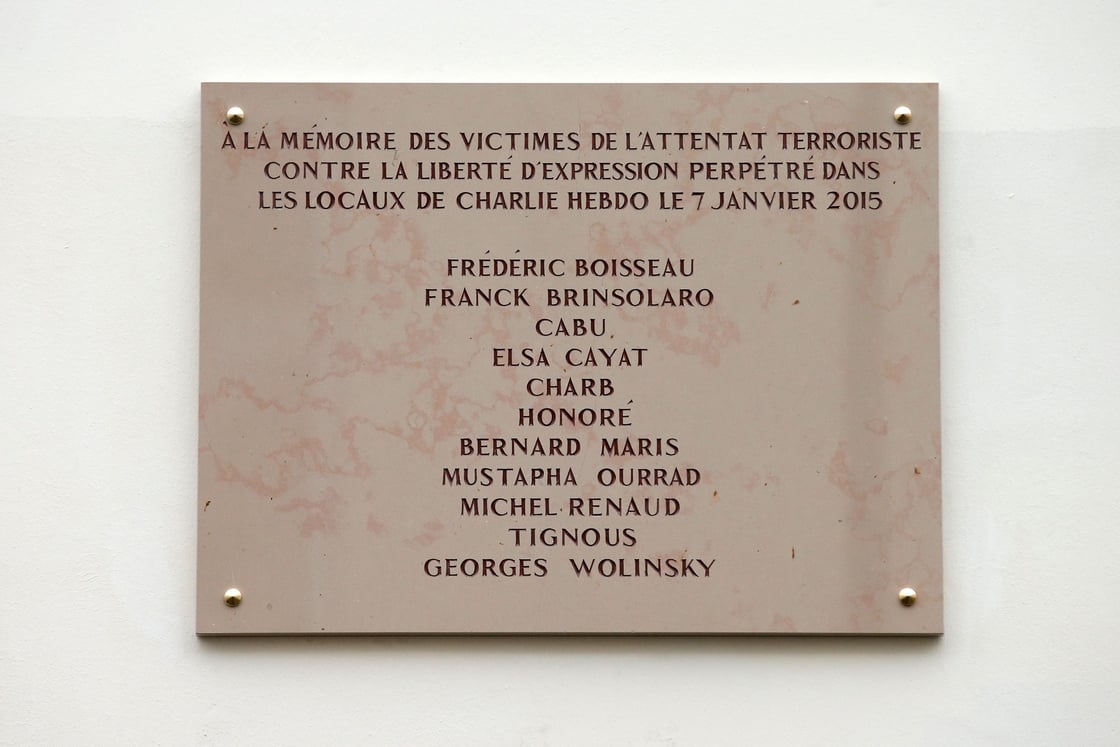 An understandable reaction to this narrative was to emphasise its hypocrisy. When Hollande marched arm in arm with world leaders on January 11th, Twitter was widely used to provide a real-time accounting of the repressive and restrictive practices of leading politicians present from Turkey, Israel, Russia, Egypt and the UAE.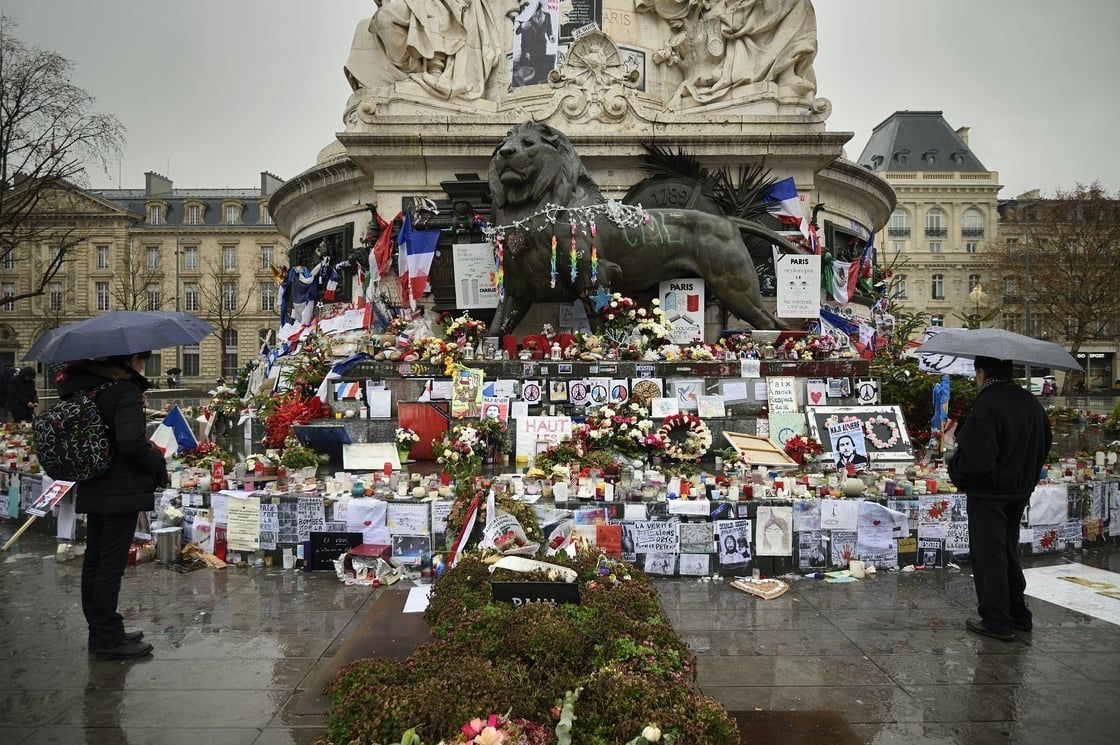 Beyond hypocrisy, it is also important to examine how often very different conflicts over freedom of speech were unfolding simultaneously within "Charlie Hebdo". What these different conflicts indicate is that while the question of free speech is normally debated in public in relation to first principles – is this a question of free speech, or not? – a closer examination of concrete conflicts often reveals that what is at stake in relation to speech varies significantly according to the context, the relations between actors and the form of speech in question.
While free speech was valorised as a national value in France, criticism also focused on the series of national laws that heavily circumscribe the legitimacy of political speech. This includes the so-called Sarkozy Law in 2003, which specifies punishments for insulting the national flag or anthem. In the immediate aftermath of the attacks, as Abdellali Hajjat documents in our book, the provision of the 2014 Cazeneuve Law - which created the crime of "apology for terrorism" - was used to arrest dozens of people. These included children and people with learning difficulties who were investigated often for little more than isolated comments or jokes in school, workplaces or public settings. The point here is not one of hypocrisy, but that certain forms of political speech, when criminalised, are defined out of conventional debates about the question of free speech. Legal regimes and political cultures produce certain forms of speech as legitimate or inadmissible political speech.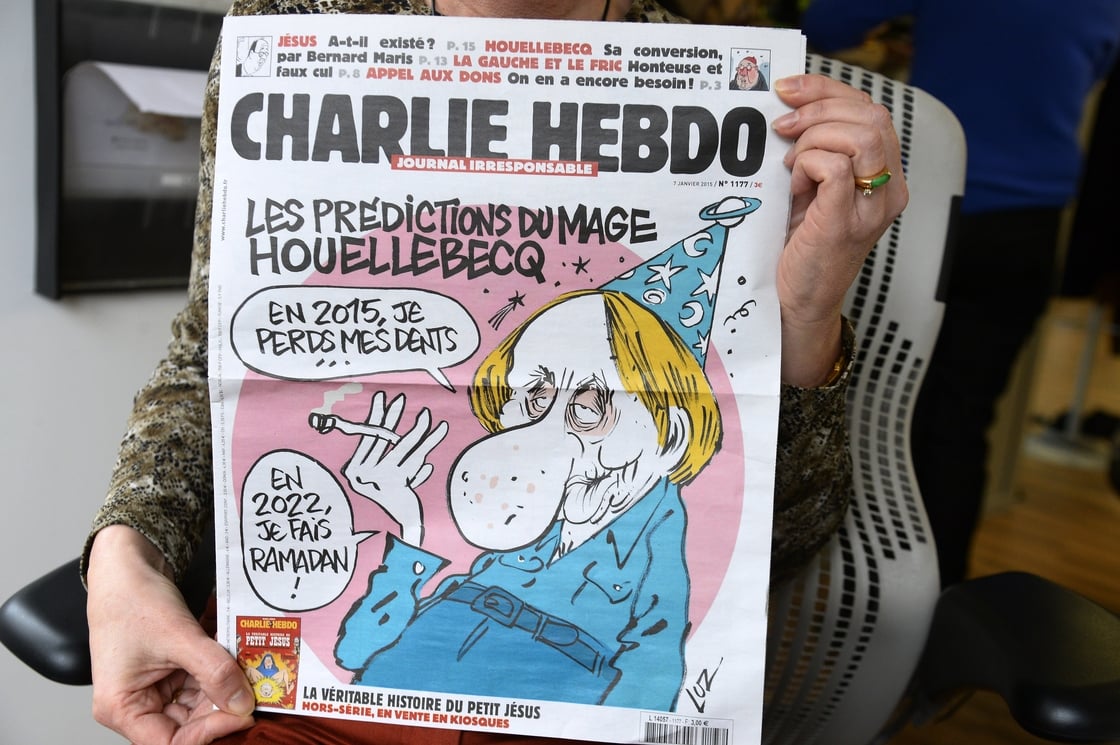 At the same time, a tense debate between different media actors produced a different freedom of speech controversy. Given the nature of the attacks, the response of many journalists was highly personal. Many news organisations in France and elsewhere provided material support for Charlie Hebdo to keep publishing without interruption. 
However, different newspapers disagreed on how best to symbolically represent their solidarity – should they reproduce Charlie Hebdo's previous cartoons of the Prophet Mohammed? In the internet era, the decision whether or not to publish images is not a straight forward question of newsworthiness, as the images can easily be retrieved from alternative sources. It was rather a decision made by newspapers on the basis of what the decision to publish might say about institutional or brand identity, the relation to a public/readership and consistency with past editorial decisions. 
The publication of Charlie Hebdo's "Survivor's Issue" added a second layer to the dilemma; should the cover be reproduced graphically, or as a photo, piled up at a news stand for example? The difference may seem unimportant, but the former could be seen as a statement of editorial solidarity, with the latter representing a newsworthy event. For some newspapers, particularly but not exclusively in France, re-publishing images was seen as a refusal of the "assassin's veto", a refusal to self-censor in the face of violence. For others, particularly but not exclusively in the US and UK, exercising editorial judgement is an exercise in the freedom of the press, and solidarity with murdered colleagues could be demonstrated without expressing an identification with their work. 
Finally, the far-right saw an opportunity to benefit from the attacks. In keeping with a trend which has seen far-right parties and movements seek to re-brand themselves as defenders of liberal and progressive values, a range of these actors sought to organise "Draw the Prophet" cartoon competitions, claiming solidarity with Charlie Hebdo and positioning themselves as defenders of free speech. The first, unsuccessful, attempt to organize was by the youth party of the Perussuomalaiset (True Finns), who announced a competition on February 14 because the attacks "once again show us the true nature of Islam" and "the defence of freedom of speech concerns us all". 
The most significant attempt garnered global headlines when two people were shot dead at a Muhammad Art Exhibit and Cartoon Contest hosted at the Curtis Culwell Centre in Garland, Texas in May 2015. The event was sponsored by Robert Spencer's website Jihad Watch and organized by the front group American Freedom Defense Initiative, established by Spencer and the Ground Zero Mosque blogger Pamela Geller, and previously best known for a series of anti-Muslim subway ads in US cities. The aim of these opportunistic competitions was transparent. By provocatively seeking attention but also opposition to their actions, the far-right sought to position themselves both as defenders of free speech and as actors whose free speech was now being curtailed, and who should therefore be defended from the political centre. 
These layers of conflict about free speech in the aftermath of the attacks ask us to consider two issues. Firstly, there are a range of ways in which freedom of speech is substantively at risk. Secondly, there is a contemporary cultural politics of free speech that rarely addresses these risks and poses a further risk. It obscures what is fundamentally at stake in relation to expression and repression, but also, the complexities of how 'speech' operates in society in particular contexts and through concrete social and political relations. 
The views expressed here are those of the author and do not represent or reflect the views of RTÉ.