Hamlet, Prince of Derry, Adapted by Colin Murphy
Directed by Conall Morrison
Performed by Stage Beyond Theatre Company,
And with an original score by Si Schroeder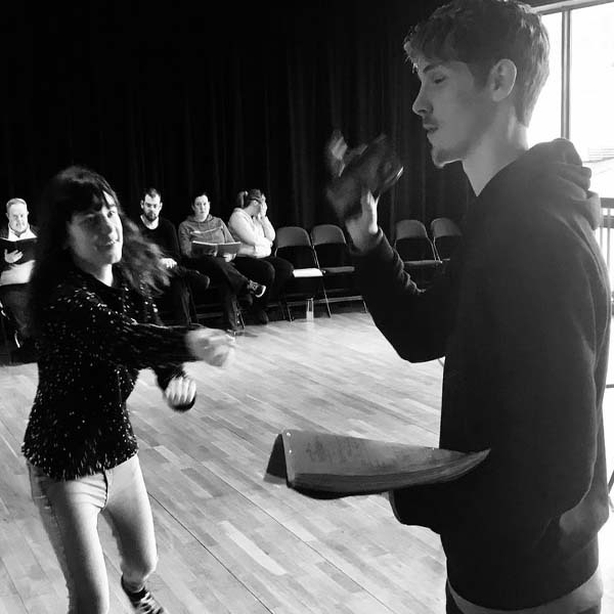 Something is rotten in the state of Derry, and Hamlet is determined to fix it… between all-night computer gaming sessions, angry rants on YouTube, and fights with his girlfriend on Snapchat.
This is Hamlet, Prince of Derry - a Hamlet for our distracted times.
Stage Beyond is Derry's theatre company for adults with learning disabilities. Here the Stage Beyond players bring their unique skillset and perspective to the most famous play in the English language, re-imagined for the company.
It was all due to premiere as a stage play in May of this year.
But because of the Covid-19 crisis, the production has moved to radio, with RTÉ Drama On One teaming up with Stage Beyond to use an array of online apps to record the cast during the lockdown.
So imagine our cast, each player working from home on the phone, waiting for their cue to deliver this unique Hamlet for our times.
Cast and Production Credits
Adapted for the company by Colin Murphy.
Directed by Conall Morrison.
Performed by Stage Beyond Theatre Company.
Original score by Si Schroeder.
Oisín Kelly (Hamlet)
Isobel Sharkey (Ophelia)
Bryan Sutherland (Claudius)
Bernie Shiels (Gertrude)
Catherine Campbell (Horatia)
Carol Glenn (Francisca)
Alan Doherty (Guildenstern)
Martin O'Hagan (Rosencrantz)
Gary Quigley (Laertes & Jack Sceptred Isle)
Tarrah Sharma (S S Sleeping Wolf)
Frank Nelis & Shane Marron (the Gravediggers)
Bernadette Foley (the Priest)
Patrick O'Kane (the Ghost)
Paul Clark (the Newsreader)
Gorretti Slavin (the Courtier)
Alison Mahoney (the Computer Voice)
The Slavin family recorded the Derry chants,
Other roles were played by members of the company.
Assistant Director: Alison Mahoney
The Artistic Director of Stage Beyond is Dee Conaghan
Sound Supervision and Sound Design: Ruth Kennington & Damian Chennells
Special thanks to Lyndsay Martin, Brian Cash and Sinéad Murphy
Hamlet Prince of Derry, adapted by Colin Murphy, was produced by Kevin Brew.
The Series Producer of Drama On One is Kevin Reynolds.
The RTÉ Group Head of Drama & Comedy is Shane Murphy.
First Broadcast Date : 26 July 2020
Listen to Luke Clancy's interview with Dee Conaghan of Stage Beyond on Culture File