Acclaimed theatremaker Louise White writes for RTÉ Culture about the inspiration behind her critically-acclaimed production, This is the Funeral of Your Life, touring Ireland this February.
My Dad died five years ago. He was 84. My Mam and his six children were with him for those last important days in the hospital and we were all around him as he passed away. It was an intense and emotionally heightened time as well as an incredible privilege. The time in the hospital was so consuming that it never occurred to me to think of anything that might come after.
Watch the trailer for This is the Funeral of Your Life by Louise White:
We need your consent to load this YouTube contentWe use YouTube to manage extra content that can set cookies on your device and collect data about your activity. Please review their details and accept them to load the content.Manage Preferences
Funerals happen so quickly in Ireland that you really don't have time to process. There is a way of doing things that works very well and that's more or less what gets done across the country. The funeral director was a great facilitator of the uncertainty that came with our grief. He guided us through everything and it was all decided quickly and without conflict. We just wanted what Dad would've wanted.
Funerals happen so quickly in Ireland that you really don't have time to process.
I could never have expected what came next. Walking into the funeral I was floored. The crowd was huge, spilling out of each orifice of the church. The choir was in full flow and I counted nine celebrants on the altar. The ceremony big, the emotions were big and was incredibly heartfelt service. My brother gave an excellent eulogy that was a great reflection of all that Dad had been. I was really surprised by was all that I had forgotten about him. I am one of the younger children, so for much of my adult life Dad had been getting progressively older. I'd forgotten about all his work in the town; the strength of his faith, his connections to the community and all the sports he had competed in. I remembered his dignity and that he was a old softie, almost always in a suit, but I'd forgotten so much.
Working in theatre, I am primed to absorb ceremony and ritual at every chance, but seeing the life of my father presented and reflected in such a considerable way was one of the most harrowing and life affirming things I've ever experienced. Look at all he'd done. Look at how he was being remembered.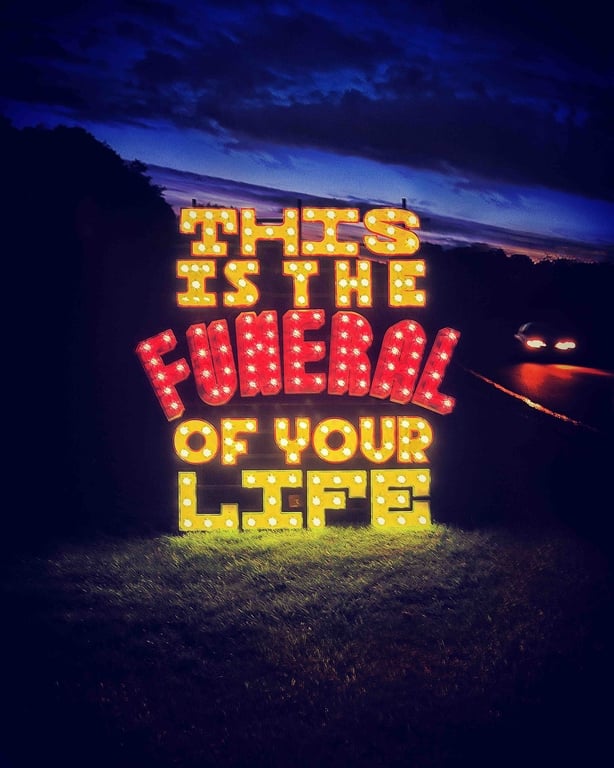 And then I came to think about myself. Who was I? How would I be remembered? What have I contributed? To my community and to those close to me? These thoughts kept coming back to me. Any time I talked to people, their eyes widened and they nodded emphatically. No one wants to talk about death but everyone likes to imagine their funeral. They do it in private moments, on the drive to work or in the shower, we have all done it.
How do we carve out new processes of remembering and honouring people?
Lots of these thoughts also connect with my mental health journey and feelings of anxiety and vulnerability. I've done a lot of work on myself over the years and I've learned that it's important to put value on things that can help you grow as a person rather than relying on superficial achievements. 'So what really makes up a person?' is another question I'm interested in.
I don't have a faith like my father did, so I also wondered what shape my funeral would take. How do we carve out new processes of remembering and honouring people?
People who come to see the show can expect to think about this. We are presenting an alternative ceremony of remembrance, with lots of nods to how we already understand funerals. We'll be playing out the themes I've mentioned with an actress, a dancer and a mezzo-soprano. We've made sure to have music and flowers and sandwiches and tissues so everyone will know the ropes.
Louise White presents This is the Funeral of Your Life in venues across Ireland this February including Project Arts Centre, Dublin - more details here.