The acclaimed RTÉ Drama On One production From Eden has been awarded runner-up position at the prestigious Prix Italia Radio &Television Awards 2018.
Written by Stephen Jones, directed by Gorretti Slavin and starring the author alongside the star of RTÉ's Can't Cope Won't Cope, Séana Kerslake, From Eden has also been given a special mention by the Jury as follows: "For a captivating moving dialogue told in real time in which two souls are banished from Eden to the confined space of a toilet on New Years Eve. The 2018 Prix Italia Radio Drama Jury gives a Special Mention to FROM EDEN by Stephen Jones for highlighting the power of a complex story brilliantly acted."
---
Writer and performer Stephen Jones tells the story behind From Eden below:
I wrote the play From Eden for a number of reasons. I had wanted to write a piece that dealt with some of the issues in the play for a long time but it was really my other work as an actor that got the ball rolling.
LISTEN: Actors Stephen Jones and Seána Kerslake chat about From Eden on RTÉ Arena:
I had been very fortunate to work on four big commercial comedies (Alone it Stands, Stones in his Pockets, I, Keano and Are you there Garth it's me Margaret?) pretty much back to back over the last few years. As much as I loved doing these shows I wanted the challenge of doing something a bit more low-key and to play a part that wasn't about big performance or accents or crazy characters. I decided to write the part of Alan for myself. I also wrote the part of Eva specifically for Seána Kerslake.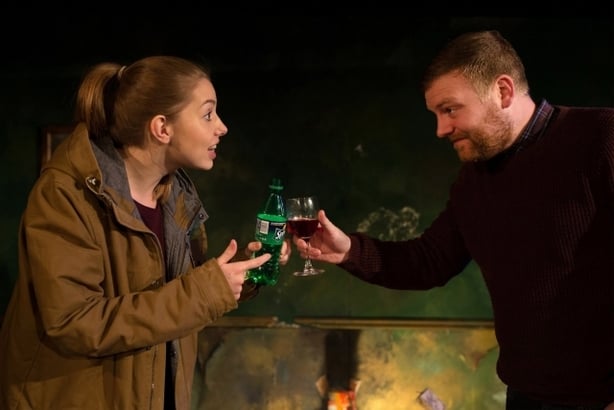 I knew I wanted the piece to be a conversation, in real time and in one setting. And I knew it wouldn't be a love story, in the romantic sense. I had the final image of these two lost characters in my head but the rest of the story was unclear.
Listen to From Eden by Stephen Jones here, via RTÉ Drama On One.
Then I had a conversation with my good friend Karl Shiels. I had admired his work as an Actor long before I knew him personally and I was a big supporter of Theatre Upstairs, of which he is the Artistic Director. For years he had been asking me to write something that would suit the intimate setting on Eden Quay. I told him that I sort of had this idea about a two hander for Seána and myself and straight away he gave me a date and told me to go away and write the play. I shook his hand and knowing I had a deadline I went and wrote the first draft. Several drafts later and with many twists and turns From Eden was finished and made its debut at Theatre Upstairs in November 2015. Karl directed the piece.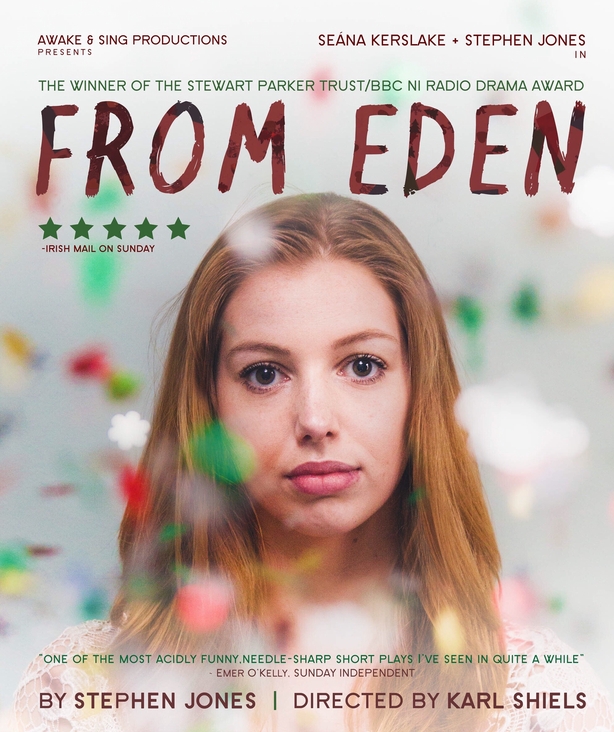 The play went on to be nominated for The Stewart Parker Trust Award and was the winner of The Stewart Parker Trust/BBC Northern Ireland Radio Drama Award. We have performed the play in several different theatres around the country and are delighted to have recorded the play for RTÉ Drama on One.
I never set out to write an 'issues' play or a 'mental health' play. It was just a play about two characters talking. However, I think it has been a very cathartic experience for both myself and many of our audience members who have gone through or experienced some of the things that are dealt with in the play such as depression and suicide. I also knew in writing the play that if I was going to talk about serious things then the play would have to be really funny too.
Thankfully on that opening night, over a year ago now, there were enough laughs to let us know we were okay.
Listen to more plays from the Drama On One archive here.