Born in Cleveland, Ohio, in 1947, Robert Glück, essayist, novelist and short story writer pioneered New Narrative with Bruce Boone in San Francisco. First published in 1994, his novel Margery Kempe is a fine example of the genre.
It's hardly surprising that New Narrative, a bold experiment in fictional start-up, should have begun life in San Francisco in the late seventies, the city where the Beat movement gathered momentum ten years earlier
There is certainly an air of late Haight Ashbury about the boldly audacious authorial tone that runs like a vein through Margery Kempe, a short, compact novel which is essentially a free-wheeling version of the autobiography of the fifteenth-century pilgrim and visionary from East Anglia.
It's fifteenth century England, and Margery is married to John, but is seeking permission from the ecclesiastical authorities to dress in white and have an affair with Jesus. In the course of the novel, Jesus, with whom she regularly communes, decides to send Margery to Jerusalem. She is thrilled, aside from being besotted with the divinity whom she wishes to marry now, because a visit to Jerusalem guaranteed her direct admission into heaven. She was intensely relieved and ready for all kinds of action. This trip would be their honeymoon.
Much of the story details her adventures en route to the holy city, via Rome and Venice, and then the journey back to England. On the pilgrimage, things don't go so well, Margery is a fanatic who talks too much and annoys the others with her passion.Her white clothes were a continual affront. If she was not Jesus's bride, her hypocrisy dismantled the entire world; if she was supernatural, she attracted the extreme: pestilence and hunger, steeples toppling, trees ripped out of the earth.
She is suspected of being a heretic, or a flaggelant, fit for a summary burning in London's Smithfield or anywhere that will have her immolation. That's if the plague doesn't get her, or maybe leprosy, both are everyday realities.
There is also a later trip to Santiago de Compostela - Margery got around - but that's done quickly. Departure from Plymouth and, hey presto, she is in a rainy Compostela.
The book has a tripartite layering. Aside from Margery's adventures in ecstasy - physical and spiritual appear to meld into each other - Glück interweaves into the story a fraught affair between the possessive, narrator and his love object. That is a certain L, known only by his capital letter, a young man who is remote and resistant to the narrator's passion for him.
On top of this, there is a third element, which involves occasional authorial interpolation by Glück himself. I am no more the solitary author of this book than I alone invent the fiction of my life, he writes, which might pass muster as one of the founding tenets of New Narrative, although your reviewer is no expert.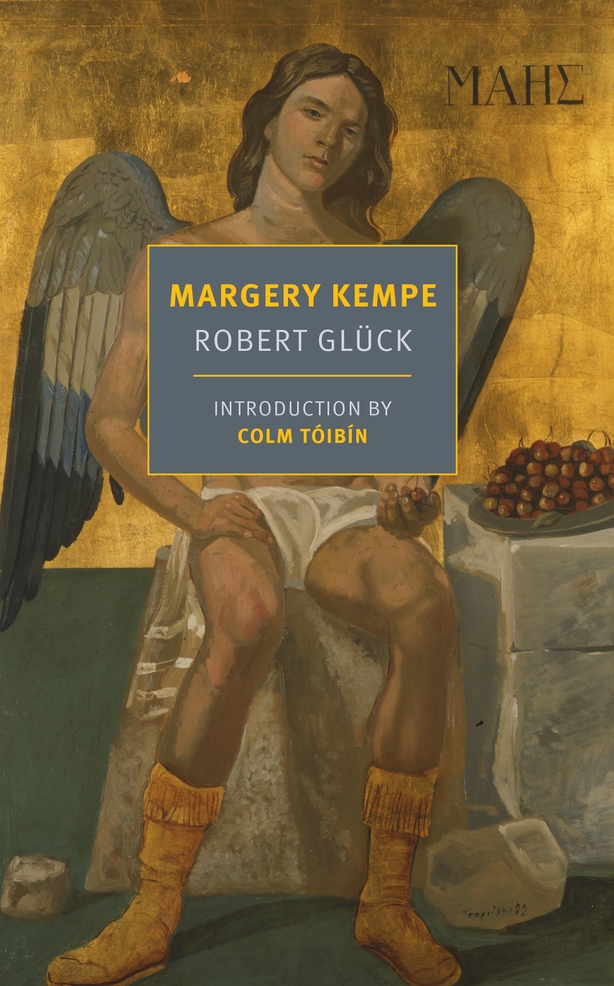 In this 162-page slice of meta-fiction, one long sentence, out of nowhere, suddenly opens a window on the author's actual childhood, a window which just as quickly shuts again. It has drama because of its very serendipity.
I was raised in a kosher home in the huge Jewish community in Cleveland but I didn't learn of the camps till I saw them on TV in Los Angeles and then my mother volunteered with neutral excitement that we'd lost relatives, as though relating us to TV rather than to history.
Your reviewer was reminded just a little of Robert Nye's lively tale, Falstaff. That novel, being much longer, painted a more expansive, comprehensive picture of England in medieval times. Glück is more interested in light sketching and the putting together of odd, disparate details. When Margery comes to visit the Bishop of Lincoln, 'he held a yellow apple.'
Later we read as follows: A sliver of peel wedged itself between Philip's molar and gum. He couldn't get it out with his finger; the tip of his dagger released the coppery taste of blood.
The author can, in one paragraph, rush quickly into the story a public scene of great moment. Arundel was a prelate of royal blood. Twelve years earlier, in 1401, he'd rushed an act through Parliament that authorised the burning of heretics. Nine days before the act became law, he burnt a priest from St Margaret's, Margery's church, for saying good men are holier than angels. Later, in 1410, he burnt Bradly the Tailor, a Lollard who said a spider and a toad are worth more than the consecrated host since they are alive. The Lollards had major differences with the Catholic Church and the sect was critical of the Pope and the Catholic Church's hierarchical structure.
The novelist can just as easily hone in or hover over the micro-ordinary, the small details of life existing the nether side of auspicious events or bizarre happenings in the Middle Ages. It is as though he is assiduously establishing a familiarity we can identify with, a diurnal, natural world that we can recognise.
A bee backed out of a lily trumpet. A turtle walked resolutely across the path, shifting attitudes of attention.
There is a certain air of poetry, a profligate spending of poeticisms. The waterfall doesn't make a sound - a huge sheet of mid-flight ice. Or how about this: Snow lay thick and abundant, massed on branches, glittering wealth that could not be acquired.
He can be up to speed with ancient usages as well as blunt, upfront, feisty, with a touch of the seditious and disrespectful verses of James Liddy or the tactile obscurities of John Ashbery. There is also in prime position a desire to shock and Glück could fairly win a Bad Sex overall award in perpetuity for his novel.
At times, the story is the prose equivalent of Francis Bacon's Pope Innocent paintings, insouciant in tone and irreverent in the extreme - if Robert Glück had been alive in Ireland in the 1950s, not only would his book have been banned but he would have been burned at the crossroads.
Margery Kempe won praise from Edmund White and the late Thom Gunn and this new edition features an introduction by Colm Tóibín. The idiosyncratic tale may prove challenging for the reader seeking straight story but Robert Glück could not write a conventional story to save his life, one feels.