18-year-old Abigail Lawless, the eponymous Dublin Coroner's daughter, is driven by her desire to uncover the truth, which entangles her in dark events in Andrew Hughes' period thriller, recommended for young adults by Grace Keane.
It is the year 1818 and despite it being summer, Dublin is beset by a cold and unnatural fog. As the gloomy weather encroaches, an uneasy atmosphere grows throughout the city.
The Brethren, a new strict religious sect, gathers followers and grows in numbers while the newspapers report tragedy and suspicious deaths. Meanwhile, 18-year-old Abigail Lawless, the eponymous Coroner's daughter of the piece, is driven by her desire to uncover the truth, which entangles her in dark and dangerous events.
Abigail is the only child of the widowed Mr. Lawless, the Dublin City Coroner, a bright and resourceful young woman who does not allow herself to be controlled by the cultural and social restrictions imposed on her gender. She has read all of her father's medical books many times, attends as many lectures as she is allowed and has almost more knowledge about autopsies than her father's young Scottish apprentice, Ewan.
When a young maid from an artistocratic Brethren household hides her pregnancy before murdering her new-born, the city is rife with rumours and the locals are quick to demonize the young woman. However, Abigail's inquisitive mind refuses to accept the proposed facts and let the matter rest. She soon discovers a message from the young maid's lover, which leads her to seek out an evil figure who lurks only in the shadows.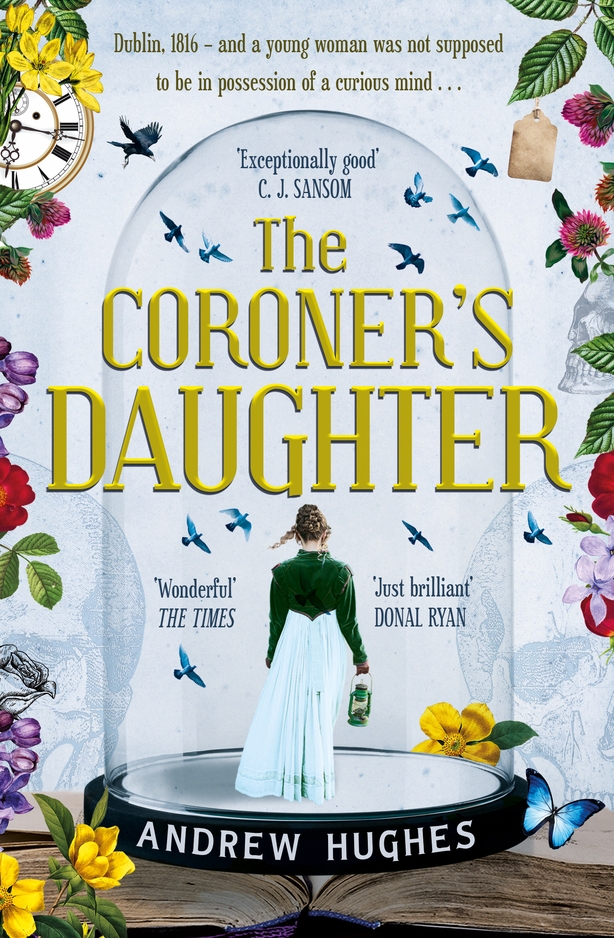 Andrew Hughes' novel captures nineteenth-century Dublin but does not romanticise its familiar streets and towns, affording the city an authentic sense of time and place.
The Coroner's Daughter is a historical thriller with a Sherlock-esque feel running throughout its pages. Nonetheless, no matter how much I wanted to fall in love with the novel I simply couldn't. It has a unique story, a strong and willful female lead, an interesting historical setting and mysterious plot twists. Yet despite all these things, I never really found myself caring for the characters or whatever fate befell them.
Ultimately, I was rather indifferent to the events of the novel, at most expressing mild surprise at some of the revelations towards the end. I would recommend The Coroners Daughter for young adult readers, especially perhaps if they are partial to mysteries. It may grip their imagination and hearts more than my own.