Barry McKinley began writing this rollicking novel as a memoir in 1981. 36 years later, he delivers a side splitting tale of a migrant misfit's existence under the Iron Lady.
A Ton of Malice – whose sub-title is The Half Life of An Irish Punk in London - is an evocative portrait of a hazy youthful existence, an exhilarating life lived on the edge. The book brings to mind works like Charles Bukowski's Post Office, JP Donleavy's The Ginger Man, Irvine Welsh's Trainspotting and Bruce Robinsons' imperishable film classic, Withnail and I.
It's 1979, and following the death of his mother, Barry leaves an unnamed Irish 'rainy town' in search of 'something half of Ireland would kill for' - a job. He is fleeing a world of 'cold-water bedsits with barred basement windows, mildew-speckled ceilings', a forlorn locale of 'abandoned rusty tractors and unpainted bungalows where men in dirty shirts plotted suicide by hanging from a rafter.' It's no wonder he feels no sadness at leaving.
After a brief spell in Dublin, he departs for the UK, securing a job in the (real-life) nuclear processing plant Windscale (which it was known as before it was renamed Sellafield). Between navigating office politics, English mores and polite drug dealers, Barry is sneering, perpetually stoned, and full of wicked intentions.
Nobody escapes his caustic wit, as in the following merciless passage: 'Paudie hails from somewhere deep in County Roscommon where they make pies out of sick children. He talks through a scattering of crooked teeth and his words come out in short, mangled sentences'.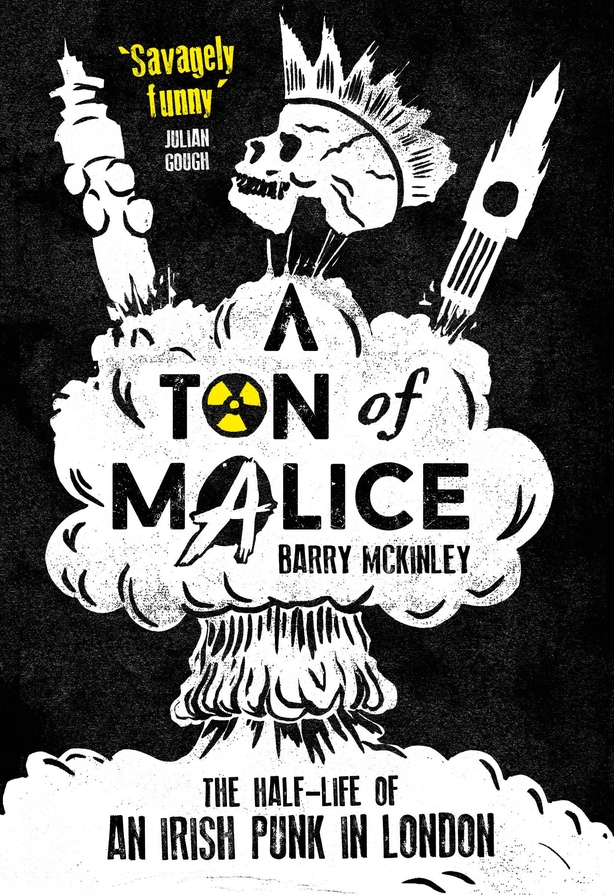 Days are spent in narcotic clouds, fuelled by Percocet, Demerol, Mandrax, acid, joints and amphetamine. He is 'a cheeky facking Paddy', promising himself some rest, knowing he will 'have all the time to sleep in the world' when he's 30.
Barry's love object Kim provides plenty of frustration, and the demise of their relationship is swift and cruel. They are polar opposites for sure, and she secretly refers to him as 'Grump' but it's her lingering shadow after she leaves that pains him. All the while he's sick of himself but 'he's stuck with that'.
Various misunderstandings with women and a sense of coming to the end of the road jolt him - and the reader - into the brutal realisation that this is not all fun and games. Everything is actually broken and there must be a reckoning. In the words of his childhood teacher Sister Euphrasia: 'What are you doing, boy? In the name of all that is holy, what?'
Written in diary form - 2,500 words at most per chapter - A Ton of Malice is a frank and riotous account of hostile youth unleashed. Prepare to be insulted, shocked and tickled. The writing is fresh, piercing and very, very funny.
At 237 pages, the novel is a brief and compulsive read. There is indeed plenty of malice, but a lot of heart. I want to read it again. Do not miss this book.
Abigail Tuite