Irish author Eimear McBride is in the running for her second Goldsmiths Prize for The Lesser Bohemians after she won the £10,000 literary award for her debut novel, A Girl is a Half-Formed Thing, in 2013. 
Fellow Irish writer Mike McCormack and the Irish-Canadian writer Anakana Schofield have also been short-listed for the fiction prize, the winner of which will be announced on Wednesday, November 8.
McCormack is short-listed for Solar Bones and Schofield for her third book, Martin John.
Transit by Rachel Cusk, Like a Mule Bringing Ice Cream to the Sun by Sarah Ladipo Manyika and Hot Milk by Deborah Levy complete this year's shortlist.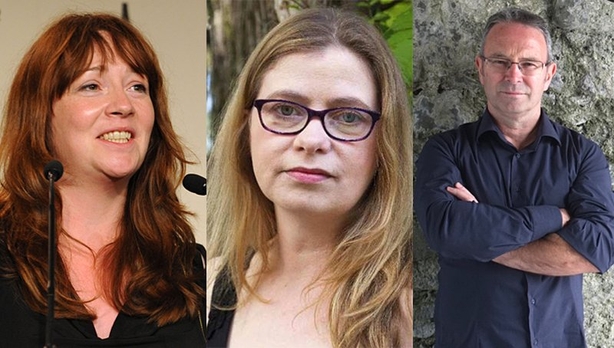 Irish authors Eimear McBride and Mike McCormack and the the Irish-Canadian writer Anakana Schofield are all short-listed for the Goldsmiths Prize
The award is now in its fourth year and is given for "boldly original fiction."
Hot Milk was recently shortlisted for the Man Booker Prize which was ultimately won by the American novelist Paul Beatty - the first American to win - for his satirical novel, The Sellout.
We need your consent to load this YouTube contentWe use YouTube to manage extra content that can set cookies on your device and collect data about your activity. Please review their details and accept them to load the content.Manage Preferences
We need your consent to load this YouTube contentWe use YouTube to manage extra content that can set cookies on your device and collect data about your activity. Please review their details and accept them to load the content.Manage Preferences
We need your consent to load this YouTube contentWe use YouTube to manage extra content that can set cookies on your device and collect data about your activity. Please review their details and accept them to load the content.Manage Preferences