Larissa O'Grady, Community Manager and violinist at Crash Ensemble, introduces the special anniversary programme celebrating Ireland's leading new music ensemble, encapsulating all aspects of their current work - live performances, commissions, non-live formats of film and installation, and a limited edition double album release.
---
Crash Ensemble is 25 this year! I've been a violinist with the group since 2017, joining on the Crashlands tour. Five years later, we are preparing to present an eclectic range of events to celebrate our 25th at the National Concert Hall, where we are a resident ensemble.
Surging, heaving, glistening, burrowing, jittery, grinding - some of the sounds and feelings which l have experienced sitting in the middle of the sound-world of the full ensemble when playing a piece like Barry O'Halpin's Wingform, which we'll perform on December 4th at the NCH.
The four-movement work, lasting just over 60 minutes, covers a breadth of compositional ground from drone-like and hypnotic to melodic, playfully mechanical and rapidly aggressive, interspersed with a series of mind and finger bending electric guitar solos, as connective tissue.
We need your consent to load this YouTube contentWe use YouTube to manage extra content that can set cookies on your device and collect data about your activity. Please review their details and accept them to load the content.Manage Preferences
The experience of playing within the ensemble is closely captured in the Wingform installation, designed by Jack Phelan and open to the public free of charge in the Studio at the National Concert Hall from 24th - 27th November. The installation invites the visitor to sit in a quartet formation and listen to the work through custom built speakers with accompanying digital imagery on square led boxes at eye level.
The winding melodies and surround sound effect of the ensemble are experienced in an intimacy only afforded by the design of this accessible and beautiful installation. Combined with a special experience of the vibration of the bass instruments, the raw metallic sound of the percussion, the intense precision of the pianist and the virtuosic slap, pick and strum of the electric guitarist, it's easy to feel immersed within the absent group.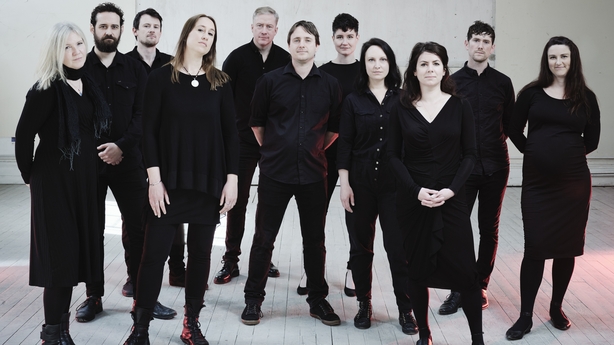 Sitting in front of Iarla O'Lionaird as he projects a sound so rich and deeply connected to earthly pleasure and presence is incredibly exhilarating. Paired with an unrelenting drone and the microtonal pitches of the ensemble, it creates a kind of dizzying, spell binding effect. A sonic twisting, gripping, I don't want it to stop.
To me, Donnacha Dennehy's Grá ages Bás is like a throttling mission; a night piece so powerful it might take you and your thoughts to a past, present or future — a sound world that would sit as comfortably in a land before time or a in post-apocalyptic expanse.
We need your consent to load this YouTube contentWe use YouTube to manage extra content that can set cookies on your device and collect data about your activity. Please review their details and accept them to load the content.Manage Preferences
Don't miss an opportunity to hear this work performed live again on December 3rd at the NCH, alongside a new commission for Crash from Artist In Residence Diamanda La Berge Dramm and writer Neva Elliott. Their collaborative piece, Crashed, draws on the unique energy of the players of the group, through the use of our voices and instruments. This is a fantastic pairing of two highly creative artists and I'm really looking forward to hearing the finished results.
During the pandemic, Crash Ensemble commissioned 17 Irish and international composers from a range of musical backgrounds to write new works for duos within the group. The composers were invited to create a musical response to their experiences, the current state and their thoughts for the future. I performed CrossTalk by Anna Murray and Runaway by Ena Brennan, paired with the brilliant flutist Susan Doyle.
In recording and workshopping these new works during lockdown, the process had its own challenges – workshops via Zoom, distracting latency and frustrating single voice ability on the platform itself – all issues which were addressed in CrossTalk, written by Anna while on lockdown in an apartment in Tokyo; communicating with family and friends across zoom and leaving the house at prescribed times during the day. Runaway was inspired by Ena's daily runs which became an important routine during her lockdown experience, we used a click track which was generated using heart rate data from Ena's run on the day of recording.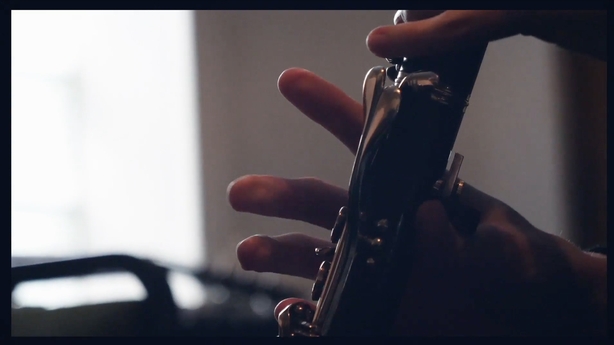 All 17 duets will be presented in a limited-edition release, entitled [REACTIONS], on November 25th. An accompanying film created by Crash's resident filmmaker, Laura Sheeran, will be screened at The Irish Film Institute on 30th November.
And last but not least, I'm excited to be playing in the Irish premiere of Liza Lim's Extinction Events and Dawn Chorus at the NCH on December 4th. Beginning with a siren call, a warning, creaking; Extinction Events and Dawn Chorus comments on ecological concerns and the roots of beauty, it includes a faulty transcription of a recording of the last mating call ever heard of the now extinct Kauaʻi ʻōʻō bird.
The violin score for Extinction Events and Dawn Chorus includes extra instruments and accessories including one gigantic sheet of cellophane (1m X 2m) extremely noisy, a windwand, a kazoo and a waldteufel. I will be the violinist carrying the cellophane through the audience, from the back of the studio to the percussionist on stage, noisily...
Find out more about the Crash 25! programme here.