We present an extract from The State of Dark, the acclaimed new memoir by Irish-based Dutch soprano, author and poet Judith Mok, published by Lilliput Press.
The State of Dark is a memoir and detective story. Like many children of Holocaust survivors, Judith Mok was raised with the emotional trauma of having no other family members, while her parents tried to rebuild their lives in postwar Europe. Despite the constant and occasionally intrusive presence of the past – Anne Frank's father Otto makes an emotional visit to her father to hand over some letters – she had little concrete information about the hundreds of members of her family who died. All the same, the Holocaust and its consequences continued to haunt her life.
---
At night the plane flies over Riga, the capital of Latvia.
I look down on an abundantly-lit city. While we slow down and ease our way toward the runway I see a picture-perfect place. Even from the air, the beautifully conserved architecture of this once so rich and important trading harbour is already visible. I make my way past the new part of town and the Opera House, to the place where I am going to stay. It is the area with the magnificent buildings designed by the architect Eisenstein, father of the famous director of the film Battleship Potemkin. Even from behind the car windows I can see we are entering the realm of Jugendstil architecture in all its unspoilt glory. In my gilded and decorated apartment, I rest my hands on the ceramic stove, glance at the ornate ceiling and go to sleep on a sculpted bed. The next morning I wander around with my neck stretched out to admire the houses, gables and streets. I come across the ateliers of Jewish musicians and composers, the houses of the families of famous men of letters and the philosopher Isaiah Berlin. They were honoured with plaques mentioning that these families were 'Russian', or in case of the philosopher Isaiah Berlin, 'British'. Soon it became clear to me that ethnic Latvians had never accepted these Riga-born Jews as Latvians, and did not appreciate the fact that the city of Riga was once dominated by a flourishing Jewish intelligentsia and community of artists. Medical care was developed to the highest standards, discoveries were made and, on the Sabbath, a large part of the Jewish population flocked to the liberal synagogues. They brought visitors with them, often opulent traders from Russia. I imagine they played music and went to concerts in the evenings, or went to see contemporary plays at the theatre. My grandmother's family visited Riga. Bankers and merchants, they stayed with prominent families and were part of the set of art patrons and enthusiasts. They were from Odessa, where they had built up a fortune. Diamonds and pearls in the Jugendstil style were bought, and presumably worn to dinner parties and such. Until it was stolen, I occasionally wore my grandmother's diamond necklace, a surviving object from another era. When my ancestors decided that Riga was not exciting enough for their lifestyle, and no longer slaked their thirst for novelty in the arts, they moved their funds and trades to Paris, and later to the city of Antwerp in Belgium. There, my grandmother was born, still a Russian, but with parents who now spoke French. Wrapped as a baby in lace and fine linen, she remained a Russian till the all too early end of her life.
We need your consent to load this rte-player contentWe use rte-player to manage extra content that can set cookies on your device and collect data about your activity. Please review their details and accept them to load the content.Manage Preferences
Listen: Judith Mok talks to Dave Fanning
But I am getting ahead of myself. I want to remain in the nineteenth century atmosphere brimming with developments, and my forefathers walking along these same streets, fully confident in their way of life, yet despised by the ethnic Latvians and Balts who shared their city. How could I be so sure of this undercurrent of negative feeling towards these thriving Jews?
On my way to do some work I came across the 'Jews in Latvia' Museum. I stood for a while, having a hard time remembering street names in Latvian and knowing that today music was on my mind, but that I would come back the next day to see what the museum had to offer. I wrote down the name of the iela in a notebook and strolled through the park that my ancestors must have strolled through. Probably with a lot more style than me.
The next day was a drizzly one. I headed for the museum in a neutral mood. The horrors of World War II were part of me, after all. It turned out I was badly prepared for this visit.
The building was large and empty and I made for the top floor, where I found a vaudeville theatre that had once catered to the Yiddish-speaking community. A six-hundred seater with a good stage. I climbed on the stage, started a song to test the acoustics and closed my eyes to hear the laughter and the voices, the orchestra tuning up. I imagined it all in that chilly, empty space. I closed the doors and went down to the first floor where there was a small museum display. An old lady sat, weary, behind a table and made us pay to look at portraits and photographs of people who all looked familiar to me. Like family members, they were. Like some of the few pictures of mine I still had at home. I felt uneasy, and wanted to leave. Then, the old lady asked me if I had seen their extraordinary footage of the German occupation of Riga. It had been shot by a German naval officer on leave. He was invited by his fellow officers to film the round-up and murder of the Jewish people in Riga, and was so shocked by what he saw that he kept the film and handed it over to the Allies after the war.
A film. Black and white, no sound. A bit indifferent, I sit down to watch the document.
I see Latvians and soldiers come out into the streets and pull doctors out of hospital buildings. Shot in the neck, they lie face down in the street, dressed in their suits and bowties. I see elegant, fur- coated women being thrown on a truck, losing their heels, looking as surprised as they are distressed by what is happening to them. I see a small orchestra of neatly arranged young girls, looking very much like my own daughter, being dragged out onto the cobblestones of yet another street and shot. Pleated skirts around their knees, sometimes with a fist clenched round their bows or violins they lie there, eyes open, as if about to get up again. I keep watching in terror as these people are finished off. It happens so fast. At the end of the film it says the Latvians stunned the Gestapo by their zeal: within days of the Germans entering the city, the locals had murdered hundreds of Jews, burning some of them alive in their synagogues.
To then cherish the buildings these people had designed, the knowledge and art they had left behind, as their own Latvian heritage.
Nine burnt-out synagogues are left. The ghetto that 20,000 Jews were brought to, and the inefficiently bulldozed cemetery, remain.
We are well into the twenty-first century, but as I stumble down the cobblestoned Moskova Iela, a straight road to Moscow, I see shacks and cabins behind dishevelled gates. This was the ghetto for the Riga Jews. Doors are hanging open on broken hinges: it looks as if they left a week ago for their final destination. At first I don't notice that I am standing on the remains of a Jewish cemetery. There is little to be found in the way of a monument to acknowledge this tragedy in the history of humanity. Feeling inadequate and miserable, I start humming lines from the Kaddish, the prayer for the dead. Although I never pray, I sing.
Bits of tombstones are sticking out of the razed cemetery, for some reason all these carefully planted trees have grown tall and are completely black. A phenomenon that nobody wants or cares to explain.
Dogs bark at me at the entrance of this sad place and I brave the blank stares of a couple of locals. Out of here is where I should be. I am only too happy to leave.
When I return to my home in Dublin I fall ill. An angry fever rages in my body and I keep dreaming that I lose all my limbs and subsequently feel the pain this loss causes.
That officer filmed them and the onlookers stood there, never thinking of helping. I cannot get rid of the image of the smooth faces of those young girls in their white blouses, their instruments still warm from being used, maybe for a Haydn suite. Extinguished like vermin in the beautiful streets of
Riga. My mind seeks for a place of hiding for them and for me. Until I realize that I don't need one. My relatives did, but nobody thought of protecting them.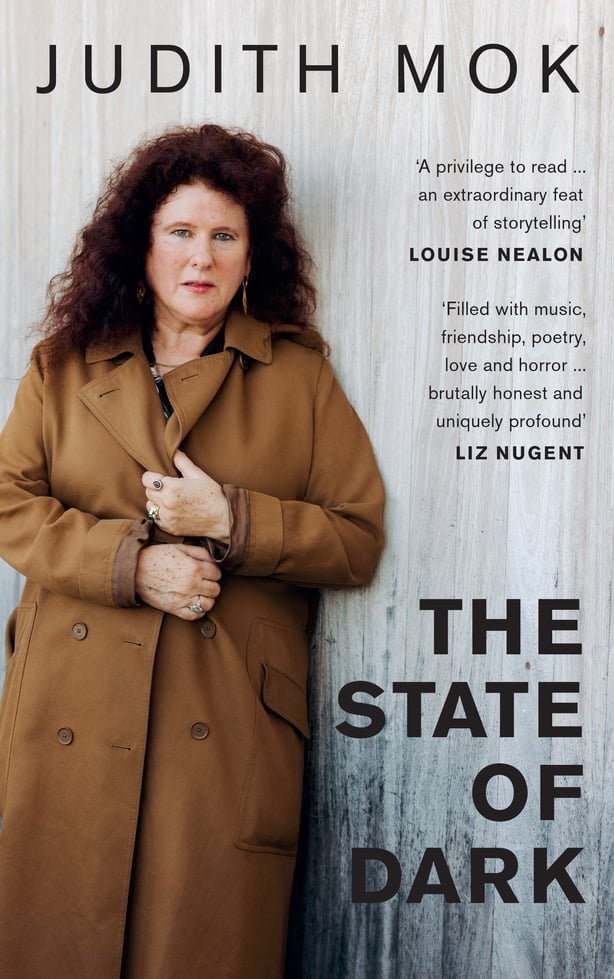 The State of Dark is published by Lilliput Press