Poet and theologian Pádraig Ó Tuama introduces Poetry Unbound, his new anthology collecting 'fifty poems about what it means to be alive in the world today'.
---
A poem is a difficult thing to define. What is it? It's a little block of ink on a page, sometimes five lines long, sometimes fifty. It's a house of memory. It's a clockwork thing you can carry in your pocket; take it out, set it to go, and it goes. Tick-tock-tick-tock, it says, sometimes rhyming with itself. Some poems are full of love, and some of anger; some poems remember things that shouldn't be forgotten, other poems fantasise about the future, acting as a warning for today. Some sound like a song, others like a story.
All poems use craft; careful choice of words, linebreaks, metaphor and form. I love these elements of poetry, but I know that such technicalities are not the only way to love a poem. Most people remember a poem because it reminds them of something: a grief of their own; a moment of love in their life; a decision they had to make; a time of wonder and delight; a landscape they had forgotten; a pain they carried. Somehow, those little clockworks get into the heart, and help it go, help it rhyme, help it in ways we can't define.
This book contains fifty poems. Fifty little doors opening up to the world of the poet. And fifty little doors to open up the world of a reader.
A poem is often made up of stanzas, and stanza is the Italian word for room. Many rooms are populated with things: a chair, a window, a mirror, a painting, a broken toy, the remains of a fire, the evidence of love or its opposites, a child's drawing, a forgotten report card, a scent that reminds you of your grandmother. The poems in this book form a series of rooms through which to walk where the walls have stories and the furniture can talk, rooms that invite in your person and your intelligence, your own mem - ories, associations, fantasies, desires and pain. The poems are not designed to make your life easier, even though many of them will; they are designed to notice and observe, to take stock, to reckon, to breathe, to rest, to stir and work.
We need your consent to load this rte-player contentWe use rte-player to manage extra content that can set cookies on your device and collect data about your activity. Please review their details and accept them to load the content.Manage Preferences
Listen: Pádraig Ó Tuama talks to RTÉ Arena
Each poem is introduced with an anecdote of how I've needed poetry in my life. Then, in the short essays following the poems, I write about the poet's craft and their choice of form, the way they've shaped language to do the work that I think is important to them. Sometimes I use recollections from my life to reflect on how the poem speaks to me. My hope is that the poems will intersect with the stories of your own life, too; allowing you to step inside, to notice what you notice.
The poems in Poetry Unbound speak to the variety of human experience, sometimes exploring common ground, sometimes not: in one, Hanif Abdurraqib looks back to his childhood, remembering when a friend's mother threw her wedding ring out of the window of a car after the end of a marriage. In the background of this memory is a song in which the poet recognises his own grief. Maybe I shouldn't say a poem is a door between two rooms. Maybe it's twenty doors: what it means to remember yourself as a teenager; what it means to be an adult; what music works in us; how grief is a complicated ghost; how a crowd of friends crammed in the back seat of the car is a whole world.
Gail McConnell's poem 'Worm' is not written about a worm, but to one, the 'you' of the poem. I never knew I'd need a poem to a worm, but I do, because through this poem, I understand that the worm has learned to ingest everything it comes across. It goes through. It makes life in underground places. Us too.
Poetry Unbound contains poems about prayer, pain and power: Faisal Mohyuddin's 'Prayer' calls God a 'perfect / emptiness'; Lorna Goodison's 'Reporting Back to Queen Isabella' imagines a roomful of colonialists who imagined themselves as explorers; Leanne O'Sullivan's 'Leaving Early' is in the form of a letter from a woman to her husband – she's leaving him in the hospital for a night, going home, entrusting him to the care of a beloved nurse. Reginald Dwayne Betts's 'Essay on Reentry' is also set in the middle of the night: a man and his sleepless son watch cartoons with the sound turned down, a complicated conversation looming between them.
Poetry unbound – from stultifying school examinations, from limited imagination – shows us the unlimited possibilities of what art can do.
Some poems address huge topics: history, seeking asylum, religion, war, grief, ecology. Other poems are from a small corner of a poet's life: meeting a stranger on a street, making bread, self-forgiveness. Some address themes of abandonment, or remember a friendly animal. Poetry is about the human condition: everything from the kitchen drawer to the state of the world can be subject matter for a poem.
The poets in Poetry Unbound are from many places – Jamaica, Ireland, the United States, Australia, Iran, Puerto Rico, England, Israel. Included are poets from the diaspora, colonised countries, occupied countries, poets in exile, poets who have never travelled much, and poets who've been forced to travel to – or through – many places. Many of the poets hold more than one national identity. There is no such thing as one global universal voice. We contain multitudes, as Walt Whitman asserted.
I chose these fifty poems because together they help us to see what can happen when we pay attention to our lives. They are mostly from living poets; some at the start of their publishing career, others well-published. All the poems are a testament to the process of noticing. A single moment can open a door to an experience that's bigger than the single moment might imply. Sometimes that opening is a challenge, sometimes it's a comfort, other times a question. Very occasionally it's an answer.
The voice in a poem isn't necessarily the voice of the poet, nor is the scene being described necessarily true to life. Poets take imaginative leaps, and the experiences they write about are not always based on their own lives. Hence, I refer to the voice as 'the speaker' when I write about the speaking voice in individual poems. Patience Agbabi, for instance, speaks in the voice of the patriarch Isaac. It's a personal poem. It's not the poet, but it's not not her either; she's in control of the speaking voice, or perhaps the voice is in control of her. Often this kind of poem is called a persona poem. In other poems, the speaking voice seems more direct, closer to that of the poet themselves. The line between writer and speaker is a border, and permits many crossings.
Linebreaks, metaphor, form, word-choice – all are vital to a poem, and in every essay that accompanies the poem I make some reference to how the poet uses these tools of the craft to shape their art. But deeper than the craft of poetry is the why of poetry. Why did the poet write this? Or, perhaps, why did the poet need to write this? The poet needed to make a record. It's evidence of their existence: like our ancestors' handprints on the wall of a cave, an 'I am here'.
I've needed every poem gathered here and, in my brief essay that accompanies each poem, I articulate the reasons they mean so much to me. The poems have become like friends I turn to and return to. I admire the years of work that go into a poet's artistry. I know, too, that once a poem is released it develops its own life. It's a generous act, and a risky one, too. I find in a poem stories from my own life, stories of my friends' lives, losses and pains and joys reflected. I see the range of imagination, or limitation, or hope. Every single one of the poems included has made me more attentive to being human, ways of offering comfort, or challenge, or questioning. The poems turn to me as I turn to them. I am confident they'll turn towards you too.
We need your consent to load this YouTube contentWe use YouTube to manage extra content that can set cookies on your device and collect data about your activity. Please review their details and accept them to load the content.Manage Preferences
Watch: Borders and Belonging: A Conversation with Pádraig Ó Tuama
I've worked in conflict resolution for about twenty years, focusing particularly on the ongoing legacy of British–Irish conflict in the north of Ireland. Themes of religion, language, citizenship, peace and violence have been part of my working life; I find a lot of those ideas in the poems I've selected. You, your own life, will find other things. This is the work of the poem, too: it looks back as you look at it. Your reading of the poem might change with repeated readings. My advice? Write notes in the margins.
The contents are arranged to resemble an exploration. The opening poems consider what self-acceptance looks like, knowing that memory, story, comfort, friendship and love are irreplaceable in the life of a person. Ada Limón's 'Wonder Woman' and Kei Miller's 'Book of Genesis' praise moments where love is found in unexpected places. Then the poems shift towards empowerment, reclaiming what has been threatened: a history, a past, safety, name, land and independence. There are poems of self-reckoning and poems of empire-reckoning. Natasha Trethewey meditates on miscegenation and Mississippi, Raymond Antrobus's poem is compiled of thirty questions asked of him by an immigration officer, Yousif Quasmiyeh's experiences as a Palestinian growing up in the Baddawi refugee camp open up the worlds present in a single square kilometre. Next are poems that seek to reconcile identity; Jónína Kirton seeks a metaphor that will help her hold her joint Indigenous and Icelandic heritages together, Faisal Mohyuddin fuses language and space to describe prayer. Included are many poems that consider parenthood and family. Martín Espada mourns his father; Carlos Andrés Gómez writes of becoming one; Marie Howe remembers and blesses her mother's body. Finally, the poems return to the self: in peace, in conflict, in abandonment, self-consciousness, joy and resilience: R. A. Villanueva places self-acceptance alongside self-consciousness and Aimee Nezhukumatathil writes a letter to her child-self, standing in a new classroom, finding her feet, shoring herself up with memories of nature and love.
The poems collected in this anthology ask essential questions about how to thrive in a complicated world, about how to love when life hasn't been easy. Some are about navigating change, about celebrating one's self. The title, Poetry Unbound, expresses the idea that poetry's geography is one of exploration. Emily Dickinson once said that a good poem should take the top of your head off. Poetry Unbound releases the poem from the myth that poems are always academic, that they aren't about real life. These poems show how wild and free the world of poetry is, turning its attention to what is essential. Poetry unbound – from stultifying school examinations, from limited imagination – shows us the unlimited possibilities of what art can do. A poem can be like a flame: helping us find our way, keeping us warm.
We need your consent to load this YouTube contentWe use YouTube to manage extra content that can set cookies on your device and collect data about your activity. Please review their details and accept them to load the content.Manage Preferences
Poetry Unbound began with a podcast initiated by the American broadcaster Krista Tippett, who founded the On Being Project. We've been friends for years and bonded over our mutual appreciation of poetry. 'Sometimes it hurts to read a poem,' she's said on many occasions. In my work in conflict resolution, I'd always included poetry: sometimes writing poems to help myself recover from a difficult case, often bringing a poem to a mediation to help folks consider how the poem could reframe the divisive issues in the room. Krista had always been interested in how I used poetry to speak to the everyday situations that affect us, and she asked if I'd like to run a poetry podcast for On Being. I said yes. She wanted me to shape the podcast to be interactive, where the audience could feel listened to as much as listening. A team of us worked together to make a podcast that would bring poetry to an audience, by hearing the poems read, and by my interaction with them. We wanted to create community and hospitality, to offer insight, to challenge, to invite curiosity.
The first season of Poetry Unbound launched in early 2020, while coronavirus was in the news, but before any lockdowns had begun. We hoped for thirty thousand downloads, and instead exceeded a million that first season. And many listeners have written to us, telling us how Poetry Unbound has been included in their lives, telling us their stories about their appreciation for a particular poem and how it helped or inspired. Five seasons and seven million downloads later, we continue to listen and learn.
We need your consent to load this YouTube contentWe use YouTube to manage extra content that can set cookies on your device and collect data about your activity. Please review their details and accept them to load the content.Manage Preferences
Perhaps you've loved poetry but haven't known where to start. Perhaps you've wanted to try your hand at having a conversation with a poem. Perhaps the sheer choice of what to read overwhelms you, or you're burdened by the memories of school examinations that seemed to flatten the life of any poem. These poems are for you: to read when you can't sleep, to learn and recite on a bus or train journey, to bring into a classroom, to accompany you in a crisis, to offer to a friend.
When a poem lands in your life, it really lands, adding new richness and texture to your world. I know of no greater gift than when someone tells me they turned to a poem of mine or a poem by another poet during a time of importance, or an occasion, a funeral, a wedding, an anniversary. I consider myself lucky, now, to stand at the doorway to this anthology, saying hello, inviting you to greet these brilliant poems with stories of your own. The poems are eager to meet you, too.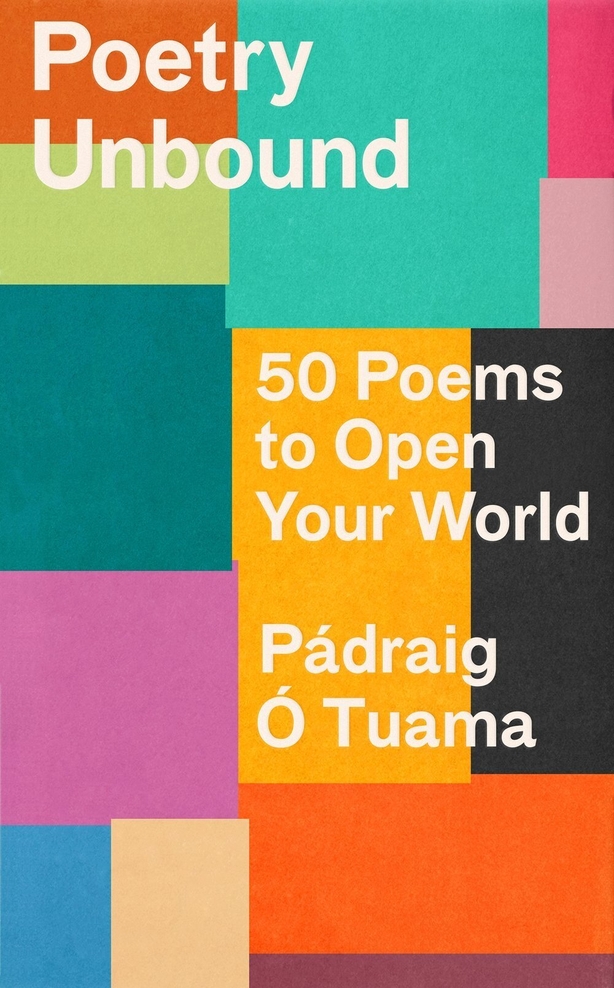 Poetry Unbound: 50 Poems to Open Your World is published by Canongate