We present an extract from Thunder And Lightning, the new memoir from acclaimed author Colin Bateman.
Inspired by All the President's Men and The Odessa File to become a crusading journalist, Colin Bateman joined the local paper when he was a seventeen-year-old punk, where instead of bringing down Presidents and finding Nazis, he found himself being hunted down by the notorious Kilcooley Strollers, a dance troupe with an axe to grind. He did almost become a sub-editor for the NME, spent a summer working in the heart of the US media - at the Addison County Independent in Vermont before retreating to Bangor, (the one in County Down not Maine). Bateman also tried music promoting and magazine publishing with equally unprofitable results.
So close to the Troubles, yet so far away – Thunder and Lightning is the humorous and affectionate story of one boy's journey through the rather soft side of life in a town which lacked tough streets but boasted many cul-de-sacs. A town where an occasional terrorist bomb was seen as an opportunity to profiteer and the coming of an alternative Ulster was as intangible as the author's Great American Novel.
---
Having tried and failed to play in a band, and having made a dog's dinner out of managing one, the obvious next step in my road to the bottom was to build on my success in promoting
The Outcasts by finding a band that the mods might flock to. Surely there was a fortune to be made there. The Who and The Jam were slightly out of my league, but might there be another band I could ruthlessly exploit? No, as it turned out – at least, not in Northern Ireland. But I was still buying the NME every week, despite their callous rejection, and in one issue I found exactly what I was looking for – a band called Squire, who'd recently released a single, 'Walking Down the Kings Road', which the mods were loving but which hadn't sold much outside of their niche market. They'd played some small club gigs in the capital, but not much beyond. Surely local mods would eat them up?
I shared my idea with Robert, another newish friend who was interested in getting involved in promoting gigs – maybe we could do it together? He could do the practical stuff, like booking the venue, and I'd talk to the band and do the promoting through the paper.
We decided to go big – most of the mods were still in their mid-teens, so a bar wasn't going to work. Although Mod Central was Belfast, we were determined to keep it local. The Market Hall was much too small – but the Queen's Hall in Newtownards might work.
Robert looked after that, and I booked the band through their manager, Dave Fagence, and they agreed to fly over for their Irish debut. The tickets went on sale on a Saturday morning through Caroline Music in Belfast. We were hoping at best to sell a couple of hundred. By the following Monday we had sold 800. A complete sell-out. We were stunned and a little shocked, and then very full of ourselves. We were the bee's knees. We had our fingers on the pulse. All of those big promoters didn't have a clue. We had sold out a huge venue. Money in the bank.
The band flew in for the gig. We picked them up at the airport and drove them to Caroline Music, where they signed autographs. Then we took them to the venue. As it was too expensive to bring their own gear, apart from guitars, we were providing everything else, including the drum kit. The drummer burst out laughing when he saw what he was supposed to play. It was, basically, a child's kit, the drumming equivalent of my Chad Valley typewriter. As the mods began to arrive, we were still racing around in a blind panic trying to get a replacement kit.
Eight hundred had tickets; many more came along for the ride. We hadn't thought to alert anyone in the town to the coming invasion. That's what it was. And we had no idea that Belfast mods divided along sectarian lines. Half of them turning up that day didn't sport Union Jacks on their parkas; they displayed Irish Tricolours, which did not go down well in loyalist Newtownards, or with other mods.
They came by scooter, they came by car and bus, and they besieged the local off-licences as soon as they opened. Then they were getting pissed out on the streets and smashing bottles and pissing in corners and generally overwhelming the local police, who'd been expecting a rather quieter Saturday afternoon. Most of the mods were legless by the time they started queueing up. We'd decided to make it an afternoon gig but had somewhat naively imagined that this might mean they would all assemble quietly, stand appreciatively to watch the band and then quietly disperse afterwards.
Ahm, no.
We began to panic as the first windows were kicked in. And then the doors. At this point at any other rock gig a crack security team would leap into action, root out the troublemakers and restore order. That would have worked for us if we'd had a crack security team. If, in fact, we'd had any security team. We had neglected to employ security. That's how naive we were. We had corralled a couple of mates into acting as stewards, but with the understanding that all they were expected to do was check tickets and direct people into the hall, not wade into gangs of drunken youths who were only interested in smashing the hall and each other to pieces.
I stood at the back as the crowd surged forward in anti- cipation of the band's imminent arrival, thinking what a lot of little shits they were and feeling desperately sorry for our bouncers – friends of friends had been rushed in to try and help, but it was really a losing battle – them all looking battered and bloody, and decided that it was the worst day of my life and that I never wanted to see a mod again, or promote a gig, and the only relief was that at least it couldn't get any worse and would soon be over. At that point the lovely red velvet curtains that were closed across the stage, curtains that were massive and worth thousands, were ripped from their moorings and came floating down over the crowd, and as the full horror of that began to sink in, Robert came up and whispered in my ear that we'd neglected to take out any insurance and that we were, in fact, idiots.
Without realising it I had done the most punk thing of my life. I was like a miniature Malcolm McLaren, accidentally creating anarchy with the Sex Pistols. The only difference was that he had ruthlessly exploited it and forged a career based upon it, whereas I went home and hid my head under a blankie.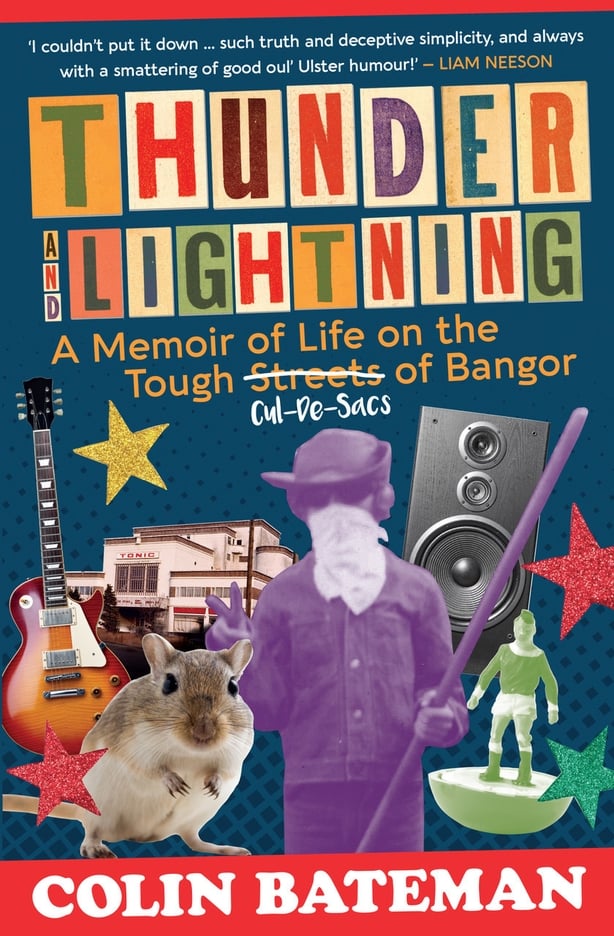 Thunder And Lightning is published by Merrion Press