Rose Dugdale's life certainly has been, as the subtitle of a superb new biography suggests, "extraordinary". In fact, extraordinary seems like an understatement – if you were unwise enough to present her story as fiction, it would be dismissed as unbelievable. But thanks to author Sean O'Driscoll's painstaking research, we know that the tale is indeed true.
It portrays a woman of contradictions: a debutant presented to the Queen, who became a Marxist radical devoted to the violent overthrow of capitalism; the daughter of a British Army officer, who helped design weapons which killed British troops; a person capable of great personal kindness, but also capable of throwing boiling water over a Garda, and of threatening her own son.
Extraordinary, for sure.
Rose Dugdale was born into a wealthy but extremely strict family, where she and her sister had to curtsey to guests, where friends described the house as "regimented" and "like being in the army".
Was it this rather odd background which turned her into a rebel? Perhaps, though as the author points out, her sister Caroline had the same upbringing, and ended up marrying a Tory MP and remained a Conservative all her life.
In any event, Rose Dugdale was reluctant to conform from an early age, only agreeing to be "presented" to the Queen as a debutant if she was also allowed to sit the Oxford entrance exam.
She had a colourful time at Oxford, having an affair with a woman lecturer, and disguising herself as a man to take part in a debate in the male-only Oxford Union (hastening the end of that ludicrous gender bar).
She worked on development economics for the UN and for the British government, but was increasingly drawn to radicalism. In 1971, aged 30, she had a considerable fortune thanks to the family trust, worth well over £1 million today. She decided to give it away, opening an office in Tottenham where she disbursed money to the needy.
She also became interested in the unfolding situation in Northern Ireland, becoming more militant after Bloody Sunday. She and her boyfriend, a former British soldier, used her Lotus sports car to ferry weapons for the IRA across the Irish Sea.
To raise funds for the IRA, she led a burglary of her family estate in Devon, robbing art works worth around £1 million today (it was all later recovered; her boyfriend was jailed for six years, she was given a two-year suspended sentence).
She then hooked up with maverick Republican Eddie Gallagher, and together they embarked on a number of high-profile operations.
We need your consent to load this rte-player contentWe use rte-player to manage extra content that can set cookies on your device and collect data about your activity. Please review their details and accept them to load the content.Manage Preferences
Listen: Liveline on Heiress, Rebel, Vigilante, Bomber: The Extraordinary Life of Rose Dugdale
When the author asked Dugdale what was the happiest day of her life, she nominated the day she bombed Strabane. "Yes. It was the first time I felt like I was really at the centre of things, that I was really doing as I said I would do. It was what you might call an electric feeling". This in reference to an escapade in which Dugdale helped kidnap a helicopter pilot at gunpoint, before dropping milk churn bombs on the British Army barracks in Strabane. The operation was a fiasco – the bombers nearly blew themselves up, failed to cause any damage to the barracks, and endangered the lives of the many civilians who gathered to watch the show. But what does that matter compared to making Dugdale feel that she was at the centre of things?
She also played a key role in the robbery of Russborough House. Sir Alfred Beit, the owner, noted that she had a good eye for art, as she identified which paintings they should take. As she was posing as a French woman, she did this in a fake French action: "Zis one, and zis one. Non! Not zat one". This adds a surreal comic touch, but the robbery involved the threat of violence against the Beits and their staff, and Dugdale appeared to be serious about burning the paintings if their demands were not met (her partner in crime, Eddie Gallagher, claims that he was against it).
Jailed for her part in the robbery, Dugdale concealed the fact that she was pregnant, which was only discovered when she went into labour. Prison officers decided there was no time to properly secure the maternity hospital, so she gave birth in her cell. She later married Gallagher, mainly to avoid being deported to Britain, where she was still wanted for the Strabane bombing.
By this time, of course, Gallagher was also in prison, having been jailed for the kidnap of Dutch industrialist Dr Tiede Herrema. Dugdale's release was one of the kidnappers' demands; if she wasn't freed, they threatened to kill Herrema. Dugdale was asked to intervene to save the innocent Herrema's life; she declined. "I didn't think it was my place to tell them to stop the kidnapping."
This demonstrates Dugdale's ruthless streak, which was much in evidence while she was in prison. At one point she threw a basin of boiling order over a female garda sergeant, causing severe burns.
On her release from prison, she became involved in agitation against drug dealers in Dublin's inner city, through Concerned Parents Against Drugs. She advocated using extreme measures, such as punishment shootings, but the IRA declined to introduce such methods to the south.
When she discovered her son was dealing ecstasy, she (wrongly) blamed his then girlfriend; her solution was to drive her car at the girlfriend, almost hitting her. She later told him a story about an Italian woman, who disapproved of her own son dealing drugs – and murdered him. Eddie Gallagher, who heard this story – or threat – was sufficiently concerned to warn her against harming their son.
She later became involved with IRA bomb-maker Jim Monahan, and some of the most interesting passages in this book concern their joint efforts at weapons development, including the so-called 'biscuit launcher', a shoulder fired missile launcher which used two packets of digestive biscuits to absorb the recoil.
The IRA faced a crisis in 1991 when a bunker flooded, destroying their stores of Libyan detonating cord, threatening to bring their bombing campaign to a halt. It was Dugdale who came up with the solution, extracting the explosive material in Semtex to use in detonating cord. The idea worked, allowing the spectacular attack on the Baltic Exchange in the City of London. This was a great success for the IRA; not so much for the three innocent people killed in the bomb – Paul Butt, 29, Thomas Casey, 49, and Danielle Carter, 15. The author repeatedly names the victims of such violence, putting a human face on the consequences of the IRA's actions, and of Dugdale's contribution to their campaign.
Rose and Jim were valued within the IRA for their bomb-making skills; but their leftist politics were not welcome in Sinn Féin, which pushed them out of the party's education department. "The message was clear: keep developing weapons, not political thought." They were eventually readmitted, but the Marxism was not.
This is an absorbing, well-researched and extremely well-written account of a life that almost defies belief. Perhaps the last word should be left to the author, Sean O'Driscoll: "The two sides of Rose, the extraordinarily generous and the disturbingly brutal, were evident in my conversations with her. She exuded the energy of someone who was very kind to children, to animals and to the poor, but she showed little empathy for anyone she regarded as being on the wrong side of class politics... In prison, she offered shelter to the most painfully marginalised, yet she had no compunction in disfiguring a police officer by flinging a basin of boiling water into her face. This book presents no prescription or diagnosis, but I hope it offers insights into a complex personality."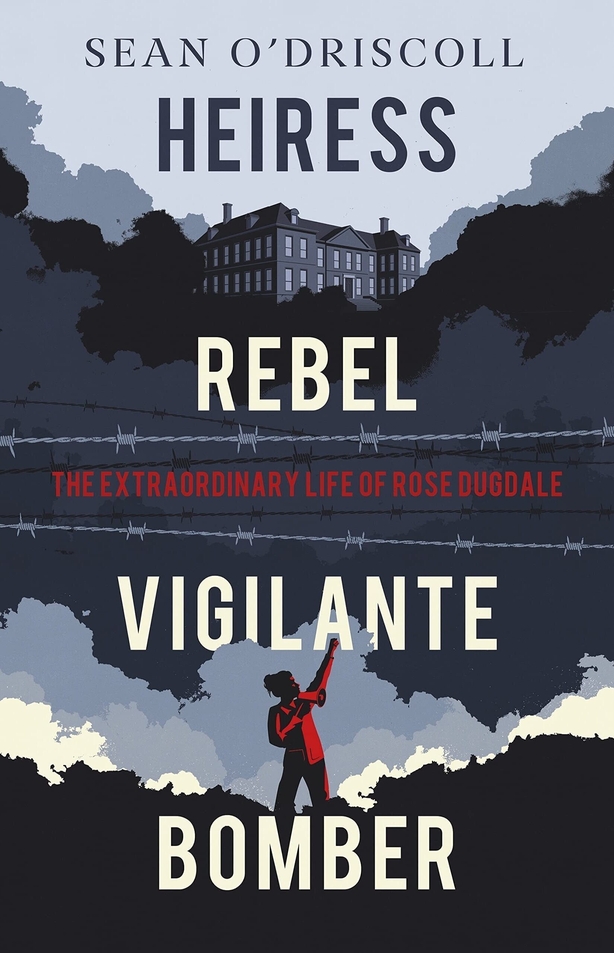 Heiress, Rebel, Vigilante, Bomber: The Extraordinary Life of Rose Dugdale by Sean O'Driscoll is published by Sandycove