We present an extract from Instant Fires, the new novel by Andrew Meehan, published by New Island.
In Heidelberg, Germany, over the course of a hot week in July, two gentle souls begin a prelude to love, testing the pull of romance against the weight of their family histories.
After fifteen years in a relationship with a man she did not love, Ute Pfeiffer has returned from Ireland to find her father, Julius, in decline and her mother, Christa, more distant than ever. The last thing she needs is to fall for another Irishman. But when she sees Seanie Donnellan driving over a hen in her parents' yard, something seems to shift in her cautious heart...
---
They were unmistakeably in the middle of Europe. She had forgotten that a country of slow-moving rivers and brown forests could be so radiant.
On her way home to hide—Heidelberg was itself in hiding and on the way to nowhere in particular—she felt herself undercover, as well as completely overwhelmed by the sight of all the allotments and smallholdings just as she remembered them. The round-shouldered barns under which huddled saintly woodpiles, no movement in the long, limp grass, a haze upon all that sweet-looking lettuce.
No wind and little commotion to speak of made them a very docile people.
All the better that her first fleeting glimpse of the Neckar came by surprise. A view of the old bridge, rinsed clean and smartened up since the last time she'd seen it. The river shimmered and the tour groups gathered and in that regard her hometown was exactly as she expected it would be, only with more phone shops, and Japanese tourists coming from all directions; Indians, an extended family—mothers, sons, grandfathers, more—using the riverbank as a cricket oval.
The hills above the Philosophers' Walk were their usual bluish-green, but she was overawed by the sight of all those quietly powerful new buildings, and the way they had taken possession of the hill. One thing that hadn't changed was the Sankt Hedwig, an old tugboat on the Neckar that was now a restaurant owned by her parents' friends, the Völker-Steins. Maybe they would all run into each other at some point?
The day was warm and the altstadt was full of people. As much as she had been keeping it alive in her mind, Ute had some trouble finding her way to her old door. The Pfeiffers' house on Bauamtsgaße overlooked an impressive cobbled courtyard off a lane off a hallowed street ruminating toward Heidelberg's famous river. She passed the building a couple of times before remembering that the workshop had been closed up. Oh mercy, the yard her mother used to populate with chives and bay and peony trees was lifeless with broken brushes and upturned bins and in all probability hadn't been swept all year.
There was a crack like the beginning of fireworks. The driver of a ship-sized BMW was attempting to make a turn in front of her parents' front door. Rather than turning, the car was moving back and forth, as though mowing a lawn. It would have been easier somehow to unpack the cobbles and move the courtyard than to get the car out of there without seventeen attempts to turn it around. The driver might have been about to plough into the wall altogether. No, he hadn't, yes, he had driven over some kind of a chicken coop. It might have been the stupidest thing she'd ever seen.
A young man in an old suit—a wool suit—stepped out of the car with all the assurance of someone who'd just screwed up their first driving lesson.
—Didn't you hear? she said. Didn't you see?
—I do now, he said. Sometimes he gets out for a nosey.
He got the hen up into his arms. On he went in a voice as tuneful as a chorister's, as though nearly decapitating the hen then singing to it was part of a daily ritual. The hen's eyes were speaking of longing, and worse than the smell was the bird snuggling. The noise plaintive and melodious.
—Thought its days were numbered.
—Whose hen is it? she said.
He made a move for the shadow, out of the way of her question. It wasn't easy at all to tell from where he came. He sounded Irish, he wasn't from Heidelberg, anyway. Germans had a veneer to them, which he was lacking. It had taken her some time—until now?—to realise what this look meant. It meant he was amused. Irish faces were so unreliable. Hours and hours of conversation and you wouldn't know one thing about that person.
—Is it yours? she said.
—My girlfriend's. My ex-girlfriend's. It's fine, it's someone's hen.
—It doesn't look fine. Are you sure it's okay?
—This is not a happy hen.
—Does it need anything?
—A bit of quiet.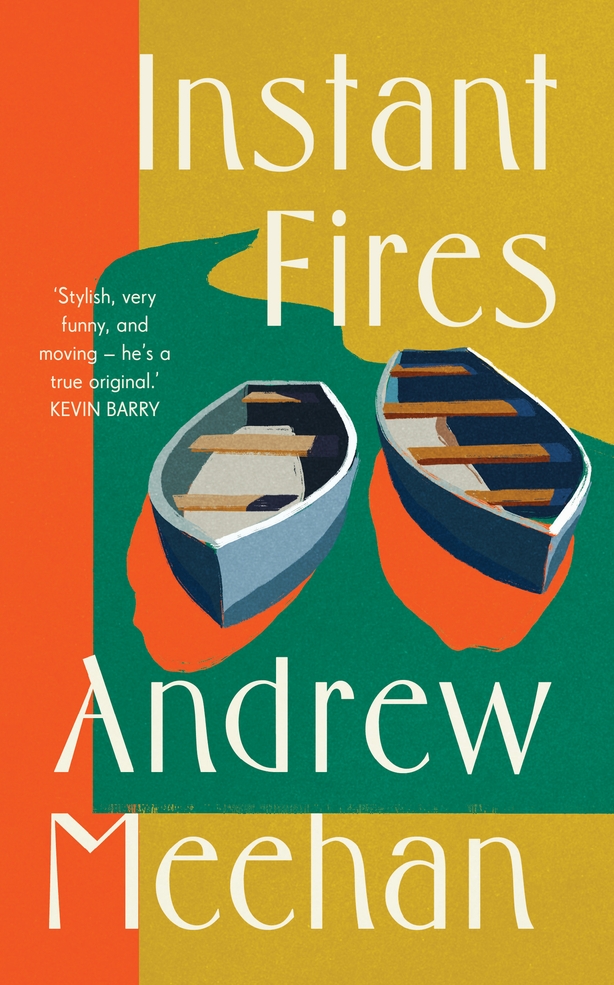 Instant Fires by Andrew Meehan is published by New Island