Christian O'Reilly is writer/producer of No Magic Pill, a new play inspired by the life of Martin Naughton and his campaign for independence for disabled people in Ireland.
Actor Peter Kearns plays the character of Dermot, and is also Disability Equality Dramaturg for the production. Below, Peter and Christian discuss their "ground-breaking" production.
---
Christian O'Reilly: Peter, tell me a bit about yourself.
Peter Kearns: My name is Peter Kearns and I have the impairment-label 'cerebral palsy'. When people struggle to understand me, I don't apologise for my speech impediment, I tell them I'm from Coolock.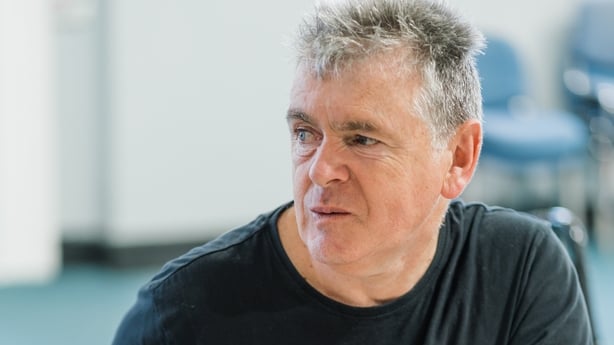 COR: What's an 'impairment-label'?
PK: Impairment labels are used to segregate people from their communities based on clinical descriptions, e.g., Cerebral Palsy was identified in 1836 by Dr Little as Britain moved towards the height of the industrial revolution.
COR: We are making the bold claim that our production of No Magic Pill is 'groundbreaking'. Is it?
PK: It's groundbreaking in the context of theatre in the Irish Republic because we have purposely gone out and recruited disabled actors to play the disabled characters in our show. We want to make sure the stage is populated by disabled actors.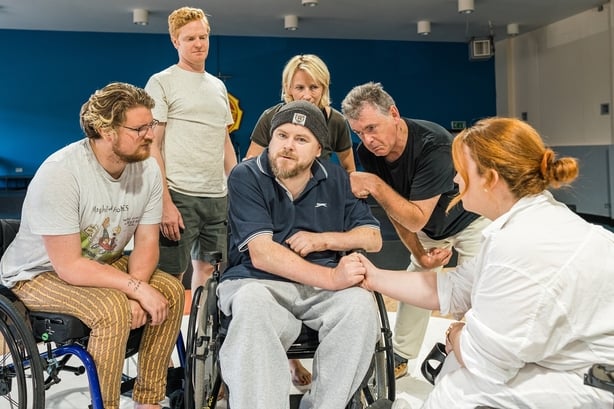 COR: What usually happens?
PK: The usual practice is that a non-disabled director casts non-disabled actors to portray impairment label-based stories.
COR: What is an 'impairment label-based' story?
PK: This would be a play by a playwright who gives an impairment label to a character as a device to represent something to the audience, e.g., in Richard III, the main character's impairment is intended to represent evil.
COR: Is there a large pool of trained disabled actors in Ireland?
PK: No, there isn't, because disabled actors have neither had the training nor the opportunity to act in Ireland.
There is a practice within Irish theatre that uses disability as a device and, pardon the pun, 'as a crutch' to lean on. We need to kick that crutch away...
COR: But why cast disabled actors without training and experience? Would it not be better to cast trained, experienced non-disabled actors?
PK: The answer is not just simply to give disabled actors the role of playing disabled characters. That's not enough. All of us – everybody involved in the production – has to explore the theme of disability from the Social Model perspective.
COR: The 'Social Model perspective'?
PK: There are two broad approaches to disability – the Medical Model and the Social Model. According to the Medical Model, a person's impairment is the primary problem that has to be cured, stabilized or fixed. We are seen as a vulnerable, childlike and pitiful 'other' that has to be taken out of 'normal' society and cared for until death. It's very deep rooted in Irish society. The Social Model is the opposite. It recognizes that the disabled person is being oppressed by a 'disabling' society.
COR: 'Oppressed'? How?
PK: By creating physical and attitudinal barriers and, in terms of theatre and drama, negative narratives and characters associated with disability as a device to communicate certain ideas to an audience.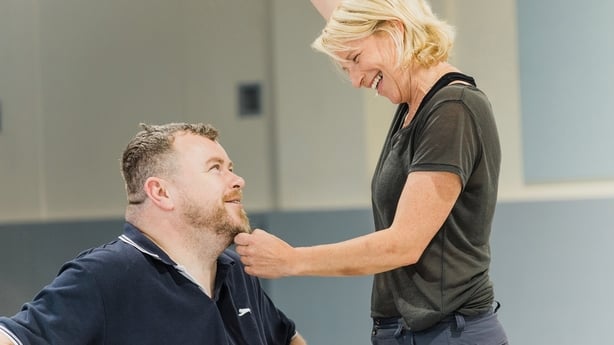 COR: Okay, so we're not only casting disabled actors in No Magic Pill? We're also challenging the way that everybody working on the show thinks about disability?
PK: Yes. So that we're all on the same page and use the same language. For example, we say 'disabled people' rather than 'people with disabilities'. The term 'disabled people' acknowledges that we are disabled by society.
COR: When I was watching rehearsals, I was struck by the love scene between Martin and Josie. He was sitting and she was standing. She could walk away and he couldn't. The dynamics were unlike any love scene I had ever seen before on stage. It blew my mind, but I didn't know why.
PK: That's because the aesthetic of impairment is completely new for Irish theatre-goers.
COR: The 'aesthetic of impairment'?
PK: It's another way in which No Magic Pill will be ground-breaking. It means working with the disabled actors and their unique bodies and their lived experience of the disabling world and exploring how that feeds into the characters. It means giving the actors time to have disability equality training and character-based movement led by their bodies and their lived experience of disability.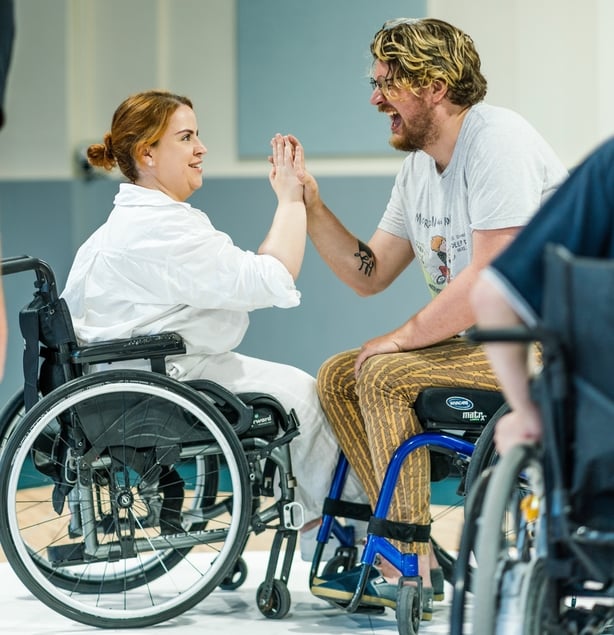 COR: So, their own experience of disability informs their characters and therefore their performances? It enriches their performances?
PK: Yes.
COR: And when non-disabled actors play disabled characters?
PK: They tend to 'play' the impairment.
COR: Is this what you mean by 'cripping up'?
PK: Yes. Say that a non-disabled actor has been auditioned for the part of a disabled character. The non-disabled director then directs the actor to heavily represent the impartment – for example, using a certain walk or body representation. The idea is that a physical representation of the impairment has some currency in the production. But this approach is not necessarily drilling down into the character.
COR: So, there's too much focus on playing the disability and not enough on the character?
PK: Yes. Over the years, I've had non-disabled actors come to me showing me their acting of the impairment label and asking, 'Does my hump look big enough?' or 'Is my limp correct?', but with no discussion about the actual character.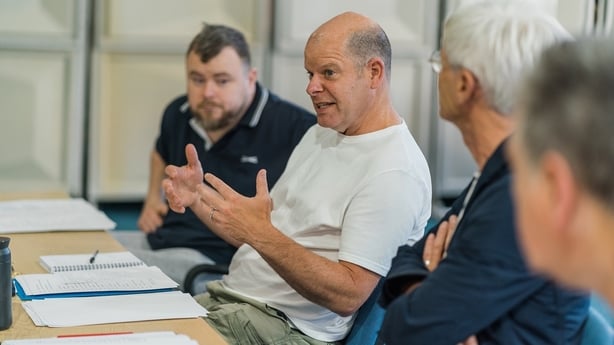 COR: What does an audience get that's different when disabled actors are playing disabled characters?
PK: For a start, you don't have the audience seduced by the spectacle of the non-disabled actor showing their craft through the performance of an impairment label. The audience has to engage with the character at a deeper level because the disabled actor isn't 'playing' their impairment. I have seen shows by mainstream Irish theatres in which so much comedy and pathos is lost by having a non-disabled actor, who is stuck at the level of representing the impairment.
COR: You hope the production will 'draw a line in the sand'? In what way?
PK: There is a practice within Irish theatre that uses disability as a device and, pardon the pun, 'as a crutch' to lean on. We need to kick that crutch away and really get down and dirty with disabled actors and disabled theatre-makers.
COR: Finally, is No Magic Pill a dull but worthy play? Why should people come and see it?
PK: It's a great piece of entertainment. It's about love, dreams and taking a risk. It's also very funny. It will surprise you and break your heart. And it will make you see disability and theatre differently.
No Magic Pill has its premiere at The Black Box, Galway with performances on Tuesday 27th - Friday 30th September 2022, before featuring at this year's Dublin Theatre Festival with performances from 4th - 9th October 2022 at The Civic, Tallaght - find out more here.