]Dublin Fringe preview: Playwright Ciara Elizabeth Smyth reports in from the rehearsal room for her forthcoming 'darkly funny new play' Lie Low, which premieres at this year's Dublin Fringe Festival.
---
WAKE: 5 am. Go tobann, I am awake. Not because I'm manifesting any Forbes Fortune 500 energy but simply because I need to pee. Playwrights by their very nature have weak bladders but during a rehearsal period, particularly for a new play, the playwright will become almost completely incontinent. It is a well documented phenomenon that can be traced back to 1926 when Seán O'Casey urinated so many times before the opening of The Plough and The Stars that he broke all the toilets in the Abbey Theatre, causing a riot. My new play Lie Low is currently in rehearsals and will open as part of Dublin Fringe Festival on 10th September so I am peeing constantly - it's beginning to distract the actors. Once I'm up, unfortunately, I am up so I usually spend the time between 5.01 am and 7 am doing admin or looking at my phone wondering why I wasn't invited to that dinner with those people I barely know and would have definitely cancelled on.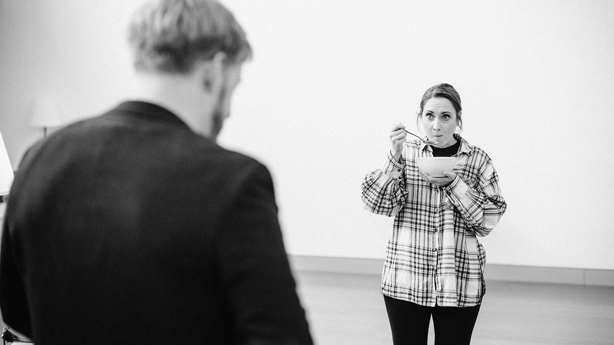 7 am. Breakfast is porridge, coffee and head scratching over fair questions that the actors have had about the script; "Is this a word?" "Does this make sense?" "Why are you crying, Ciara?" Actors are extraordinarily intelligent beings and should be approached with extreme caution. I try to answer their questions with more questions, in the hopes they won't notice I haven't said anything of substance in a good long while now. For example: "Why do you think I'm crying, Michael?" It's good to have a list of responses at your disposal during rehearsals so as I, not chew but, move my porridge around my mouth, I write out some vague statements and put question marks at the end. Sometimes at breakfast, if my self-esteem is particularly high, I'll have a bowl of nezquicks instead of porridge. I know that's not how you spell or pronounce the cereal but, despite my numerous emails, the makers of nezquicks refuse to sponsor me so they're not getting free advertising here.
#LIELOW Day 2 Rehearsals DANCE@micktheejit @TheMACBelfast @dublinfringe @projectarts pic.twitter.com/Twa5jXwhNI

— Ciara Elizabeth Smyth (@ciaraesmyth) August 23, 2022
We are rehearsing in Belfast because our cast, Michael Patrick and Charlotte McCurry, are based there. I'm staying in Warrenpoint with the director, Oisín Kearney, so at 7.45 am we get in the car and he drives the hour up the road while I redraft the script on my laptop. We are in our second week of rehearsals, so I'll have to finish the script soon.
We'll move down to Dublin for the third week of rehearsals and after that we run in the Project Arts Centre, from 10th-17th, then we'll go back to Belfast for a run in the Lyric from 21st - 24th. I did consider the option of having the entire rehearsal period in Dublin but when I looked into accommodation for the team, I found the average room price for a hotel in the city centre is €526 per night, making the total cost €29,456 and unfortunately that was the exact amount of money I wanted burn in a fire by the light of the next full moon so I'm going to do that instead.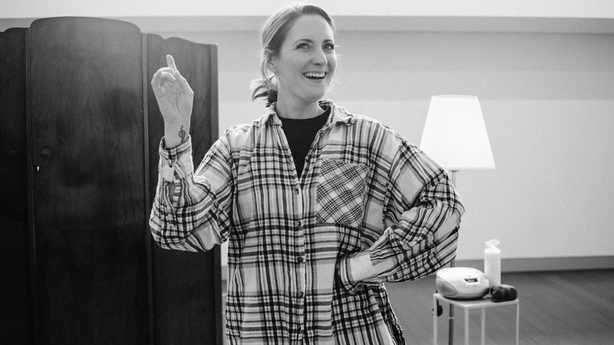 MORNING: We start rehearsals around 10am. Usually, I sit watching the director and cast pour their talent into the script and I worry if all of the syllables are in the right places. Sporadically, I find myself wondering; "What have I done?", which reminds me that I haven't had my second coffee of the day yet and it's the second one that quiets the existential dread, so I pop out to Established on Hill Street. When I return to the rehearsal room there will almost always be another virtuoso there; a fight choreographer, a movement director, a designer or an intimacy coordinator. It's a joy to watch them work with the actors. And it takes my mind off the time a journalist told me that the content warning on Lie Low, "strong language, some nudity and descriptions of sexual violence" will turn people off buying tickets. I told the journalist that I thought the nudity might have the opposite effect on punters but he just stared at me, stoney-faced. So I backed slowly out of the room.
AFTERNOON: Lunch is always a cheese and tomato sandwich from home because I would spend an entire hour indecisively staring at crisps in a shop if I did not bring my own food. In the afternoon I will either be answering emails, (all my responses start with "Thanks for the reminder on this") or I'll be out in the car picking up set or props. I rented a van the other day to collect a wardrobe from a farmhouse in Banbridge. The wardrobe was beautiful and priced at a fiver so I was convinced it was a trap and I dragged the director Oisín with me. Turns out it was just a nice woman (Mary) looking to get rid of a wardrobe and not, as I had suspected, a murderer.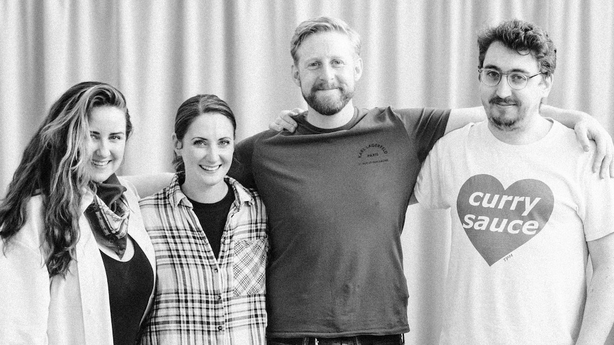 TRAVEL: Rehearsals finish at 5 pm so the director and I hop back in the car and use the drive home to chat through the day. This is my favourite part of the day because although we are tired, we are at our most hopeful about the play on the way home. We will each remark "You know - I think everything is going to be okay" multiple times during this conversation, which heartens me.
That and the knowledge that the further we barrel down the M1, the closer we are to dinner.
DINNER: Dinner for me is usually spaghetti bolognese or salad or chips. I don't like to vary it too much as that requires brain capacity I don't possess in the evenings. Sometimes, while I prepare my meal, I check my bank account and wince. Occasionally I gasp loudly, as if I've been robbed. Then, to console myself, I pour out a glass of red wine, sniff it deeply, and swallow it in one go.
SLEEP: After dinner I continue to thank email correspondents for the "reminder on this" as I rewatch Utopia (the UK version). Then I get into bed around 11 pm to briefly worry about the script before falling asleep to the soothing tones of Michael Barbaro or Ira Glass.
Lie Low premieres as part of Dublin Fringe Festival from 10th - 17th September 2022 in the Project Arts Centre - find out more here. It will transfer to The Naughton Studio in the Lyric Theatre Belfast from 21st - 24th September 2022 - more info here.