We're delighted to present an extract from The Night Interns, the new novel by Austin Duffy.
Intravenous lines, catheters, bodies in distress, wounds: three young surgical interns working the night shift must care for – and keep alive – the influx of patients, while frightened and uncertain about what the night will throw at them.
---
Her face, we agreed, could only be described as serene. There were no lines on it. The tightness of pain was gone, her worried eyes were now closed. None of us had wanted to enter the room in the first place. She's cheyne stoking, the nurse told us as we stood outside it. Lynda was annoyed that they had called us at all. I mean, what did they expect us to do about it? She pushed past Stuart and me and opened the door. We had no choice but to follow her into the room. Sure enough the woman's breathing had entered that unnatural rhythm. Up until then we had only read about it, but here it was happening right in front of us, pre-death in all its glory. It was louder than we would have imagined, a slow but very deep grunting, like a beached sea creature drowning in oxygen, not very human, frankly. Even Lynda was taken aback. For a few seconds the three of us stood looking at the woman from the bottom of the bed. Her face was a perfect mask, already far gone, but the chest didn't know it yet and was heaving away of its own accord. It was as if her disguise had been removed, the body stripped to reveal the alien presence at its core, what all along had been propelling it.
We need your consent to load this rte-player contentWe use rte-player to manage extra content that can set cookies on your device and collect data about your activity. Please review their details and accept them to load the content.Manage Preferences
Listen: The Night Interns - Austin Duffy talks to Oliver Callan
The family were spread around the periphery of the room. They were watching us and it felt like we should do something, or at least say something to them, but there we stood, as lost as they were. Finally Lynda stepped forward, uncoiling her stethoscope. She listened to the woman's lungs and looked into her mouth with her pen torch. It was no easy thing to pry open her jaws. Lynda's confidence amazed us. Afterwards we asked her what she had seen and she said nothing of course, just blackness. She said something to the nurse, and then to the woman's family, about trying to make her more comfortable, and they seemed OK with that. It was a relief when somehow the door opened behind us and we backed out of the room, Stuart and I bowing like geishas. Lynda's pager went off and we followed her to the nurses' station while she answered it. The food's here, she said, putting down the phone. The nurses had a few more jobs for us, nothing major, just charting stuff. We did whatever they asked and when we were finished Lynda told them not to call us again unless it was absolutely necessary. We left the ward and headed to the stairwell by Sir Patrick Duns ward that would take us down to the ground floor. From there we would make our way back to the res.
– This is why we need to divide up the night, Lynda said.
She looked at me and then back at Stuart, who had fallen a few steps behind.
– I mean it, she said, there was no need for the three of us to be standing there gawking at that poor woman.
Neither Stuart nor I said anything and Lynda's words were left to hang. The stairwell brought us down two flights and we emerged into the radiology department. It was always so eerie to go through radiology at this hour. The waiting area was completely empty, a grille pulled down over the reception area where the secretaries sat during opening hours. By day, this was the busiest part of the hospital – it constantly thronged with people and was the centre of the hospital's activity. But all that seemed inconceivable now. It was as if we had stumbled upon a lost world whose place in time had long since passed.
– The others all split up the night, Lynda said. They get two hours' sleep guaranteed. Four if only one of them holds the bleeps. Can you imagine that? Four hours! God, you'd be totally fine the next day.
– Yeah, I said, but the rest of the time would be hell.
– So what? Lynda said. If you're going to be up anyway you might as well be working.
We left radiology and turned on to the long link corridor that stretched off into the distance. We could barely make out the far end of it. The corridor spanned the length of the hospital and we used to joke about using roller blades to get up and down it, but such a frivolous thing was unimaginable now. We started on the long trudge, weighed down by our white coats made heavier by the things we carried in their deep pockets – tape, a coiled stethoscope, a reflex hammer – as well as by the handbooks that Stuart and I carried. The BNF, a MIMMS, the Oxford Handbook of Clinical Medicine. Stuart also had one on procedures. Lynda used to make fun of us about the books. What are you going to do in an emergency, she'd say, turn to page seventy-nine? Her white coat didn't seem to weigh her down at all. She strode on slightly ahead of us, her back straight, her hands pushed all the way into her empty pockets. As a teenager she had been a champion runner, and you could see this in her gait, the way she walked mainly on her toes, ready to spring at you.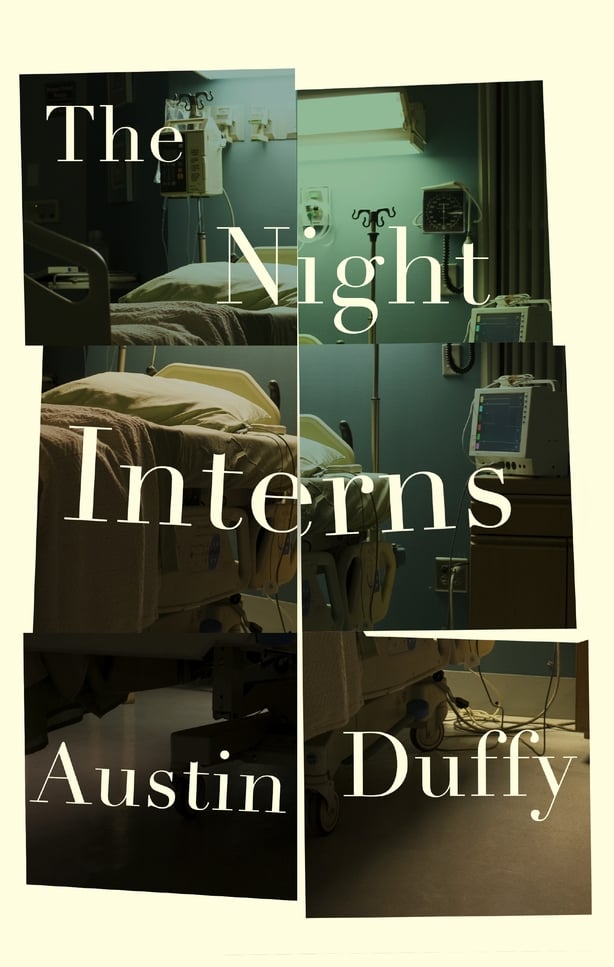 The Night Interns is published by Granta